The 2014 Winter Olympics in Sochi, Russia, have gotten off to a captivating start as the third day continues, with several prominent countries getting on the board and making for a competitive medals race.
Virtuoso individual performers tend to overshadow the overall international competition between nations, but a certain amount of pride comes with being one of the most decorated countries at the Winter Games.
Norway has taken the early lead in total medals with seven—two golds, one silver and the rest bronze—but the United States, Canada and host Russia are not far behind with five apiece.
But golds and silvers weigh more, which is why Canada is No. 1 in Sochi2014.com's most current rankings, followed by Norway, the Netherlands, USA and Germany in descending order.
Below is an analysis of what has gone right for the top-ranked countries so far, focusing on Monday's action when possible, and what to expect from the premier competitors moving forward.
1. Canada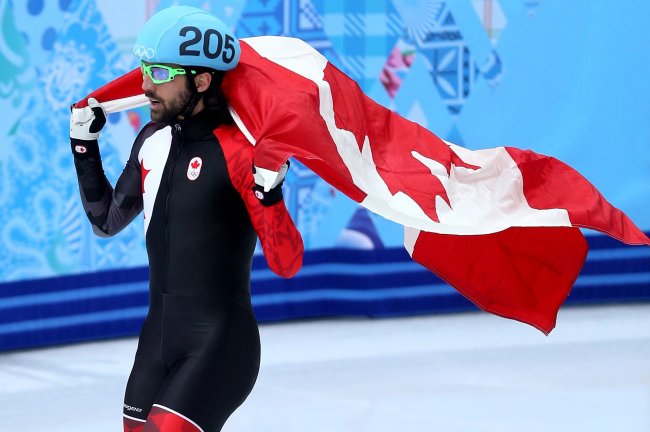 Matthew Stockman/Getty Images
The big story for Canada so far on Monday has been the prowess of Charles Hamelin. In 1,500-meter short-track speedskating, Hamelin claimed the gold medal with a swift time of two minutes and 14.480 seconds.
Sean Fitz-Gerald of the National Post, via Canada.com, reported what Hamelin had to say before he took to the ice concerning his passionate internal drive, which goes against his calm exterior:
Charles Hamelin: "On the outside … I'm a nice guy. But inside, I'm built to race, and I'm built to win medals." -- http://t.co/bH7LrSzYTC

— SeanFitz_Gerald (@SeanFitz_Gerald) February 10, 2014
Sunday served as a historic occasion for Canadians Justine and Chloe Dufour-Lapointe, who won the gold medal and silver medal, respectively, in the ladies' moguls final. The skiing sisters managed to top the USA's Hannah Kearney—the reigning champion in the event. That made the accomplishment all the more impressive and gave Canada two big-time medals to boot.
With traditional greatness in both hockey and curling, Canada has a good chance to build on a strong current medal count and possibly emerge as the most decorated nation in these Winter Games.
It will be hard to top the record 14 gold medals the Canadians managed in 2010 while hosting in Vancouver, but these competitions should continue to accentuate the country's athletic strengths.
2. Norway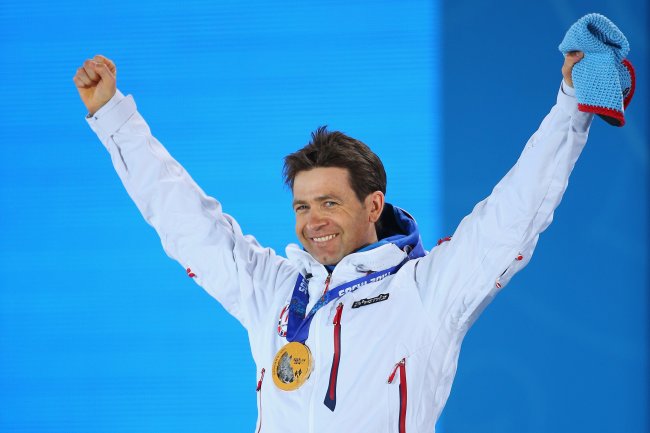 Quinn Rooney/Getty Images
Who will rank first in medal count by the end of the 2014 Winter Olympics?
Cross-country skiing has been the source of Norway's momentum over the first few days, and the four additional bronze medals are a testament to the caliber of athletes the country has produced across the board.
A well-rounded contingent of worthy representatives has Norway yet again atop the medals race in Sochi. It's been a while since the nation won the medals table (2002 in Salt Lake City), but the Norwegians continue to be strong in the Winter Olympics.
In the second overall event of these Games, Marit Bjoergen seized the gold medal in the ladies' 7.5-kilometer classic and 7.5-kilometer free skiing showcase, edging out Sweden's Charlotte Kalla at the end with a time of 38:33.6. That got Bjoergen a second straight gold in the event.
MEDAL: 2nd Gold of the Games is in Ladies' Skiathlon. Congratulations #TeamNorway @maritbjoergen #sochi2014

— Sochi 2014 (@Sochi2014) February 8, 2014
Perhaps the least talked-about but most impressive endurance skier is 40-year-old Ole Einar Bjoerndalen. The ageless wonder's 24:33.5 time in the men's 10-kilometer sprint biathlon secured his seventh career gold and 12th medal overall.
Julien Pretot of Reuters points out that Bjoerndalen's main competition in Monday's 12.5-kilometer pursuit is likely to be France's Martin Fourcade:
Bjoerndalen goes for record 13th Winter Games medal (1500GMT). Possibly him v France's Martin Fourcade in pursuit #sochi2014 #biathlon

— Julien Prétot (@julienpretotRTR) February 10, 2014
Another gold could very well be in Bjoerndalen's possession soon enough, boosting Norway to a possible No. 1 ranking before Day 3 concludes.
With expected strong efforts in the skiing relays and more opportunities to thrive in cross-country skiing, perhaps a medal-count win isn't out of the question for the Norwegians.
3. Netherlands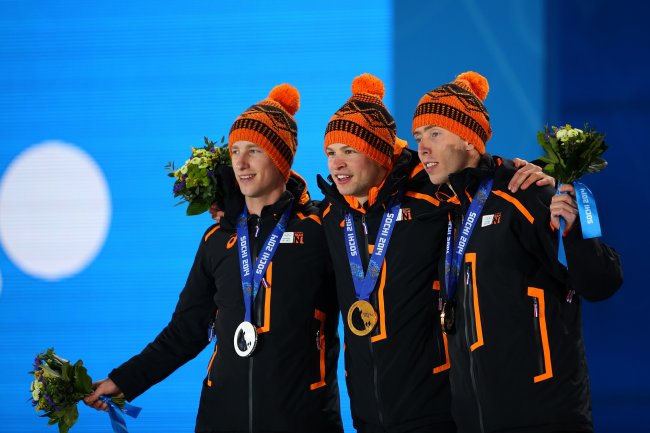 Quinn Rooney/Getty Images
The Dutch made a big statement in the men's 5,000-meter speedskating competition. All three spots on the podium went to the Netherlands, headlined by prolific, lightning-fast gold medalist Sven Kramer.
Jan Blokhuijsen and Jorrit Bergsma finished with stellar efforts, but Kramer was nearly five seconds ahead of his nearest competitor in ending with a 6:10.76 time. The gap between him and the rest of the elite field was staggering to witness, and he figures to be a favorite to win the 10,000-meter event too.
Infostrada Sports noted the historic gold medal defense Kramer mounted in the 5,000 meters:
#Sochi2014 Sven KRAMER (NED) became the first Dutch athlete to successfully defend his or her Winter Olympic title in any event.

— Infostrada Sports (@InfostradaGold) February 8, 2014
Kramer is so adored in his homeland that not only was Dutch royalty on hand to witness his win, but his compatriots back home were also tuning in by the millions, per Bloomberg News' Danielle Rossingh:
So 4.5 mln Dutch people watched @SvenKramer86 skate to 5km gold yesterday at #Sochi2014. That's one quarter of the entire population

— Danielle Rossingh (@DRossingh) February 9, 2014
Speedskating seems to be the strength of the Netherlands, as Ireen Wust won her second career gold in the ladies' 3,000 meters, beating out previous winner Martina Sablikova, who settled for silver.
Monday's 500-meter event saw two Dutchmen, Jan Smeekens and Michel Mulder, placed in the top two after the first of two races, so more high medals may be coming soon.