Switzerland's women were subjected to another thrashing in their ice hockey expedition at the 2014 Winter Olympics, falling to the USA 9-0 on Monday. With the victory, Team USA seals back-to-back wins and a spot in the semifinals.
The onslaught was a one-sided affair of embarrassing proportions at times, with Katey Stone's side finding themselves up 6-0 before the game was even two periods of the way through.
NBC and USA Hockey Magazine were swift to point out Team USA's record-breaking form during the game:
#Olympic women's hockey has a new record! #TeamUSA #Sochi2014 pic.twitter.com/Yg322nZVWV

— NBC Sports Network (@NBCSN) February 10, 2014
It's now 5-0 as the U.S. has scored the fastest five goals (6:22) in U.S. history. Previous record was 7:31. #sochi2014

— USA Hockey Magazine (@USAHMagazine) February 10, 2014
The Wall Street Journal's Sharon Terlep was also on hand to point out exactly how threatening the U.S. women were in attack:
US women scored three goals in less than a minute vs. Switzerland. Celebratory music still blaring from goal 2 when 3 went in. #Sochi2014

— Sharon Terlep (@sharonterlep) February 10, 2014
It wasn't just with the puck that the favorites proved to have an overwhelming advantage, as the Americans were simply far more physical than their opponents. In addition, USA displayed the technical and finesse abilities that kept Switzerland reeling the entire game.
BuzzFeed captured the winning moment:
A dominating performance by the US women's hockey team. 9-0 over Switzerland. pic.twitter.com/RoStow8zlN

— BuzzFeed Sports (@BuzzFeedSports) February 10, 2014
Monique Lamoureux, Amanda Kessel and Kendall Coyne were particularly poignant for Team USA, notching two goals apiece. Lamoureux was especially amped heading into the contest, which may have been why she was at the top of her game.
It's the best day when it's #gameday #TeamUSA

— Monique Lamoureux (@moniquelam7) February 10, 2014
However, Hilary Knight, Brianna Decker and Alex Carpenter also got in on the act, showing that there are attacking threats throughout USA's roster.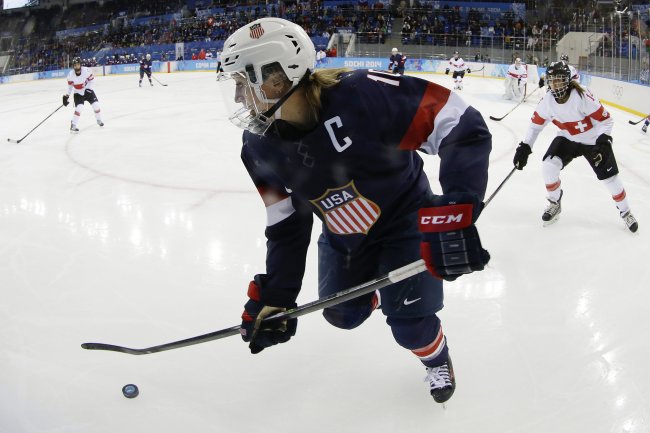 Matt Slocum/Associated Press
In total, USA's women had 53 shots on goal, while the Swiss were limited to just 10 attempts of their own.
Hockey expert Michael Farber does point out, however, that the result comes with its share of negative connotations, too:
USA women crush Switzerland, 9-0, in hockey. Great for USA, of course. Depressing for a sport that is desperate for competitive balance.

— Michael Farber (@MichaelFarber3) February 10, 2014
Despite the lopsided result, Switzerland forward Jessica Lutz felt her team showed progress later in the contest, according to Jimmy Golen of the Associated Press via ABC News:
We know we're going to get lots of shots and goals against us, but we'll tell each other let's just keep going no matter what the score is. They got five goals early on, but after that we stuck with it. They didn't have goals for a while. That's success for us.
One of the match's more harrowing moments came in the third period, when Switzerland's Lara Stalder was forced off after suffering what looked like an injury to her head. The 19-year-old forward collided with one of her U.S. counterparts, attempting to get up off the ice twice but failing on both occasions.
With Canada next up on USA's group schedule, this result will serve as a severe warning as to exactly what this team is capable of, although it goes without saying that the reigning gold-medal champions will be a significantly tougher challenge on Wednesday.
For now, one of the competition's favorites will simply soak up this victory, which served as fierce vindication for a side looking to turn the odds in their favor.
At this point, many should consider USA a top candidate not only to reach the finals. Whether they can take the gold remains to be seen, but a silver- and gold-medal opportunity is well within reach.