Easily one of the most captivating sports of the Olympics has officially begun.
The start of Day 3 in Sochi returned Olympic curling into our lives, and right off the bat, several countries looked to be in gold-medal form already.
On the men's side, China, Canada, Switzerland and Great Britain earned wins to move to 1-0 in round-robin play. Here's a look at the full results from the first session of the 2014 Games:
2014 Olympic Curling Results: Session 1 (Men)

| | | |
| --- | --- | --- |
| Winner | Score | Loser |
| China | 7-4 | Denmark |
| Canada | 11-8 | Germany |
| Sweden | 7-5 | Switzerland |
| Great Britain | 7-4 | Russia |
Sochi2014.com
The most compelling opening match featured Sweden—the 2013 world champions—and Switzerland—the 2013 European champions. Led respectively by Niklas Edin and Sven Michel, both countries are legitimate contenders to advance out of round-robin play into the semifinals.
Who was most impressive during Session 1?
It all lived up to the hype.
Switzerland grabbed the 3-2 lead with a point in the sixth end, but that gave the hammer to Sweden, and Edin wouldn't let that opportunity slip through his fingers. The 28-year-old skip delivered a tremendous throw on the last rock of the seventh end, notching three crucial points for the Swedes.
It was a shot so good, in fact, it drew fans away from Matthew McConaughey and True Detective—and made them confuse Russia with Switzerland:
Need to watch True Detective but can't pull myself away from #CBC's curling coverage. Great shot by Sweden to score 3 vs Russia. #sochi2014

— David Papineau (@broadwayrunclub) February 10, 2014
Sweden stole the eighth end to grab an extra point and held on for an enthralling victory after Switzerland grabbed two points back in the ninth. The win meant no outbursts from Edin, who talked about keeping his infamous temper in check before the match, via the Associated Press (h/t NBCOlympics.com):
I have a hot temper when it matters to me. So you might see that this week. Now I know you need to stick together in all situations. And if anyone loses their temper, it makes it harder for the rest of the team.
Most of the other matches featured no-nonsense victories. Germany made things interesting by stealing two points in the ninth before playing very well in the last end, but Brad Jacobs and Canada—who are favorites for gold—were simply too good.
Final: @TeamBradJacobs over Germany, 11-8. #curling #CBCOlympics pic.twitter.com/lD5qd3O6CL

— CBC Olympics (@CBCOlympics) February 10, 2014
David Murdoch and Great Britain looked terrific while making fairly easy work of host nation Russia, and a late comeback from Denmark wasn't enough against China, who finished with a tremendous shooting percentage of 89 percent per Sochi2014.com.
As one fan pointed out, Canada and China were especially impressive in their victories:
My early thoughts: watch out for china and canada. They both play the combos well. #curling #Sochi2014

— SirGuthry (@SirGuthry) February 10, 2014
Really, though, there were impressive performances all around, and one thing was evident from the opening session: We're in line for a thrilling tournament from Sochi.
The men's second session provided as much—if not more—excitement than Monday's first session. With two close contests and two decisive victories during this round-robin session, viewers were rewarded with a dazzling show from the participating countries.
Here's a look at the results from the second session of round-robin play:
2014 Olympic Curling Results: Session 2 (Men)

| | | |
| --- | --- | --- |
| Winner | Score | Loser |
| Norway | 7-4 | United States |
| Denmark | 11-10 | Russia |
| Switzerland | 5-4 | Canada |
| Sweden | 8-4 | Great Britain |
Sochi2014.com
The most compelling contest featured Denmark against host Russia. Denmark came away with a thrilling 11-10 victory, as the match was extended into an extra end.
Russia started strong, scoring two stones in the first end and three in the second to jump out to a 5-0 lead. However, the resurgent Denmark and skip Rasmus Stjerne Hansen climbed back into the contest with two stones in the third end and three in the fifth.
Entering the eighth end, the score was tied at seven apiece. Russian skip Andrey Drozdov was able to pull away with two stones to take the late lead. However, with Denmark scoring three stones in the ninth end, Russia found itself trailing going into the final end.
Drozdov put up the one point necessary in the 10th end to tie the match at 10. This forced the extra end and a dramatic conclusion that captured the public's attention:
They're missing a great curling match. Denmark and Russia going to an extra end, tied at 10.

— Beau Dure (@duresport) February 10, 2014
With everything on the line, Denmark was able to claim the match's final stone to earn the victory and move to 1-1 in round-robin play.
A strong Canadian team was given all it could handle in Session 2 against Switzerland. Canada had already earned a victory in the earlier session and the Swiss were looking to claim their first.
Who was most impressive during Session 2?
This defensive matchup started with four scoreless ends, as the teams fought for position. Switzerland finally broke the ice in the fifth end, as skip Sven Michel came away with three stones to take the lead.
Canadian skip Brad Jacobs came surging back in the sixth end. Canada put up two stones, closing the gap to a 3-2 score. After trading one-stone ends in the seventh, eighth and ninth, the teams entered the final end with Switzerland on top by a score of 5-3.
Team Canada did its best to even the score, but was only able to come away with one stone in the 10th, securing a much-needed victory for Switzerland.
Hey, everybody. Tough loss tonight, but we'll bounce back tomorrow. Check out this blog from @eharnden83: http://t.co/B9tM2JPJKv

— Team Jacobs (@TeamBradJacobs) February 10, 2014
The other two matches featured decisive victories, as Sweden and skip Niklas Edin defeated Great Britain by a score of 8-4 after nine ends. The Swedes move to 2-0 in round-robin play, while Great Britain drops to a 1-1 record.
Norway faced the United States in the final match of Session 2, and got off to a great start, posting two stones in the first end and three in the second. They accrued an early lead and did not look back, defeating the Americans by a score of 7-4.
Norway received attention not only for their curling ability but also for their stylish uniforms:
There's only one way to describe the pants worn by the men's Norwegian Curling team: Wonderfully awesome! #Sochi2014

— Knox Bardeen (@knoxbardeen) February 10, 2014
According to Chris Jasurek of the Epoch Times, with the Americans down three with Norway holding the final shot going into the final end, skip John Shuster told his teammates, "We have to go crazy at the end here."
Unfortunately, that didn't happen, as he missed everything with his first rock and had to concede the match.
Norway and skip Thomas Ulsrud look strong and figure to be a big factor in the competition, moving to a 1-0 record. On the other hand, the United States must regroup after falling to 0-1 and sitting tied for eighth place in the standings.
2014 Olympic Curling Results: Session 2 (Women)

| | | |
| --- | --- | --- |
| Winner | Score | Loser |
| Canada | 9-2 | China |
| Switzerland | 7-4 | USA |
| Russia | 7-4 | Denmark |
| Sweden | 6-4 | Great Britain |
Sochi2014.com
Monday's second session began with a boom in Sochi as the women curlers got their campaigns underway, China and Canada the first two nations up on the slate.
What wasn't surprising was the fact that it was the Canadians who came out on top. What is more surprising is the scoreline by which Jennifer Jones led her team past their Asian counterparts, winning 9-2 after China's concession in the seventh end.
The official Canadian curling Twitter account praised leader Jones for her performance:
The draw for 3 from @jjonescurl finishes off a 9-2 win for Team Canada over China! Great way to start the #curling round robin! #wearewinter

— Canadian Curling (@CCACurling) February 10, 2014
Things looked like they might be within reach for skip Bingyu Wang and her teammates, who were 3-1 down after four ends. However, a push for the kill from Team Canada meant that the fifth end closed with a 6-1 lead, the match all but done at that stage.
Following that demolition, it was a much more tightly drawn encounter that followed between Switzerland and the USA, where Ken Tralnberg's Swiss side managed to come back from 2-0 down after three ends, eventually winning the match 7-4.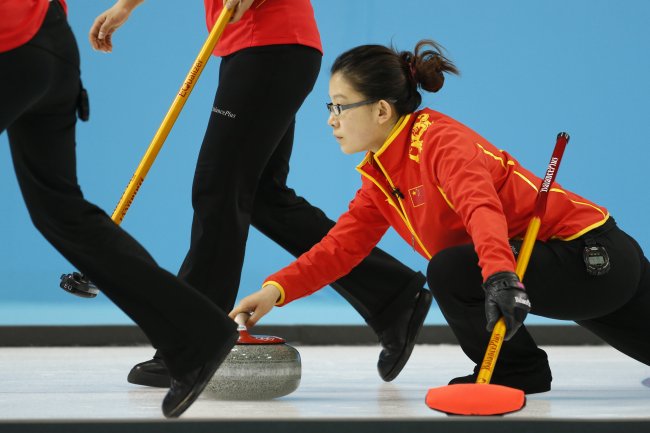 Robert F. Bukaty/Associated Press
Despite her ironic name given the context, Anna Swisshelm was actually the most dangerous of the USA's athletes, maintaining an 88 percent accuracy in the encounter, but that wasn't enough to overcome the double threat of Mirjam Ott and Carmen Schafer.
After suffering that initial setback, the fourth and fifth ends saw Switzerland notch five points to USA's zero, setting the Europeans right on their way to a well-deserved and determined win.
Russia managed to beat Denmark by an identical scoreline, again coming back from an initial deficit to earn the much-needed win and get their tournament started in the right manner.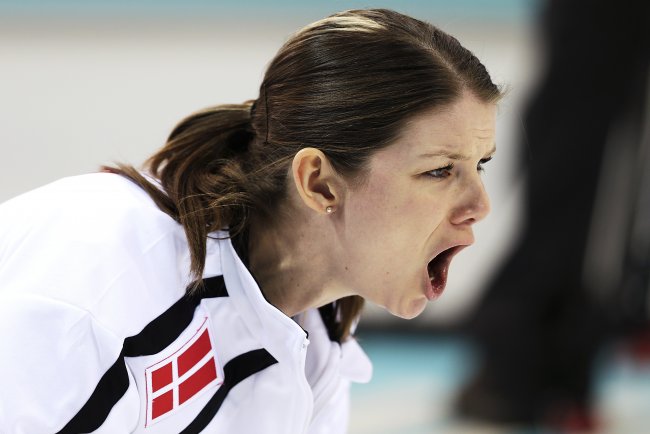 Wong Maye-E/Associated Press
Instead of a burst-filled outing, though, this was a much calmer, consistent display from the Russians. They won more than one point in just two of their ends, but spread the dominant trait throughout their performance, scoring in five of the 10 ends.
Who's the early favourite for women's gold?
Ekaterina Galkina stood out in the 7-4 victory as a special source of inspiration, averaging 91 percent accuracy, hence her high priority in the Russian order.
And lastly, it was Sweden's turn to follow the example of their male counterparts and begin with a spring in their step, Great Britain crumbling 6-4 under the pressure of the European foes.
Skip and vice-skip, respectively, Margaretha Sigfridsson and Maria Prytz led with aplomb, with Claire Hamilton the only other participant able to boast a higher accuracy in the matchup.
It took the Britons four ends to get their first point on the board, but the damage was undoubtedly done by that stage the Swedes boasting a 3-0 lead by the time the third end had finished.
It did look as though hope was alive, however, with Eve Muirhead managing to bring her side back level at 3-3, but a second wind for the Swedish would ultimately result in defeat following a British concession.