We shouldn't have been surprised that Evgeni Plushenko, 31 and held together by baling wire and tape, could galvanize a hometown crowd in winning the men's free skate and help launch Russia to redemptive team gold at the Winter Olympics.
We should have known that this setting, with all eyes on him—including teammates and a tracksuit-wearing Russian leader Vladimir Putin—is what the showman Plushenko thrives on.
We should have figured that Plushenko, who helped bring these Games to Russia, would also save them after the embarrassment of 2010 Vancouver, where his home country failed to win a single skating gold for the first time in a half-century.
Yes, there's reason to think there will be more Plushenko at these Olympics. He told TV reporter Andrea Kremer he'd compete in the men's singles competition beginning Thursday with the short program and concluding with Friday's free skate. Hopefully, Plushenko can hold it together for some seven minutes of skating, one last grand showing.
Plushenko's aura is intimidating. Others borrow music to skate by. On Sunday, he skated to music composed just for him, "Best of Plushenko."
He wasn't singularly responsible for Russia's team gold. If anyone stole the show from Plushenko and the rest of the field, it was his teammate Yulia Lipnitskaia, 15, the sprite who is next in line as Russian skating royalty.
But no matter how he does later this week, Plushenko he has already put his stamp on these Games.
With four Olympic medals (2002 and 2010 silver, 2006 and 2014 gold), Plushenko matches Gillis Grafstrom of Sweden (three gold, one silver won from 1920-1932) for the most won by a figure skater.
Plushenko knows the advantage of front-loading not only a skating program, but an Olympics. On Sunday, he started with a monstrous quad, multiple triples, then tapered.
The team event started the day before Sochi's opening ceremony, when skaters had the spotlight practically to themselves with a new event and the men's short program.
He brought down the house on Sunday, prompting roars from the Iceberg Arena crowd, pumping his fist and getting hugs from teammates as he left the ice.
Winning the free skate against a subpar field—skaters like Patrick Chan and Jeremy Abbott rested for the men's individual competition—should not diminish what Plushenko did.
His best skate proved him legitimate. It came before a smaller crowd in Thursday's short program, where he finished second, landing quad-triple toe loop and triple axel-triple Lutz combinations and beating all but Yuzuru Hanyu of Japan, a gold-medal contender when the men's individual competition begins Thursday. The crowd's chants were so loud, he told reporters, they left him "shocked and dizzy."
Unlike other top teams, like silver-medalist Canada and the bronze-winning U.S. who had different men skate the short and the free, Plushenko had to take on all comers as Russia's lone men's entry.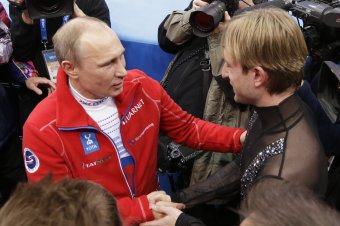 David J. Phillip/Associated Press
Plushenko skates with screws holding his back together. Besides the back surgery, he has undergone hernia and knee operations since the 2010 Games, when the silver-medalist earned sore-loser status by grousing that Evan Lysacek's gold-medal program needed a quadruple jump to be considered worthy of the Olympic title.
Due to injury and a two-year ban by the Russian federation for skipping the world championships to skate in exhibitions, Plushenko had barely skated competitively before these Games.
He had to convince the Russian federation, through a reported closed-door tryout, to give him the lone Olympic berth after losing to Maxim Kovtun in the national championships prior to Sochi.
Between that and Kovtun folding in the European Championships, the spot was Plushenko's. Federation officials couldn't risk a flop at Russia's own Olympic Games.
When Sochi was bidding for these Games seven years ago, Plushenko helped lobby the International Olympic Committee to vote in Russia's favor.
Russia got the Games. Now, after virtually a four-year absence, they have Plushenko too. At least for a little while more.