On August 28 2011, Manchester United battered Arsenal by eight goals to two. It was arguably the nadir of Arsene Wenger's time at Arsenal.
This was about more than just one game. It was about the collapse of an entire team-building strategy. Hamstrung by the cost of the move to the Emirates Stadium, Arsenal had embarked upon a policy of acquiring young talent and attempting to create their own stars.
The idea was to mould a team with a shared culture and football philosophy. It would take time, but it would enable Arsenal to survive the financial restrictions incurred by leaving Highbury.
However, it seems the players Wenger blooded didn't share their manager's patience. In the summer of 2011, both Samir Nasri and Cesc Fabregas flew the coop. Coming just months after the pair had starred in a 2-1 victory over Pep Guardiola's Barcelona at the Emirates, it was a tremendous blow. Arsenal had seemed on the cusp of assembling a team ready to compete again. Then, at a crucial moment in the team's development, two key players had been prised away from Wenger's grasp.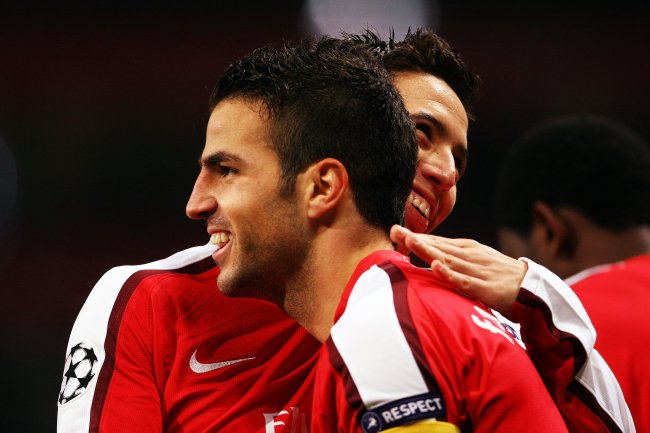 Phil Cole/Getty Images
The transfer sagas involving Fabregas and Nasri had held up Arsenal's transfer activity, leaving an injury-ravaged squad looking especially bare. United tore into Arsenal, devouring what little flesh remained on their bare bones of a line-up.
Alex Livesey/Getty Images
Speaking to the BBC after the 8-2 game, the Arsenal manager confirmed that the defeat had cut him deep. "Of course you feel humiliated when you concede eight goals," said the Arsenal boss. "It was a terrible day." However, talking to the same organisation, Sir Alex Ferguson offered some consolation to his rival: "He has been a big adversary and will continue to be when he gets his big players back."
At the time, Ferguson's words might have seemed like mere platitudes. However, a couple of years on, they appear somewhat portentous. Arsenal sit second in the Premier League, 14 points clear of United. Wenger and Arsenal appear to be back.
It's been a difficult and often painful recovery. The 8-2 hammering prompted a panicked shopping spree. Arsenal inevitably bought some duds, namely Andre Santos and Park Chu-Young. However, in Per Mertesacker and Mikel Arteta, Wenger uncovered players who would go on to become mainstays of the team.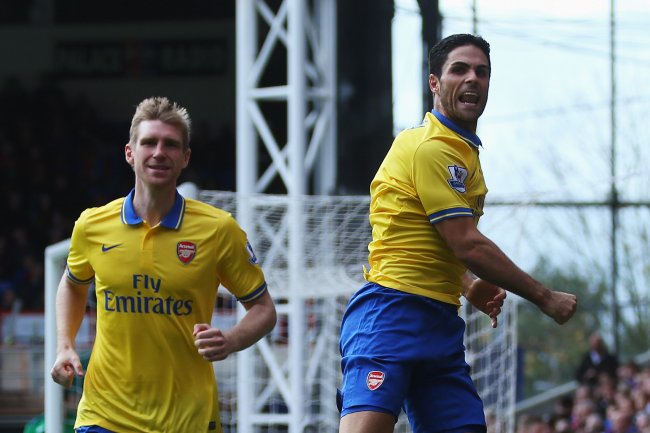 Clive Rose/Getty Images
Arteta and Mertesacker showed that the Frenchman had been forced to change his transfer policy. Instead of signing promising youngsters, he began to enforce his squad with seasoned professionals. On the surface, these signings may not have appeared spectacular, but they were solid. For years, Wenger had spoken of attempting to build "mental strength." Backed in to a corner, he went out and bought it.
Wenger's recruitment, Tottenham's collapse and Robin van Persie's goals allowed Arsenal to cling to their Champions League place in 2011-12. That was important: it allowed Arsenal to retain their status among Europe's elite, and prevented a much-feared fire-sale.
It was not enough, however, to hold onto Van Persie. In the summer of 2012, United reacted to being pipped to the title by City by signing the prolific Dutchman. The yawning gap between the two teams widened with Van Persie's defection.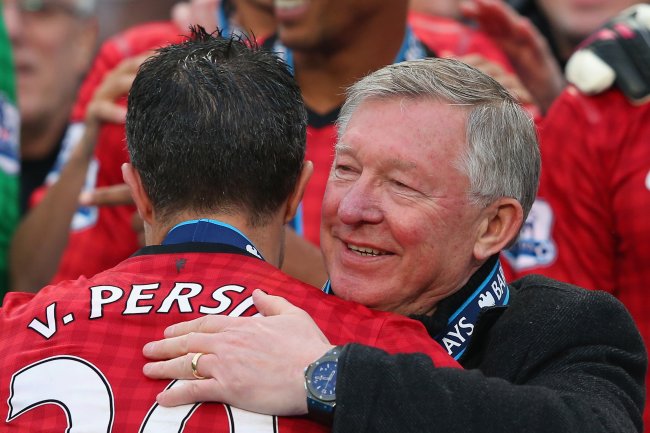 Alex Livesey/Getty Images
With Van Persie in their ranks, the 2012-13 season became something of a procession for Manchester United. They ended the season as champions, fully 16 points ahead of Arsenal, who once again edged Tottenham Hotspur in the battle for fourth place.
Then came the great rug-pull—the moment that would kick the momentum of these two teams into reverse, almost overnight. On May 8 2013, Sir Alex Ferguson announced that he had decided to retire from his role as Manchester United manager. He nominated David Moyes as his successor, and the rest of the season became a goodbye tour.
Everyone knew Ferguson would be a difficult act to follow. However, no one could possibly have guessed quite how catastrophic the 2013/14 season could be for United.
The squad Ferguson left behind him might have been title winners, but they were also ageing. Ferguson's brilliance had allowed United to become somewhat complacent in the transfer market. In 2012-13, they didn't have the strongest squad, but they had the strongest manager. Without his guidance, United inevitably floundered.
Moyes wasn't helped by the fact that Chief Executive David Gill decided to leave Old Trafford at the same time as Ferguson. United's summer transfer dealings bordered on the farcical. In the end, they ended up paying £27.5 million for Marouane Fellaini, just days after a release clause allowing him to leave for less had expired.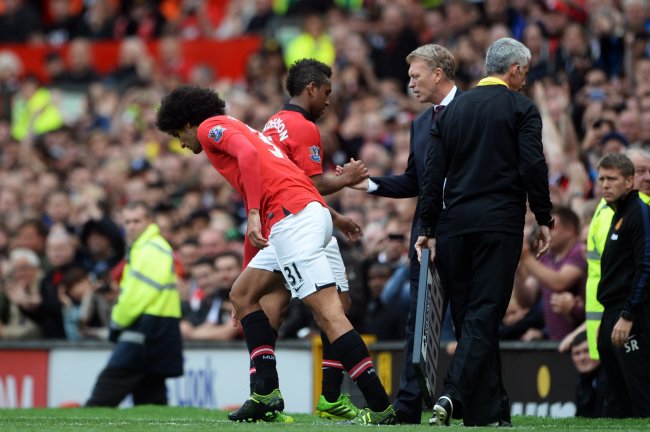 Michael Regan/Getty Images
Truth be told, neither Moyes nor Fellaini have looked at home at United. The Scotsman was something of a gamble as Ferguson's heir. He has no track record of elite-level management. The United board and supporters have shown admirable faith in Moyes, but distressingly there is no tangible evidence that he is capable of stopping the rot.
By contrast, Arsenal have gone from strength to strength. They are a team reborn. Arsene Wenger finally seems to have assembled a squad worthy of his managerial skill. The summer of 2013 was spent selling off the dead wood. The likes of Gervinho, Andrey Arshavin, and Sebastien Squillaci were shipped out. More importantly, the Gunners didn't lose any first-team players against their will. At a time when United were experiencing sweeping changes, Arsenal reaped the benefits of stability.
The final piece in the jigsaw was the addition of a marquee acquisition. For too long, Arsenal had been forced to shop in the bargain bucket. They broke the parsimonious habit of a decade by making Mesut Ozil their record signing.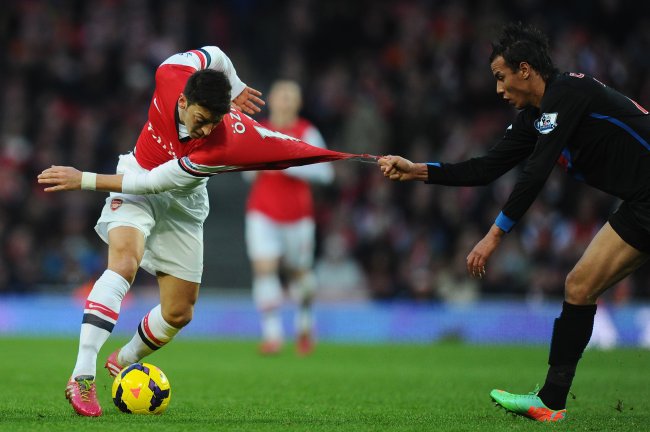 Mike Hewitt/Getty Images
Ozil's impact on the field is debatable, but his arrival undoubtedly gave the entire club a lift. Fans and players alike suddenly had cause to believe in the positive trajectory of their club. That belief has transformed in to the Gunners' first genuine title challenge since 2007/08.
Arsenal may yet come up short in the title race. However, as things stand, United are unlikely to make the top four. For all Arsenal's struggles, Arsene Wenger has never once dropped out of the Champions League. The champions' fall from grace has been as swift as it has been shocking.
In a mater of months, the fortunes of the two clubs have been dramatically reversed. The evidence of this season would suggest that Ferguson's retirement was a far more pivotal point in the rivalry between these two clubs than the 8-2 result.
When the two sides meet at the Emirates Stadium, it will be a chance for Arsenal to ram home their new-found superiority. Victory for United could hand David Moyes a lifeline. However, a win for the Gunners would be another nail in the coffin of United's season.
James McNicholas is Bleacher Report's lead Arsenal correspondent and will be following the club from a London base throughout the 2013-14 season. Follow him on Twitter here.