The stage was set for a huge showdown between two of the best teams in the Big Ten Conference, and the two teams lived up to the hype with Wisconsin (19-5, 6-5 Big Ten) withstanding a late run by Michigan State (20-4, 9-2) to win by a final of 60-58.
After Wisconsin controlled the game for 39 minutes of action, Michigan State's Adreian Payne hit a clutch three-pointer to tie the game up with just 8.7 seconds remaining.
But Payne's shot wasn't the game-clincher, as Traevon Jackson went the full length of the court and hit a cold-blooded jumper with 2.1 seconds left on the clock.
The Big Ten Network's official Twitter account provides a look at the shot:
INSTANT HIGHLIGHT: Here's that Traevon Jackson @BadgerMBB game-winner, if you missed it. WATCH - http://t.co/Kbbuu4Ry5N

— Big Ten Network (@BTN_Wisconsin) February 9, 2014
The sensational shot was just another in Jackson's career as a clutch shooter, as Dave Revsine of the Big Ten Network points out:
There is no player in the Big Ten who relishes the big moment more than Traevon Jackson

— Dave Revsine (@BTNDaveRevsine) February 9, 2014
Bo Ryan spoke about his junior who put the Badgers above .500 in the conference, via Zack Miller of Badger Blitz:
Bo on that last play call: "When the ball goes in, it's a pretty good call." #Badgers

— Zack Miller (@miller_zack) February 9, 2014
The Spartans have been one of the top teams in the country all season, but came in with a shaky record in their last four games with two losses to both then-No. 21 Michigan and Georgetown. Then came the news that Keith Appling wouldn't dress for Michigan State, as Gary Parrish of CBS Sports reported.
But with a 9-2 record overall in the conference and just four losses on the season, Michigan State is still in contention for a No. 1 seed in the NCAA Tournament. Though it was playing without the star guard, Tom Izzo needed his team to be at 100 percent, but unfortunately, it suffered another deflating loss.
Izzo talked about the disappointment of his team's third loss in the last five games, citing injuries for his team's recent struggles, according to Miller:
Izzo: "When you have these type of injures, everybody tries to do too much." #Spartans

— Zack Miller (@miller_zack) February 9, 2014
Apart from the injury issues, Izzo also spoke to Miller about his team's defensive issues:
Izzo: "We had some guys who couldn't guard this table. That's not a joke."

— Zack Miller (@miller_zack) February 9, 2014
As for the Badgers, their struggles as of late have been well-publicized. After a 16-0 start to the season, Wisconsin had gone 2-5 in its previous seven contests and have dropped from the No. 3 team in the country in both the AP and USA Today polls to being unranked by AP and No. 24 by USA Today.
Ryan's team will rise in the rankings after the win and another victory over Illinois earlier in the week. After snapping a five-game losing streak to the Spartans, Ryan believes the Badgers back on track thanks to Jackson, according to Evan Flood of 247Sports:
Bo Ryan on Traevon Jackson: "He's the guy that's earned that spot. If it starts in his hands, I feel very confident." #Badgers

— Evan Flood (@Evan_Flood) February 9, 2014
Here is a breakdown of performances from the game's pivotal players.
Traevon Jackson, Junior Guard, Wisconsin: A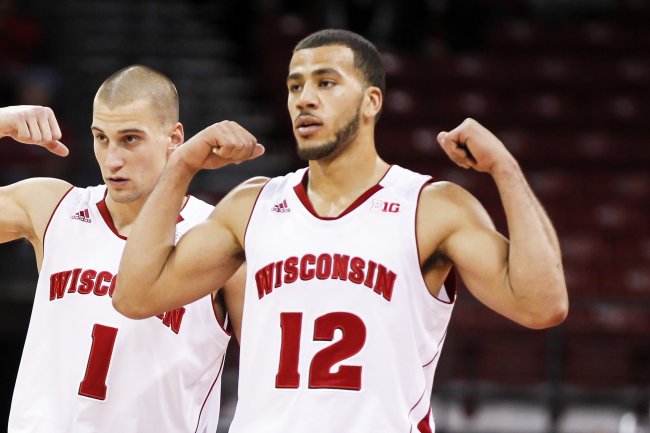 Andy Manis/Associated Press
He only took five shots throughout the contest, but Jackson was clearly the hero for the Badgers on Sunday afternoon after his clutch jumper to pull out the win.
Jackson's shooting in the final stretch was something Izzo said he knew about, but noted his team wasn't able to stop him from hitting the huge shot, according to Sean Merriman of the Big Ten Network:
"I spent two years watching Jackson hit game-winning shots, so I put my best defender on him and he did it again," - Tom Izzo

— Sean Merriman (@BTNSean) February 9, 2014
Jackson finished with just seven points, but his eight assists and game-winning shot were pivotal for the Badgers in the game.
After putting together another memorable performance late in the game, Jackson could be a huge factor in the Badgers' success when it comes tournament time. In a month where clutch shots steal the headlines, he could be one to watch with Wisconsin.
Adreian Payne, Senior Forward, Michigan State: A+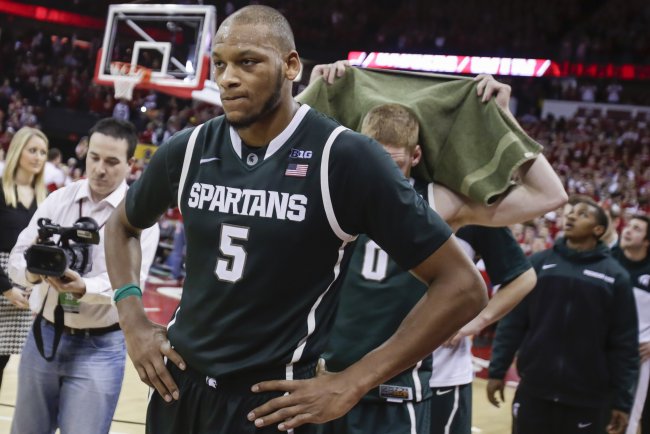 Andy Manis/Associated Press
In just his second game since missing a string of seven straight contests, Payne did nearly everything possible for the Spartans. Unfortunately, it wasn't enough in the loss.
Payne's huge shot with less than 10 seconds on the clock to tie it up highlighted his 24-point performance. In his first start since the seven-game hiatus, Payne finished 9-of-16 and provided a few highlight dunks along with his final three-pointer that was overshadowed by Jackson.
But with no other players up to the task, it's hard to imagine Payne will be able to carry the team on his own. If stars like Gary Harris can't contribute without Appling's services, the Spartans could continue to slide.
Nigel Hayes, Freshman Forward, Wisconsin: A+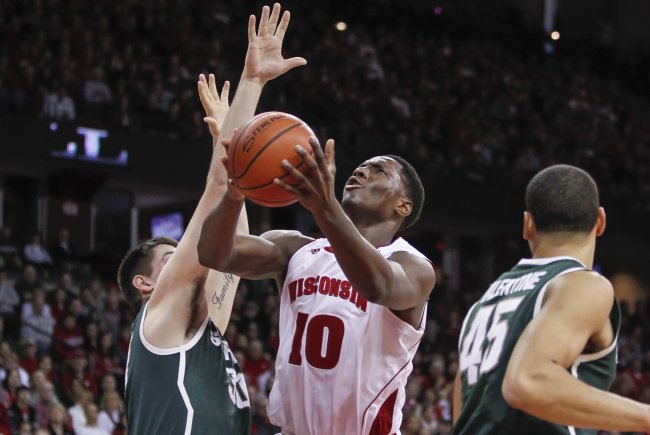 Andy Manis/Associated Press
There were certainly better players on the court for both teams, but Nigel Hayes shined after coming off the bench for the Badgers.
His 14 points came from going 8-of-12 at the free-throw line and were the most by a Badger throughout the contest. Aside from Jackson's game-winning shot, Hayes was clearly the biggest component in Wisconsin's big win.
Flood provides a quote from Ryan on his freshman standout:
Bo Ryan on Nigel Hayes: "He's pretty special." #Badgers

— Evan Flood (@Evan_Flood) February 9, 2014
Hayes just might be an emerging star for the Badgers. If he can continue his recent success in the Big Ten Tournament and in March, Wisconsin might have a legitimate shot at a deep run in both.
Gary Harris, Sophomore Guard, Michigan State: D+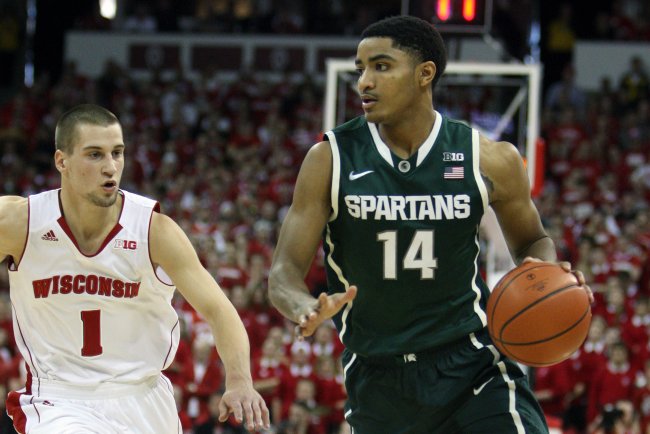 Mary Langenfeld-USA TODAY Sports
One of the veteran leaders and best players on the court for Michigan State at all times throughout his career, Gary Harris came up flat when his team needed him on Sunday.
The senior was held to 3-of-20 shooting and finished with just six points in the contest. ESPN Stats and Info provides a look at his shot chart against Wisconsin:
Gary Harris had a rough shooting day for Michigan State-- Wisconsin held him to 3 for 20 from the field pic.twitter.com/vzyrO0u2xY

— ESPN Stats & Info (@ESPNStatsInfo) February 9, 2014
Harris' struggles on Sunday are likely just an outlier on an otherwise great season. But his shooting and defense will need to improve moving forward if the Spartans have any shot at a No. 1 seed heading into the NCAA Tournament.
Follow R. Cory Smith on Twitter: