The 2014 Winter Olympics are in full swing, with the medal events starting to pile up. Figure skating, skiing and slopestyle have been in the national-media limelight in America, but they are far from the only sports to hand out medals thus far. At the moment, here is the up-to-date medal count leaderboard:
It's still a bit early to speculate on which country will come out on top, but the Olympics are about as much as highlighting individual heroes as they are about the collective medal count. With that in mind, here is a look at some of the top performances from Day 2.
Jamie Anderson Wins Women's Slopestyle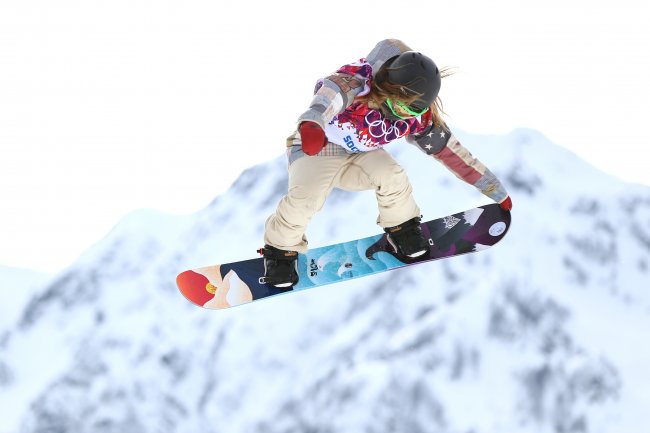 Paul Gilham/Getty Images
American Jamie Anderson made it a golden sweep for the USA at the inaugural slopestyle event, giving her country its second gold medal of the games.
#GoTeamUSA RT @ussnowboarding @Jme_Anderson just received the 1st women's slopestyle snowboarding Olympic gold medal http://t.co/x58MVwTMof

— US Olympic Team (@USOlympic) February 9, 2014
The California native entered the Olympics as a heavy favorite in the event, but the pressure did little to sway Anderson. A pair of 720s on her second run gave her a score of 92.25, ensuring her a medal and placing her three points ahead of second place.
When the final two snowboarders crashed, Anderson had clinched gold. The slopestyle course has gotten some flack for its treacherous layout, most notably from Shaun White's controversial withdrawal, but Anderson handled the event with uncommon poise, per ESPN.com:
"I was really just trying to stay calm and kind of reserve my energy," Anderson said. "It was a lot of stress up there and even though it's just another competition, the stage and the outreach that this event connects to is out of control."

Anderson looked at ease as she made history. While some of her competitors struggled to find enough air time to provide the series of spins and grabs necessary to impress the judges, Anderson floated through the gray conditions.
The gold cements Anderson's legacy as the greatest female slopestyle snowboarder of her generation and continues the U.S.'s success in Winter Olympic snowboarding events.
Matthias Mayer Wins Men's Downhill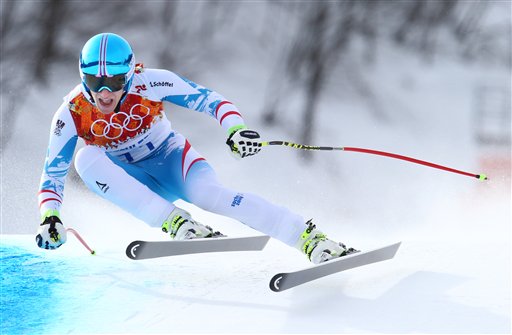 Alessandro Trovati/Associated Press
Unlike slopestyle, the favorites disappointed in the men's downhill skiing event. Five-time American Olympian Bode Miller and Norway's Aksel Lund Svindal both failed to medal, with Svindal finishing fourth and Miller a disappointing eighth.
Instead, Austria's Matthias Mayer stole the show, winning gold with a time of 2:6.23 on Sunday. Italy's Christof Innerhofer came painstakingly close to Mayer's time, finishing just six-hundredths of a second behind.
For the 36-year-old Miller, the disappointment should subside fairly quickly. Miller still has six alpine events ahead of him, and though downhill may be the premiere event, his best medal opportunities are still upcoming:
Bode Miller's flameout in downhill is a disappointment, but it wasn't his likely medal event. Super-G and super combined will be best shots.

— Charles Robinson (@CharlesRobinson) February 9, 2014
Miller entered the Olympics in top form, outskiing most of his competitors in the qualifying runs leading up to Sochi. The downhill was a longer shot than the other events, and though he may rue a series of small mistakes that cost him a reasonable chance at a medal, the most important parts of the Olympics are still ahead for Miller.
Yulia Lipnitskaya Blows Away Women's Free Program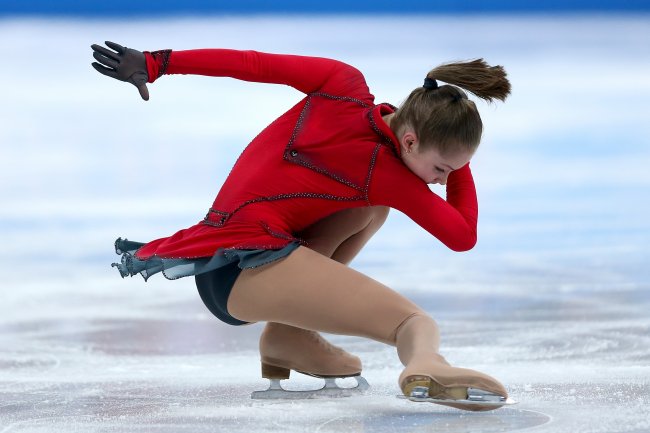 Matthew Stockman/Getty Images
Russian 15-year-old sensation Yulia Lipnitskaya crushed the competition at the women's free program portion of the figure skating team event, with a score of 141.51 that lapped the rest of the field.
America's Gracie Gold represented herself very well, finishing second in the event with a 129.38 score that was well above the third-place mark of 112.51 by Italy's Valentina Marchei. With a solid skate, Gold reaffirmed her status as a medal favorite in the women's individual event.
However, while Lipnitskaya did not directly win a medal for her skate, she effectively clinched gold for Russia in the inaugural team event. Her awe-inspiring program even led to a moment of admiration from the NBC booth:
"Goosebumps. Speechless. She was perfect from start to finish." – @JohnnyGWeir on RUS Yulia Lipnitskaya in ladies' free skate of team fig.

— NBCSportsPR (@NBCSportsPR) February 9, 2014
Her two consecutive first-place performances make Lipnitskaya the overwhelming favorite to claim gold in the individual ladies short program later in the games. The American Gold figures to give her a challenge, but the top spot is the Russian's to lose.