Let's Debate! Another 10 Best Sports Movies of All-Time Slideshow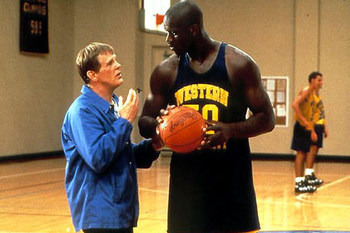 I'm sure you've all read one of these before, but I haven't written one, so I'm throwin' my hat in. Here is what I think are the 10 best sports movies of all time. Don't worry, Blue Chips isn't one of them. I just find the thought of Shaq acting (Shaqting?) amusing.
I'm sure you will all differ in opinion, but please tell me what you think in the comments section.
10 - Kicking and Screaming
I hope you don't lose faith in my list immediately because of this pick, but this movie was funny. Will Ferrell is, of course, a comedic genius, and this film is no different.
However, the real difference maker in this production is the surprise performance of Mike Ditka who will keep you laughing the entire time. Mean Mike shows his soft side...eventually, in this really good children's soccer film with plenty of adult comedy.
9 - Major League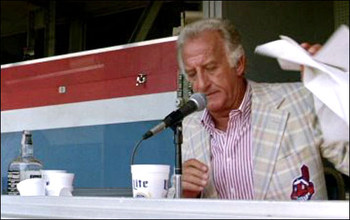 Major League is the quintessential baseball comedy.
From the Wild thing, to Cerrano, to Willie Mays Hayes, the characters are legendary. With a perfect mix of baseball hi jinx and expertise, this movie blends comedy and touching moments perfectly.
Oh, and Bob Uecker is hysterical as always.
8 - The Program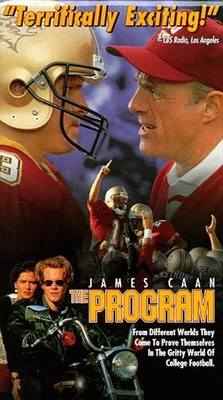 The first serious movie on the list is the football classic; The Program.
It takes us on several journeys including the pressures of a possible Heisman season, steroid and alcohol/drug abuse, parental abandonment, and the stresses of a big time college football program.
This movie keeps you hooked with the on and off field action. And it has Halle Berry, who is always entertaining.
7 - Hoosiers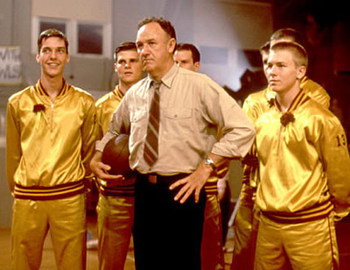 Now, I'm not a big fan of basketball...which might be the sole reason Hoosiers is so low on my list.
With that said, the excitement and wonderful story of this movie can't be denied.
It turns out it's not really based on any single Indiana state championship team, however the climax of the movie, the final shot, is based on Bobby Plump's shot at the end of the 1954 Indiana state high school championship game.
All in all, it's a great sports movie.
6 - Eight Men Out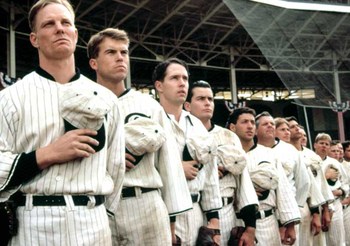 Eight Men Out is the dramatic retelling of the 1919 Chicago Black Sox scandal where several members of the White Sox intentionally tried to lose World Series games to the Cincinnati Reds.
Ever hear the phrase, "Say it ain't so, Joe"? Well, this film makes you say the same thing.
It's rather appropriate in a now scandalous Major League Baseball era. It is a must see for any serious baseball fan.
5 - Bull Durham
Some people might have Bull Durham higher, but I don't.
It is considered a classic and considered by many to be the perfect baseball movie. A nice mix of light comedy, baseball excitement, and meaningful moments.
Tim Robbins and Kevin Costner are excellent. Susan Sarandon is gorgeous.
This might be the most fun movie on the list, but not the best.
4 - The Sandlot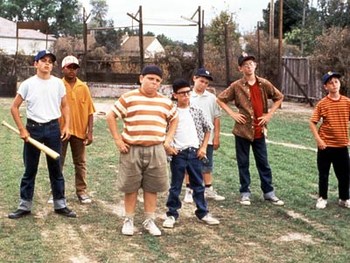 The Sandlot brings you back to the days where baseball didn't involve $125 jerseys, overbearing parents, television contracts, and maximizing profit. This movie brings you back to the neighborhood and how loyal you were to your teammates simply because they were your friends.
This movie shows you why baseball is played, and how it should be played.
3 - Field of Dreams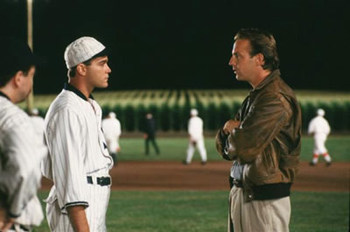 Baseball is the greatest sport ever created.
The beauty of the game lies in how it is played. The game takes time. Every movement, every decision, every play has meaning. That's why this is the greatest baseball movie of all time, it has meaning.
It shows the role baseball played in many of our relationships with our fathers. It shows how we connect to not only our family, but our teams, and our fellow fans through our passion for the game.
Baseball is a thinking man's game and this is a thinking man's movie.
2 - Cinderella Man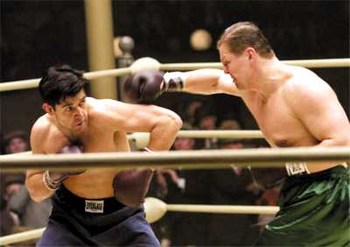 Cinderella Man might surprise some for being so high on the list.
This movie leaves nothing in the ring. It has drama, action, and high excitement. It also might involve the best boxing in any boxing film ever made.
It follows boxing in what should be considered it's golden era, back when people weren't fighting for their 40 percent of a $30 million prize, but for family pride.
1 - Rudy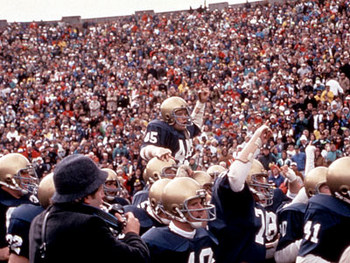 The greatest sports movie of all is the timeless classic...Rudy.
Ladies, if you want to see your man cry during a movie, rent Rudy. When he gets his chance to make a tackle for the Irish, with his parents in the crowd...it will bring tears to any sports fans eyes. Best of all, it's a true story.
It is the ultimate underdog story and the premiere football movie. The acting is great. The names are now famous...Sean Astin, Vince Vaughn, Jon Favreau, and Charles Dutton.
The Notre Dame Irish are the most famous college football program in the country, and there was also a time when they were the best college football program in the country.
This film will not only bring you back to a prideful time in Irish history, but will fill you with sports emotions you didn't know you had.
Keep Reading