Baseball's Best Names 2009
June 9, 2009
People are buzzing about Antonio Bastardo's major league debut. Partly because he's pitched well, but mostly because of his funny name. Luckily, his stellar play (2-0) since his arrival has been more noteworthy than his last name. Bastardo isn't the only major leaguer who's had to carry the burden of a ridiculous name on his back. His nickname is "Travis Henry's Son."
For some reason, a large minority of baseball players have unique names. In the past, players like Dick Pole, Gaylord Perry, and Rusty Kuntz set the bar for absurd names. We've combed the majors to find the most hilarious, random, and ironic names of 2009.  Here's the list:
Mike Sweeney - Who's weenie?
Albert Pujols - I can't believe there isn't more snickering about this one. Maybe it's because he's so good. ESPN is pretty clear about how it's pronounced.
Boof Bonser - Bonser has a major league name and a major league appetite (though he's currently injured and in the minors). He once tipped the scales at 275. He also legally changed his name to "Boof" which was quite a "Bonser."
Randy Johnson - "Randy Johnson" is an awesome double entendre on its own. And his nickname is The Big Unit.
Elvis Andrus - Anybody named after The King deserves to make the list. However, it's still not as good as NHL player Jarome Iginla's use of the name. Iginla's full name is Jarome Arthur-Leigh Adekunle Tig Junior Elvis Iginla.  Elvis also has a brother named TomJones Andrus.  Not really.
Lance Broadway - I can't wait until LBroad makes his debut for the Mets. I admit it—this one really isn't that funny.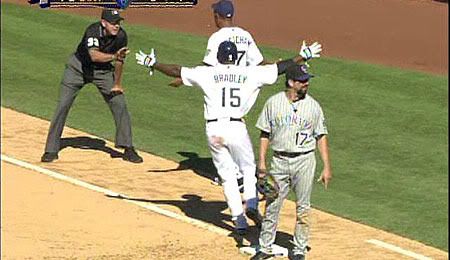 Milton Bradley - He's an angry man and that might be because he has a stupid name. Whose parents would name their child after a board game company? Whose parents would name them Milton?
Grant Balfour - For some reason, the un-funny Wikipedia description makes me laugh: "Balfour is well known in some baseball circles for his seemingly ironic name (Ball-Four), considering the fact that he is a pitcher."
Vladimir Guerrero - Vladimir Guerrero is two percent Russian. That's a lie. But he still has the Russian/Dominican version of "Mario Lemieux."
Delmon/Delwynn Young - Delmon is such a random name and Delwynn is even more random. So I find it hilarious that there are two guys with such similar names in the MLB. It's like if there were a guy in the MLB named "Elijer Dukes."
Read the rest of the list on BigLeagueScrew.com