The medal round for Olympic ski jumping is on Sunday. On Saturday, the athletes who hadn't pre-qualified took to the RusSki Gorki Jumping Center to jockey for position ahead of Sunday's action.
The standout performer from Saturday was Austria's Michael Hayboeck. He set the pace with a score of 128.6. Can he continue his momentum once the big boys take the slope in Sochi?
Hayboeck promises to give the same effort on Sunday that he gave on Saturday. Per David Wharton of the Los Angeles Times, Hayboeck said:
"I'll do the same as I did now, nothing different, and hope for a medal. I'm self-confident now so it should be OK."

Here's how you can watch the action tomorrow, and the women's competition that begins on Feb. 11.

Schedule
Feb. 9: Men's individual normal hill final, 12:30 p.m. ET
Feb. 11: Women's individual normal hill, 12:30 p.m. ET
Look here for TV listings and here for live stream information.
Here are the jumpers that pre-qualified and are ready to show their skills on Sunday:
Ski Jumper
Country

Kamil

Stoch

Poland
Peter

Prevec

Slovenia

Noriaki

Kasai
Japan
Gregor

Schlierenzauer

Austria

Severin

Freund

Germany
Simon

Ammann

Switzerland
Anders

Bardal

Norway
Andreas

Wellinger

Germany
Thomas

Diethart

Austria
Robert

Kranjec

Slovenia
Any of those 10 men could feasibly take the top podium spot, as could Hayboeck if he can rise to the occasion.
However, the man to beat on Sunday will be Gregor Schlierenzauer. Wharton talks about Schlierenzauer's motivation to grab a top podium spot: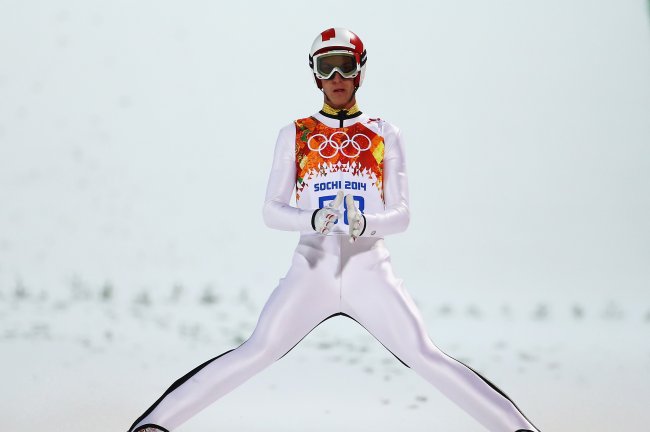 Al Bello/Getty Images
"For all his accomplishments, Gregor Schlierenzauer has never been an individual Olympic champion and he knows that winning the men's normal hill event Sunday won't be easy."

The 2010 bronze medalist has unfinished Olympic business, and he's determined to come through in Sochi.
The 24-year-old Austrian is the favorite for the individual gold medal. For the last three-plus years, Schlierenzauer has established himself as the man to beat in normal hill ski-jumping events.
To further build his case as the head of the ski jumping class in Sochi, Schlierenzauer took the 2013 World Cup at the very venue he'll ski and jump on Sunday.
With Schlierenzauer's talent and the presence of countrymen Thomas Diethart and Hayboeck, Austria seems headed for a second-straight team Olympic gold medal.
It should be an excellent weekend for Schlierenzauer and his teammates.