Ice skating team action continued at the 2014 Winter Games on Feb. 8 in Sochi, Russia, after a brief pause for the opening ceremony, where the highlight of the day was a comeback by the United States to finish in the top five of the new team event to qualify for the final round.
While no medals were dished out on Day 1, several jaw-dropping performances told a bigger story of things to come outside of the team event.
As expected, the usual suspects were mostly responsible for the day's highlights, but one younger newcomer put on a show for the ages in front of her home crowd.
Tessa Virtue and Scott Moir, Canada, Ice Dancing Short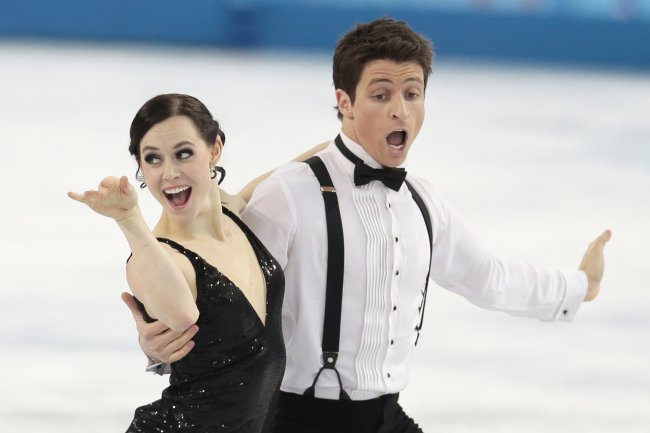 Ivan Sekretarev/Associated Press
Canada's Tessa Virtue and Scott Moir finished in second place behind their friendly rivals Meryl Davis and Charlie White from the United States, but the duo still put together a performance worthy of recognition.
The defending gold winners from Vancouver in 2010 finished exactly three points behind Davis and White with their score of 72.98, but points were clearly docked for a slight technical error, which Virtue discussed after the run, via CBC Sports:
"I might have lost a little bit of speed up to the first one. It wasn't a mental lapse. I actually recovered. I stayed on the same foot."
The good news is the error did not cost Canada much of anything in the grand scheme of the team event, which Virtue says they are taking very seriously:
Tessa and I take the team event very seriously. There's an Olympic medal on the line. We're really trying to lead our team and set a good example. We're disappointed that we didn't have the skate we wanted tonight, but we're still very happy.
Virtue and Moir will surely be a force in the individual events as well, which was confirmed yet again by their strong showing on Day 1.
Meryl Davis and Charlie White, United States, Ice Dancing Short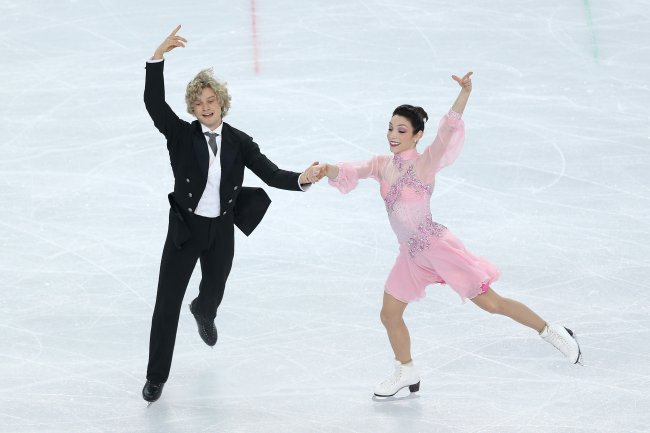 Matthew Stockman/Getty Images
As hinted, the dominant duo on the day was Davis and White, who ran away with the competition thanks to a 75.98 mark that was rewarded for their program to "My Fair Lady."
After the event, Bonnie Ford of ESPN illustrated why watching Davis and White compete with their Canadian rivals is so great for fans:
I never get tired of seeing Virtue/Moir and Davis/White face off. Just remarkable quality. #sochi2014

— Bonnie D. Ford (@Bonnie_D_Ford) February 8, 2014
It should be noted that Davis and White's victory means more than the casual eye would expect thanks to the rivalry, as Maggie Hendricks of USA Today explains:
The margin between Olympic champions Tessa Virtue and Scott Moir and reigning world champs Meryl Davis and Charlie White is so small that even the slightest error is magnified. Virtue and Moir got out of unison on their twizzles—spinning turns—while Davis and White looked like mirror images. The Americans also had just a tad more energy. Small details, but they add up—in this case to a three-point lead over the Canadians.
While impressive, what really mattered in the team event on the day was where the United States stood. Entering the day, the country sat in seventh place, well outside of the top-five requirement to qualify for the finals and potentially earn a medal.
After Davis and White's program, the United States moved up to third place, which Ashley Wagner then capitalized on in a later event to ensure their country would compete for a medal in the new event.
Julia Lipnitskaia , Russia, Team Ladies' Short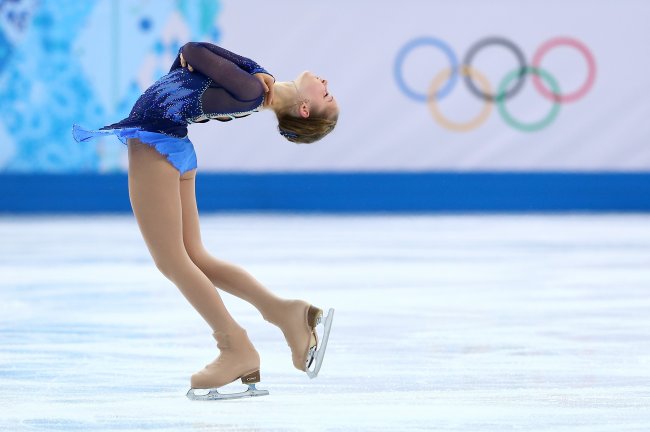 Streeter Lecka/Getty Images
Julia Lipnitskaia wowed the globe on Day 1 of the Olympics.
Best of all, the 15-year-old star did it in front of her host nation and was peppered with roses after her stunning performance, which gave her the No. 1 spot with a score of 72.90.
Lipnitskaia, who makes the Olympic age-eligibility cutoff by 26 days according to NBC, put together a triumphant program to "You Don't Give Up on Love."
Given her youth and the magnitude of the globe's biggest stage, Lipnitskaia's performance is truly awe-inspiring and an immediate classic moment in the Games at Sochi.