Predicting 2019's NBA All-Star Teams: LeBron, Wiggins and Drummond Lead the East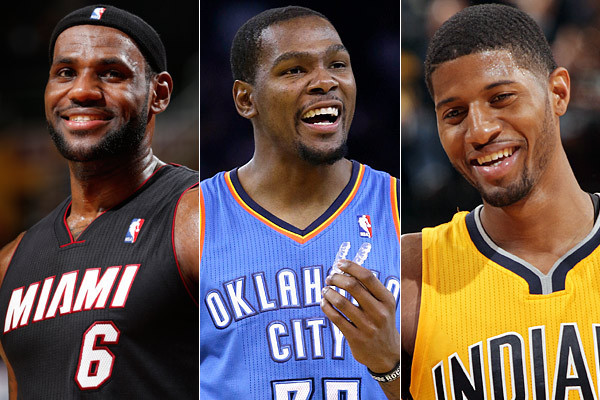 Getty Images

With All-Star weekend approaching, I've decided to fast forward five years...Yes, LeBron will still be an All-Star.
The rest of the list, however, might surprise you.
Note: This is not simply a ranking of the 10 best players in the NBA in 2019. Things that I have taken into account include:
The fan voting process
Predicted team success
Player movement via free agency/potential trades
Each individual's logical career path leading up to 2019
---
Just as a reminder of how much can change in a five year time span, here is a look back at the All-Star starters in 2009 compared to this year:
Eastern Conference
Western Conference
*injured
Aside from D-Wade, LeBron, and Kobe (who won't play), no 2009 All-Star starters made the 2014 lineup.
Begin Slideshow

»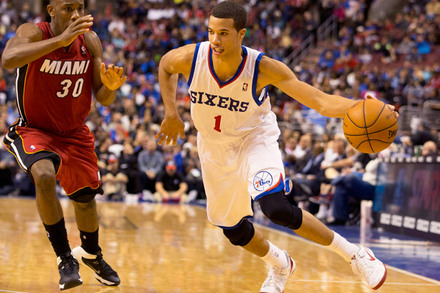 Mitchell Leff/Getty Images

2013-14 Per Game Stats: 17.2 PPG, 5.4 RPG, 6.6 APG, 16.57 PER
Age in 2019: 27
Other Potential Awards/Accolades in 2019: All-Defensive Team, League Leader in Steals
---
If he can bump his assist rate up to seven per game, Michael Carter-Williams will become just the second rookie in league history (post-merger) to average 17 points, 5 boards, and 7 assists. The first? Magic Johnson.
When you put up those kinds of numbers in your first year, the future is certainly bright.
My money is on MCW getting the starting nod in 2019. He'll be the star of a Philadelphia 76ers team full of exciting talent, and he'll take full advantage of the increased exposure.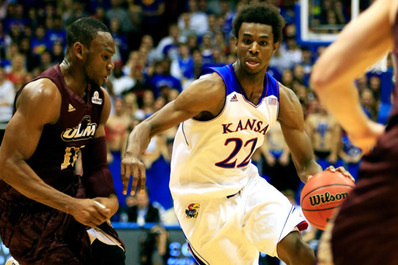 Jamie Squire/Getty Images

2013-14 Per Game Stats (at Kansas): 15.9 PPG, 6.0 RPG, 1.6 APG
Age in 2019: 23
Other Potential Awards/Accolades in 2019: Second Team All-NBA, Dunk Contest Champ (we can dream)
---
Andrew Wiggins arrived in Lawrence, Kansas with the kind of hype that is almost impossible to live up to. So, the fact that his draft stock has fallen somewhat in recent months is understandable.
However, if I have the number one overall pick this year, I'm absolutely going with Wiggins.
His game is perfectly suited for the NBA, and if he's used as a shooting guard (which is where I have him here), he's going to be an absolute nightmare to defend and a huge mismatch pretty much every night.
Assuming the fans are still voting on who should start the All-Star game, the fact that Wiggins will have the entire population of Canada in his corner won't hurt, either.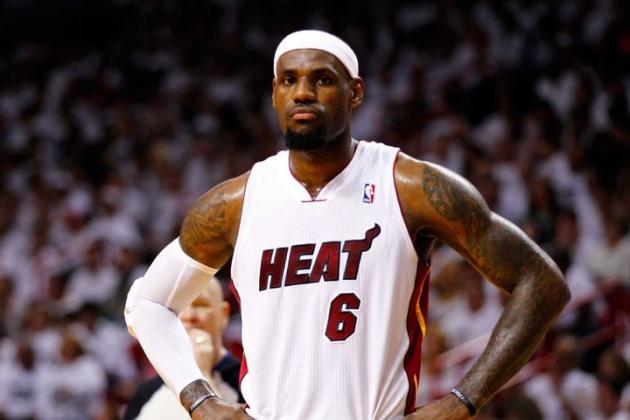 Getty Images
The King will still be in the hunt for MVP
2013-14 Per Game Stats: 26.3 PPG, 6.9 RPG, 6.6 APG, 29.13 PER
Age in 2019: 34
Other Potential Awards/Accolades in 2019: MVP, First-Team All-NBA, League Leader in Triple-Doubles
---
For anyone who thinks LeBron won't be starting five years from now, I suggest you go ahead and watch this. Seriously, go watch it. I'll wait.
In 2019, King James will be 34. Michael Jordan averaged 29 points a night at that age. Kobe averaged 27.
Depending on his situation, LeBron could be averaging even more than either of them...or double-digit rebounds...or double-digit assists. You get the idea.
All. Hail. The. King.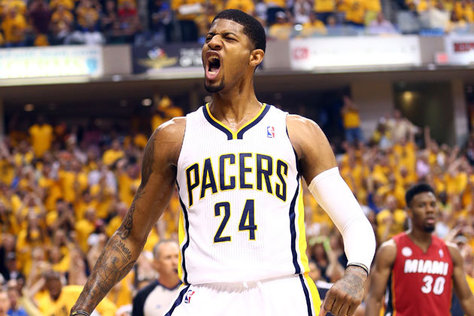 Getty Images

2013-14 Per Game Stats: 22.7 PPG, 6.4 RPG, 3.4 APG, 21.13 PER
Age in 2019: 28
Other Potential Awards/Accolades in 2019: DPOY, First Team All-NBA, All-Defensive Team
---
Although he has cooled off a bit lately, Paul George has firmly stamped his place as a top-five player in the NBA. He plays defense, he scores and he knows how to win.
Did I mention that he's only 23 years old?
By 2019, there is no reason why we shouldn't expect PG24 to be in the conversation along with Kevin Durant as to who the league's best player is.
This is a guy who has already won a Most Improved Player award and is in the running for another. That kind of work ethic usually leads to great things.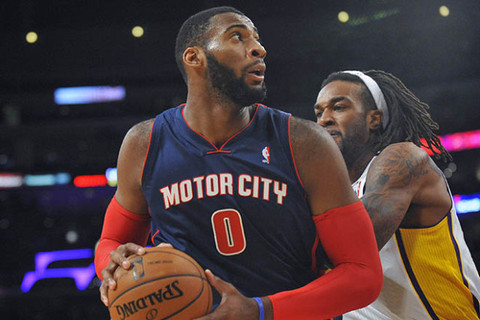 Gary A. Vasquez/ USA Today Sports

2013-14 Per Game Stats: 12.9 PPG, 12.8 RPG, 1.9 BPG, 22.06 PER
Age in 2019:
Other Potential Awards/Accolades in 2019: First Team All-NBA, DPOY, League Leader in Blocks
---
Wow, a true center starting in the All-Star game! Could it really happen again? Without Andre Drummond, probably not.
Luckily for the Eastern Conference and the Detroit Pistons, this guy picked a career in basketball.
One of the most athletic 7-footers we have ever seen, the sky truly is the limit for Drummond.
He has the potential to be an absolute force on the defensive end, and as long as he continues to work on his post footwork, he could very well be putting up Shaq-like numbers by 2019.
What do I mean by "Shaq-like" numbers?
Shaquille O'Neal's stat line during his MVP 1999-00 season: 29.7 PPG, 13.6 RPG, 3.0 BPG.
Drummond might not be quite at that level by 2019, but I'm not putting anything past the 20(!!)-year-old, who currently ranks 17th in the NBA in PER, according to ESPN.com.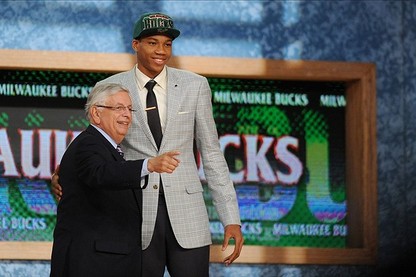 Jerry Lai/USA Today Sports

Giannis Antetokounmpo (pictured above):
By 2019, the "Greek Freak" will be a regular contributor to Sportscenter's Top Ten Plays, and one of the more exciting players in the league. Oh, and he'll be just 24 years old.
Everything he does here is unteachable. The closing speed, the jumping ability, the length, the finish on the other end...He's going to be special, and NBA fans are going to fall in love with him.
Kyrie Irving:
Cleveland will have figured things out by 2019...right? Gosh, I sure hope so.
If they have any hope, it hinges on Irving continuing to perform at an All-Star level, and I'm predicting that he does just that. In fact, I'm predicting a very specific stat line: 23 ppg, 50% FG, 44% 3-point FG.
Why the giant leap in efficiency? The Cavaliers front office will finally make some star acquisitions and pick up a power forward who can spread the floor and open up the lanes for Mr. Irving to do his thing.

Wall finally got the All-Star nod this season, and it is very well-deserved. He's the quickest player in the NBA and is quietly becoming a top-15 guy. The only reason he isn't starting in 2019? Washington still stinks (sorry Wizards fans).
Nerlens Noel:
There is no denying Noel's freakish athleticism and shot-blocking ability.
He's going to be a defensive stalwart from day one (whenever that ends up being). However, his offensive game is going to be limited by his slight frame. In an interview conducted by Comcast Sportsnet's Dei Lynam, Sixers coach, Brett Brown had this to say:
I think rim to rim he is going to beat people up the floor, but once it gets to a half-court game then it has to be turn and face...He has to out-quick people and ultimately get to his jump hook or get to the paint. I think he is going to have great potential there.
By 2019, this outlook could very well have changed, and Noel could be a solid post presence for Philly. He'll more than likely make the All-Star team due to his contributions—significant ones—on the other end of the floor, though.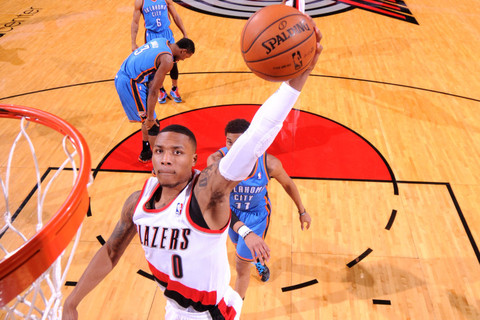 Getty Images

2013-14 Per Game Stats: 20.6 PPG, 3.7 RPG, 5.7 APG, 18.84 PER
Age in 2019: 28
Other Potential Awards/Accolades in 2019: Second Team All-NBA, League Leader in 3-point Field Goals
---
Mr. All-Star Weekend himself might have the most range in the entire NBA. He's an absolute sniper.
Even more impressive, however, is his ability to execute the pick and roll.
With rumors circulating that the trio of Lillard, Nic Batum and LaMarcus Aldridge have a desire to play together in Portland for a while, Lillard has the chance to blossom into one of the league's best point guards while operating in an offense where he feels comfortable.
It's pretty scary to consider that this is only his second year in the league. Then again, he did play four years of college ball. If Adam Silver ever decides to push the Player's Union to reconsider the number of years a player must stay in college before declaring for the draft, here's his poster boy.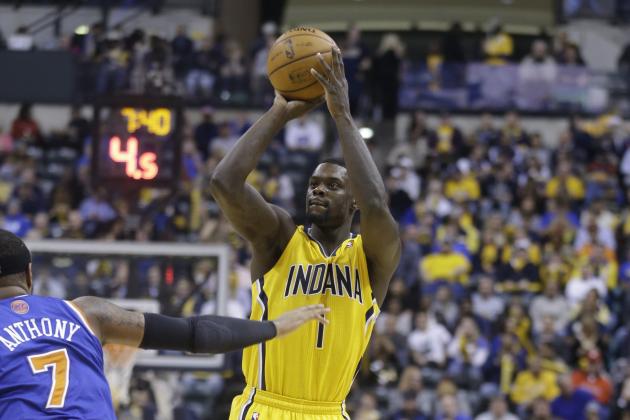 Michael Conroy/Associated Press

2013-14 Per Game Stats: 14.1 PPG, 7.2 RPG, 5.3 APG, 15.96 PER
Age in 2019: 28
Other Potential Awards/Accolades in 2019: First Team All-NBA, League Leader in Triple-Doubles
---
Stephenson is having one heck of a season. He leads the league in triple-doubles, he's playing 36 minutes a night for the NBA's best team and he's becoming a household across the country.
Pretty good for a guy who was drafted 40th overall and played in a total of 12 games his rookie year, huh?
Now, about his contract (and why I have him listed as a Western Conference All-Star as opposed to an Eastern Conference All-Star).
According to Stephenson, via USA Today's Candace Buckner:
I wouldn't want to leave a good team like this. I definitely would love to come back...I just love the city. I love the team. I love who I play with and I feel like we're a young group and I think we should stick together.
Whether we want to believe Stephenson or not, the conversation is going to be entirely different in the offseason when teams start making offers and throwing money at him.
Personally, I believe Lance will stay in Indiana.
He's got a chance to be a part of a championship contender for the foreseeable future, and I think he understands the rarity of that. However, I also believe that the maximum amount of years he re-ups with Indiana for is three.
He'll be taking less money to stay with the Pacers and he'll want to put himself in a position to secure a max contract sooner rather than later.
Where is that max contract going to come from? My prediction: he does look good in yellow...and Los Angeles fans love players who can put on a show.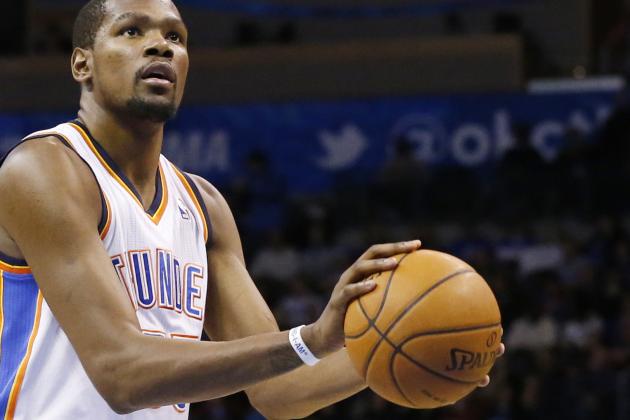 Sue Ogrocki/Associated Press
Durant didn't seem too thrilled about the "Slim Reaper" nickname. Maybe he'll like "Best Player in the World" better?
2013-14 Per Game Stats: 31 PPG, 7 RPG, 5.3 APG, 31.03 PER
Age in 2019: 30
Other Potential Awards/Accolades in 2019: MVP (Front-runner), First Team All-NBA, 50-50-90 club
---
I'll make this quick.
Kevin Durant will be 30 years young in 2019. He'll be the best player in the world. Westbrook will leave in free agency to get his shot at being a number-one scoring option, and we'll all get to watch KD go for 34 a night.
Can you believe this guy is just 25 right now? Yeah, me neither.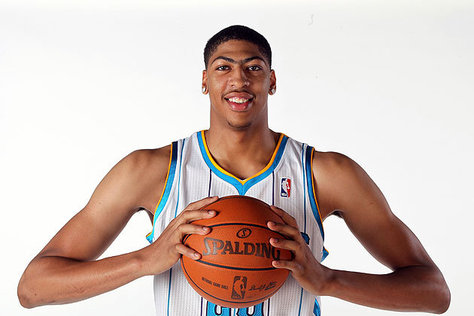 Getty Images

2013-14 Per Game Stats: 20.5 PPG, 10.5 RPG, 3.3 BPG, 26.72 PER
Age in 2019: 25
Other Potential Awards/Accolades in 2019: MVP (Dark Horse), First Team All-NBA, League Leader in Blocks
---
The Pelicans have a decision to make regarding Davis. Either they commit to him as their center and develop his inside game or they stick him at Power Forward and work on his mid-range game.
It's a tough call but the nice thing about Davis is that, regardless of the route New Orleans decides to take, he's going to dominate his matchup every single night.
By 2019, "The Brow" is going to be one of the league's must-see players and a legitimate MVP candidate. He's an absolute stud, and if he's already on the verge of making history at age 20, just imagine what kinds of records he's going to be breaking in his prime.
(check out this awesome article by CBS Sport's Zach Harper for a more in-depth look at what makes Davis so unique)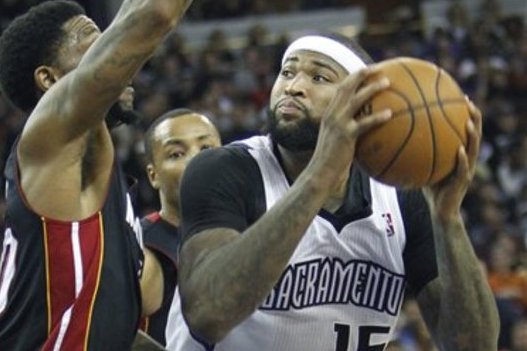 Associated Press
A more mature Cousins could carry Sacramento for the next decade
2013-14 Per Game Stats: 22.7 PPG, 11.6 RPG, 1.2 BPG, 26.61 PER
Age in 2019: 28
Other Potential Awards/Accolades in 2019: Second Team All-NBA, League Leader in Double-Doubles
---
Cousins has the sixth-highest PER in the NBA right now. Did you know that? Does anyone know that?
The knock on Cousins throughout his career has been his immaturity and anger problems.
In many people's eyes, he's a tremendously talented basketball player with all the potential in the world—potential that he'll never realize due to his childish ways.
By 2019, "Boogie" will be a much more focused and disciplined young man. As a result, he'll be the best player on the court most nights.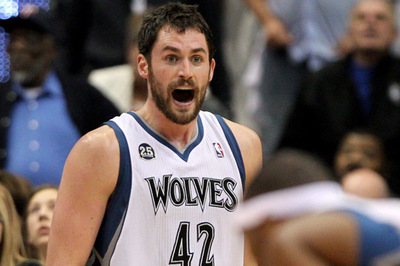 USA Today Sports Images

Kevin Love (pictured above):
K-Love doesn't look too happy in that picture, does he? That's probably because he isn't happy—in Minnesota, that is.
Thankfully for Love, I'm looking out for him and predicting that he lands with the Lakers in the summer of 2015. You are very welcome, Kevin.
In all seriousness, Love is an incredible player, and the exposure and playoff experience he'll get in Los Angeles is only going to make him better.
Interesting fact of the day: According to Dan Feldman of Pro Basketball Talk, prior to this season, no player had posted back-to-back 25-point, 15-rebound, 5-assist games since 2006-07. Love has already done it twice this season.
Kawhi Leonard:
By 2019, Tim Duncan will be retired. So will Manu. Tony Parker might still be playing but not at an All-Star level.
Enter Kawhi Leonard. One of the league's most underrated players for the last few years, Leonard will finally get his opportunity to shine in San Antonio. He'll transition into his new role so smoothly that it will convince Popovich to stick around for a few more years.
Stephen Curry:
Mark Jackson will be happy with me for including Steph. Honestly though, how could you not?
Curry's shooting stroke is one of the most consistent in the NBA and that doesn't ever just disappear. He'll be among the league leaders in points and three-pointers until the day he retires.
Dante Exum:
Here's a quick introduction to the super-talented Aussie, Dante Exum. Of all the players in the 2014 projected draft class, he might have the most potential.