Tiger Woods' 10 Most Memorable Wins of the 2000s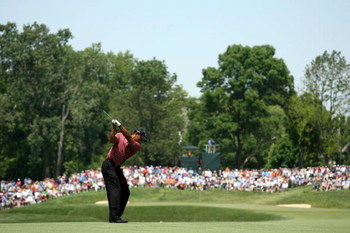 This past Sunday afternoon, we once again saw Tiger Woods' amazing ability.
Woods had to overcome a four-stroke deficit heading into the final round to win his fourth career Memorial crown.
It seems like every victory Tiger earns brings back memories of a former great performance.
That's why I've decided to look at Tiger's top 10 wins so far this century. Surely, the list is subject to change any weekend Woods takes on the field.
10. 2006 British Open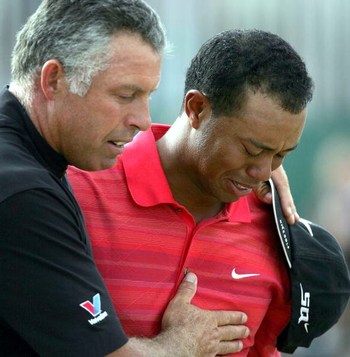 Woods defeated Chris DiMarco by two strokes to finish 18 under par. It was his first win since his father and lifelong inspiration, Earl Woods, passed away.
"After the last putt, I realized that my dad is never going to see this again."—Tiger
Woods uncharacteristically began weeping after the final hole, overcome with emotions and the thought of his late father.
9. 2001 Bay HIll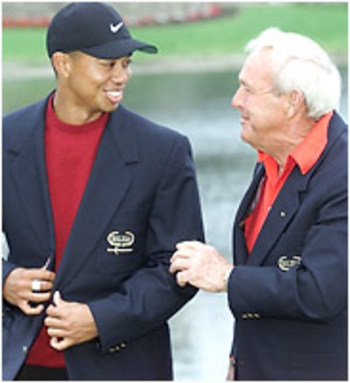 Going to the 72nd hole, Woods was tied with Phil Mickelson. Tiger's tee shot veered off path and hit off a spectator. It turned out to be a big break for him, as the ball was headed dangerously towards out of bounds.
The ball came to rest on a cart path, and Woods, after taking a drop, pitched to within 15 feet of the pin. He sunk a birdie to end things for Phil.
"I got an Arnold Palmer break."—Tiger
8. 2005 Ford Championship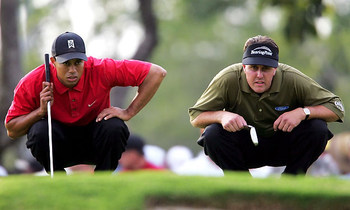 Phil Mickelson held a share of the lead after each of the first three rounds. On Sunday, Tiger shot a 66 to Phil's 69 and came back for the win.
The two had a classic Sunday battle. Woods took his first lead of the tournament with an eagle on 12. Phil proceeded to birdie 13 and 14 to regain the lead, but Tiger's 30-foot putt on 17 secured a victory. He also shot a course record 24-under at Doral.
With the win, Tiger moved back atop the World Golf Rankings, taking over from Vijay Singh.
7. 2009 Memorial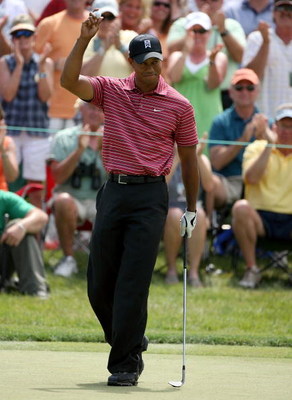 Trailing by four strokes entering Sunday, an eagle chip from the thick rough on 12 got him back into things. Woods went on to birdie 17 and 18 to break a four-way tie on top of the leaderboard.
He hit every fairway during his final round 65 and was 51 for 56 for the tournament.
6. 2009 Arnold Palmer Invitational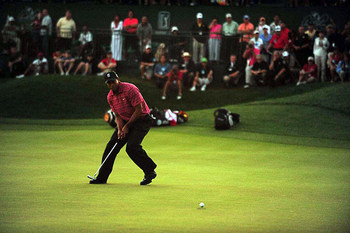 In just his third appearance since returning from reconstructive knee surgery, Woods climbed from five strokes back in the final round to beat Sean O'Hair.
He rattled home a dramatic 16-foot putt on 18 to cap it off. It was the third time in his career he had won on the 18th at Bay Hill ('01, '08).
5. 2005 Masters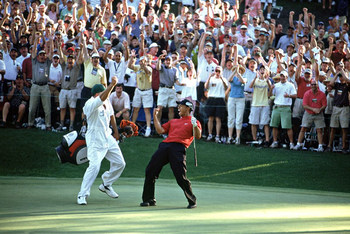 "The Chip"
The soon-to-be Nike commercial happened on Sunday at the 16th. Woods chipped up and away from the pin, only to see the ball turn 90 degrees and head for the hole. The ball came to a full stop on the lip of the cup, and a few seconds later, the crowd went nuts when it dropped to the bottom.
Woods had to overcome an opening day 74 with a 66 Friday and a 65 Saturday. He ran off seven straight birdies on the third day.
Tied with Chris DiMarco at 12 under par, Woods finally was able to put on the Green Jacket after a 15-foot birdie on the first playoff hole.
4. 2001 Masters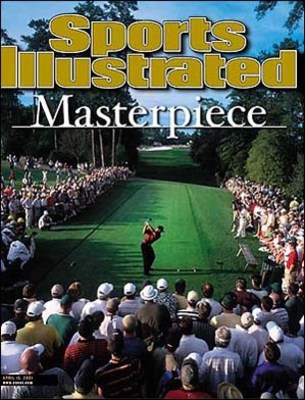 This victory made Woods the only golfer to ever hold all four Major titles at once. It was his third straight win at the time.
Woods held off a surge by David Duval with a birdie on the par five 15th. On 18, he stayed two strokes ahead with a 15-foot putt for the win.
3. 2000 U.S. Open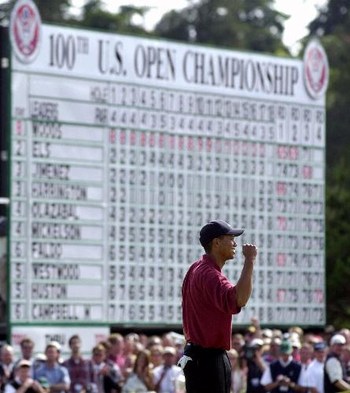 Tiger never had anyone in the same area code during this win.
"It seems like we're not playing in the same ballpark."—Ernie Els
No one else finished under par as Woods ran away from the field with a 12 under par weekend at Pebble Beach.
Woods hit 73 percent of his fairways, 71 percent of his greens, and averaged only 27 putts in what was the largest margin of victory ever at a Major Championship.
2. 2000 British Open
Tiger shot a course record 19-under, 269 at St. Andrews for an eight-stroke victory. For the weekend, Woods made 22 birdies.
He never hit a ball in the sand.
"He raised the bar to a level only he could reach."—Tom Watson
1. 2008 U.S. Open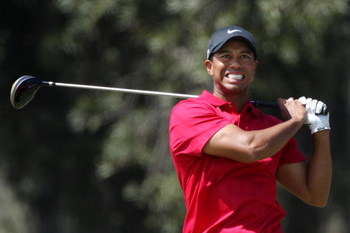 Torrey Pines has never seen more drama than on Father's Day weekend 2008.
Playing on a torn ACL, two stress fractures in his tibia, and just weeks after arthroscopic surgery, Woods holed a 12-foot birdie on the 72nd hole to force a playoff with Rocco Mediate. They finished at one under par, the only two players in red figures.
Fortunately for golf fans everywhere, the U.S. Open decides a tie by playing an entire 18-hole playoff the next day. But the 18 playoff holes weren't enough. Woods birdied 18 on Monday to force sudden death.
When Rocco Mediate missed a 20-footer for par, Tiger completed his most memorable win of the 2000s, and perhaps the most memorable win in golf history.
Keep Reading