The 2014 Winter Olympics in Sochi are officially underway, as the opening ceremonies are here and bigger than ever.
The opening ceremonies, besides serving as an introduction to the Games, are also an introduction to the host country's history and culture. The ceremony in
While the event will not be shown in the United States until 7:30 p.m. (ET) tonight on NBC, the rest of the world has been able to take in the festivities, and social media has been all over it, buzzing about the must-see moments from the Sochi kick off.
If you want to wait until the event is shown on TV in America, then read no further. But if you're willing to bear the spoilers, read on to take a look at some of the must-see moments from the opening ceremonies.
Lighting of the Torch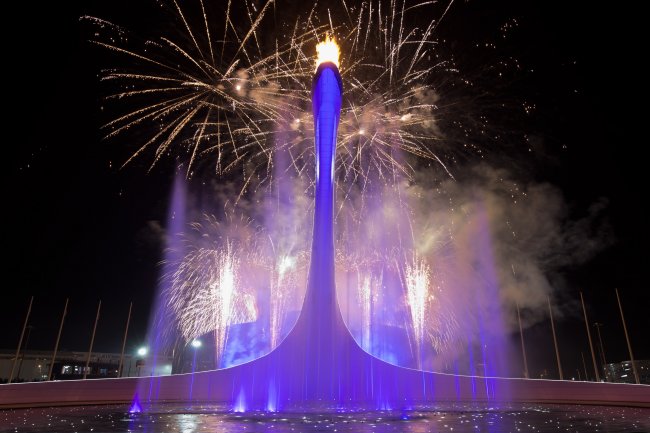 Bernat Armangue/Associated Press
The lighting of the torch is always one of the most memorable moments of any opening ceremony, and this year did not disappoint. Russian hockey legend Vladislav Tretiak and three-time figure skating gold medalist Irina Rodnina did the honors, as the Associated Press tweeted:
BREAKING: Hockey great Vladislav Tretiak, 3-time gold medalist Irina Rodnina light Sochi Games cauldron.

— The Associated Press (@AP) February 7, 2014
Here's how the lighting of the torch looked:
The choice of Tretiak was particularly inspired. Tretiak is widely considered as one of the best goaltenders of all time and has three gold medals.
While there were certainly other worthy choices, going with Tretiak and Rodnina was a great call.
The actual lighting itself, up what looks a bit like a ramp, was technologically advanced and visually stunning. Well done, Team Sochi.
Ring Malfunction
Hey, putting on an opening ceremony isn't exactly easy.
There are so many variables, so much reliance on technology and so many moving parts.
Maybe it shouldn't be surprising that there was a bit of a malfunction.
Here's what happened. A number of fake snowflakes were supposed to magically transform into the five Olympic rings, a project that, in theory, sounds pretty awesome.
Except, only one didn't make it.
This is how it looked: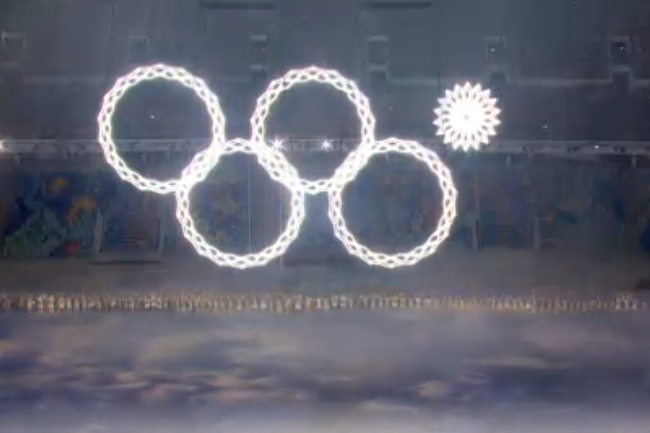 Bleacher Report
Close, but not quite. Owen Gibson, the chief sports correspondent for The Guardian, tweeted out what it was supposed to look like:
Here's what those rings were supposed to look like #gcamSochi pic.twitter.com/14Tj5tovKJ

— Owen Gibson (@owen_g) February 7, 2014
In the grand scheme of things, it's a minor malfunction, but for a country that was so determined to put on a flawless event, it's certainly a stain. Granted, it's hard to imagine that many will remember this in a few days, especially once the events get started in earnest.
Parade of Nations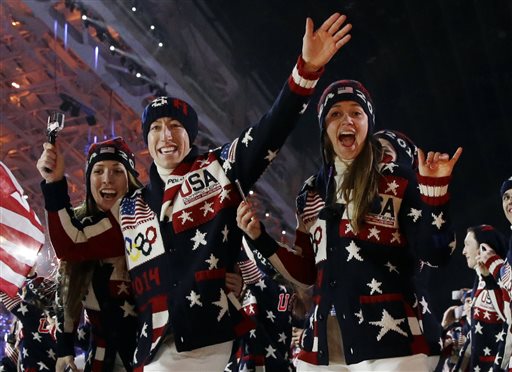 Patrick Semansky/Associated Press
The Parade of Nations is always a fun event, showcasing the wide variety of talent, from all different cultures, that will be participating in the Olympics.
And there's always, always some awesome outfits.
Take a look at the Ukrainian jackets, as per Ben Rothenberg of the New York Times:
SPOILER: Honorable mention to these amazing Ukrainian jackets. #sochi2014 pic.twitter.com/XTGNM9gUFb

— Ben Rothenberg (@BenRothenberg) February 7, 2014
I'd buy one, just saying.
There's also the countries that send just one athlete to the Winter Games. In this case, take a look at Mexican Alpine Skier Hubertus Von Hohenlohe (via Bryan Armen Graham):
Hubertus Von Hohenlohe, Mexico's Olympic team of one, carries in the flag. pic.twitter.com/kYVxqHb4Yt

— Bryan Armen Graham (@BryanAGraham) February 7, 2014
And then, of course, there's Team USA, with their awesome knit outfits:
The Parade of Nations never disappoints. It's a real showcase, and a memorable sight, especially for the athletes.
Final Thoughts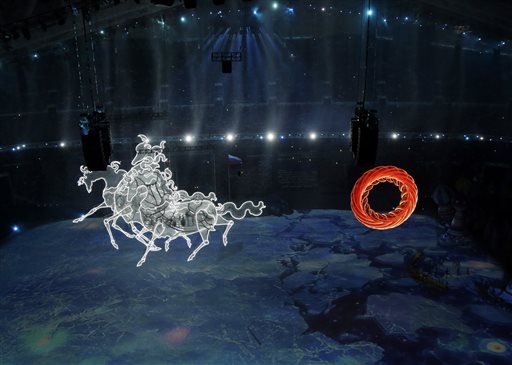 David J. Phillip/Associated Press
Other than the malfunction with the rings—which was pretty minor, and something most will forget about in a few days—the opening ceremony from Sochi was a smashing success. Between the torch lighting, the cool graphics and the Parade of Nations, it's safe to say that the Sochi opening ceremonies will be remembered for some time.