As expected, the Opening Ceremonies for the 2014 Winter Olympics in Sochi, Russia, was a grand production. The spectacle at Fisht Stadium seems to have ranked among the best Opening Ceremonies in Olympic history.
The official American broadcast of the event takes place at 7:30 p.m EST on Friday, but there are tons of pictures and accounts of the event circulating.
Here's some of the moments that will prove most memorable.
The Fireworks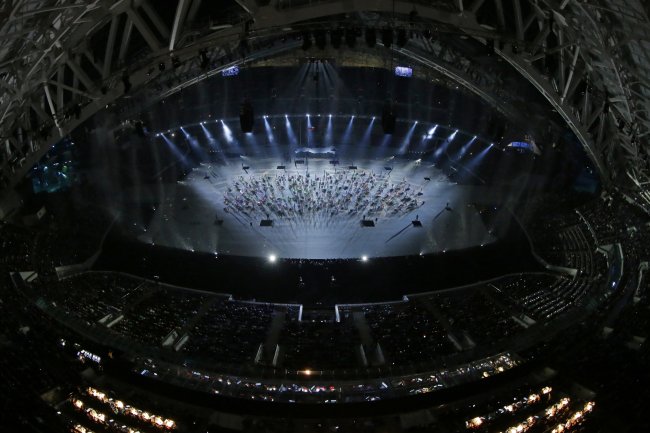 David J. Phillip/Associated Press
Ceremonies began with an epic fireworks display that would have impressed fans on Independence Day in the United States. Jim Wilhelm of the Pittsburgh Tribune Review and Jeff Swinger of the Cincinnati Inquirer captured the view from outside Fisht Stadium.
PHOTO of fireworks exploding at start of Friday's #Sochi #WinterOlympics Opening Ceremonies via @GettyImages: pic.twitter.com/Wa0LakXuvk

— Jim Wilhelm (@BreakingNewzman) February 7, 2014
#Sochi2014 celebrates Opening Ceremonies with a blast of fireworks @enquirer @USATODAYsports pic.twitter.com/yEBMHHp1ey

— Jeff Swinger (@swingmancinci) February 7, 2014
At least a portion of the reported $51 billion spent on the Olympics went to this grandiose show, but it certainly seemed to serve its purpose.
The ceremonies opened with a bang.
The Broken Snowflake
There were some issues at the outset of the show. The Olympic Rings were supposed to float inside the stadium, join together and explode into a pyrotechnic display. However, one ring did not cooperate and thus left this image tweeted by Sportslogosnet's Chris Creamer, floating above the crowd.
Olympic logo malfunction at Sochi opening ceremonies: pic.twitter.com/xX5nLhg4Lb

— Chris Creamer (@sportslogosnet) February 7, 2014
It was quickly removed and the show continued. Overall, it seemed like just one small mishap in an otherwise sterling show of pageantry.
National Pride
The host country obviously gets to show off in a major way, but the other nations also get an opportunity to outfit themselves in their country's colors and regalia during the Parade of Athletes.
Canadian Olympic Bobsledder Jesse Lumsden and American cross-country skier Jessie Liggins flash a little national pride in their tweets.
A sea of red. Ready to march. True North strong and free. #OpeningCeremonies #teamcanada @CDNOlympicTeam pic.twitter.com/bRaEOkKprb

— Jesse Lumsden (@JesseLumsden28) February 7, 2014
Here we go!!! Opening ceremonies tonight! Time to stomp in those new boots. #Sochi2014 pic.twitter.com/5LMWtn1t1U

— Jessie Diggins (@jessdiggs) February 7, 2014
All in all, despite the wealth of negativity floating about, the Opening Ceremonies looked to be a positive experience.