The 2014 Winter Olympics in Sochi, Russia, got started with a handful of qualifying events on Feb. 6, but the true beginning doesn't come until the opening ceremony. It took place at spectacular Fisht Olympic Stadium on Feb. 7, and it was a majestic start to the Sochi Games.
There was pressure on Russia to put on a great show, and those watching weren't disappointed. From the interpretive performances to the parade of nations and everything in between, ceremony organizers knocked it out of the park.
As seen in this photo from Paul Waldie of The Globe and Mail just prior to the start of the ceremony, the venue looked modern and fit for such a huge event:
View from Sochi stadium 1 hour to opening. #Sochi2014 pic.twitter.com/uL2EEcaq62

— Paul Waldie (@pwaldieGLOBE) February 7, 2014
While questions may remain regarding Russia's ability to host the Olympics throughout the Games, the country made an excellent first impression.
Here is an in-depth look at the most important aspects of the Sochi opening ceremony complete with top flag bearers and much more.
Opening Ceremony Highlights
The bar for opening ceremonies has been set quite high in recent years ever since the outstanding display to kick off the 2008 Beijing Summer Olympics. Expectations were high for Sochi's effort, and things got off to a rousing start.
According to Oskar Garcia of the Associated Press, the beginning of the ceremony featured a run through the Cyrillic alphabet complete with references to Russian innovation:
Ceremony kicking off with summary of Russian accomplishments set to each letter in the alphabet. Tchaikovsky, Kandinsky, etc. #Sochi2014

— Oskar Garcia (@oskargarcia) February 7, 2014
As is sometimes the case, not everything went smoothly. In what looked to be a beautiful display, five large snowflakes morphed into the Olympic rings. Unfortunately, the fifth one malfunctioned, as seen in this photo courtesy of Daily Mail Online:
Malfunction in Sochi as one snowflake doesn't expand during the opening ceremony pic.twitter.com/FJLxXPSqIc

— Daily Mail Online (@MailOnline) February 7, 2014
Luckily, things got better from there as the parade of nations kicked off. There was some concern that outside distractions such as stray dogs could negatively impact the ceremony, and there was one present prior to the start of the ceremony, as seen in this tweet from James Ellingworth of R-Sport:
A stray dog just strolled into the stadium ahead of the Sochi opening ceremony. Volunteers chased him away. pic.twitter.com/UJa8Ny3i5z

— James Ellingworth (@jellingworth) February 7, 2014
That wasn't an issue for the remainder of the event, though. From an excitement perspective, emphasis was placed upon making the parade of nations more interesting than usual. According to Ken MacQueen of Maclean's, the plan was to make the march quicker:
#sochi #openingceremonies head promises to fast-foward the athletes' march usually "the longest and most boring part" #Thankyou

— Ken MacQueen (@kmqyvr) February 7, 2014
What was your favorite part of the opening ceremony?
There is no question that the parade of nations was briefer than usual, although that had plenty to do with the fact that there are far fewer competing nations in the Winter Olympics compared to the Summer Olympics.
The march featured a map of the world projected onto the stage, and each nation made its way down the aisle right through the middle of the map.
There was no lingering or confusion, so the Russian opening ceremony organizers certainly seemed to accomplish their mission.
Things really kicked into another gear once the march came to an end. Russia is a country that is steeped in tradition, so what followed was a performance that essentially presented the entire history of Russian culture.
Before that occurred, however, the massive Olympic mascots took the floor in a scene that inevitably went viral almost immediately:
The mascots take the stage #OpeningCeremony pic.twitter.com/URZm4ofKD3

— Olympics (@Olympics) February 7, 2014
After that, the Russian organizers dazzled the viewing audience. Among the incredible visuals was this horse and carriage structure:
Horses gallop #OpeningCeremony pic.twitter.com/9pBRj21hsf

— Olympics (@Olympics) February 7, 2014
The progression of Russian history continued from there into the 20th century, as seen in this fantastic photo courtesy of Sochi organizing committee president Dmitry Chernyshenko:
Beginning of the XX century - time of the Russian avant-garde #OpeningCeremony #Sochi2014 pic.twitter.com/ZTcFEcTeJq

— Dmitry Chernyshenko (@DChernyshenko) February 7, 2014
While Russia's Soviet era is looked down upon by many, a look at Russian history wouldn't be complete without it. The era was represented in spectacular fashion with things such as this massive sickle, which can be seen courtesy of Bruce Arthur of the National Post:
Awesome pic.twitter.com/Mtc6xKoVFq

— Bruce Arthur (@bruce_arthur) February 7, 2014
After the frenetic pace of the performance, things slowed down a bit as the traditional speaking portion of the ceremony occurred. Following Chernyshenko's speech, International Olympic Committee president Thomas Bach took the microphone.
The new president was clearly excited about the start of the Games, which led Christopher Clarey of The New York Times to essentially deem him the opposite of former IOC president Jacques Rogge.
Thomas Bach already more animated in two sentences than Jacques Rogge was in 12 years as IOC president

— Christopher Clarey (@christophclarey) February 7, 2014
Human rights have been a hot-button issue heading into Sochi, and Bach addressed the situation, per Hamish Macdonald of ABC News:
Thomas Bach at #sochi2014 says it is possible to live "without any form of discrimination for whatever reason"

— Hamish Macdonald (@hamishNews) February 7, 2014
Bach also discussed the importance of diversity, according to Christine Brennan of USA Today:
There's that word again. "Diversity." This time from IOC president Thomas Bach. "Games are about embracing human diversity and great unity."

— Christine Brennan (@cbrennansports) February 7, 2014
Following Bach's impassioned speech, Russian president Vladimir Putin declared the 2014 Olympic Games open, per Sochi 2014 on Twitter:
Vladimir Putin, President of Russian Federation: The #Sochi2014 Winter Olympic Games are now open! #OpeningCeremony

— Sochi 2014 (@Sochi2014) February 7, 2014
As the opening ceremony neared its conclusion, the Olympic flag made its first appearance. It was then time to bring the Olympic torch into the stadium. As has become customary, a number of famous athletes from the host nation were involved.
According to Stacy St. Clair of the Chicago Tribune, they included tennis star Maria Sharapova.
Final torch bearers include tennis star Maria Sharapova, pole vaulter Elena Isinbaeva, wrestler Alexandr Karelin and Alina Kabaeva.

— Stacy St. Clair (@StacyStClair) February 7, 2014
Legendary goalie Vladislav Tretiak, who is arguably the greatest hockey player in Russian history, was involved in the torch-lighting festivities as well, along with former figure skater Irina Rodnina, per the Associated Press:
BREAKING: Hockey great Vladislav Tretiak, 3-time gold medalist Irina Rodnina light Sochi Games cauldron.

— The Associated Press (@AP) February 7, 2014
They combined to light the torch, and it made for a vivid and memorable moment that those in attendance will surely remember forever.
With the exception of one technical difficulty early in the show, it can be argued that everything else went to perfection, and the Sochi opening ceremony may be looked back upon as one of the best ever.
Notable Flag Bearers
Todd Lodwick (USA)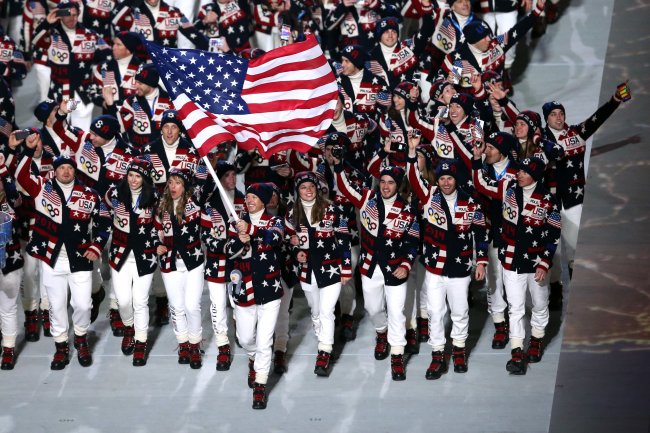 Bruce Bennett/Getty Images
The United States, which boasted the largest delegation with well over 200 athletes, was led by Nordic combined skier Todd Lodwick. The 37-year-old Olympic veteran will make his sixth appearance in the Winter Games, which is more than any other American Winter Olympic athlete in history, according to Bonnie D. Ford of ESPN.com:
Waiting to talk to Todd Lodwick, first US six-time Winter Olympian, elected by peers to carry flag in opening ceremony.

— Bonnie D. Ford (@Bonnie_D_Ford) February 6, 2014
Team USA received quite a positive reaction, but reviews of their outfits were mixed at best. As seen in this photo courtesy of Ken Fang from Awful Announcing, the Americans wore some pretty loud sweaters:
BBC's Hazel Irvine says "This is the loudest knitware we've seen." pic.twitter.com/5dRymGXolj

— Ken Fang (@fangsbites) February 7, 2014
Regardless of that, Team USA is expected to contend for the most overall medals and the most gold medals in Sochi, and the Americans made their presence felt during the opening ceremonies.
Alexandr Zubkov (Russia)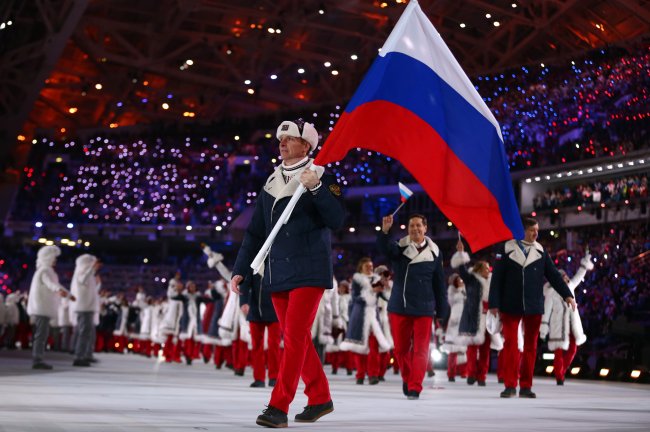 Ryan Pierse/Getty Images
The parade of nations culminated in the host country appearing just as it always does, and the incredible amount of support for Russia was evident when bobsledder Alexandr Zubkov carried the flag into the stadium. As seen here courtesy of the Olympics on Twitter, it was an incredible scene when Russia made its entrance.
Team Russia #OpeningCeremony pic.twitter.com/Gi1EP4dYOc

— Olympics (@Olympics) February 7, 2014
The Russians had plenty of potential choices for flag bearer, but after such a rough performance in 2010, Zubkov was chosen due largely to the fact that he won a medal in Vancouver. Zubkov is a two-time Olympic medalist, although he has yet to capture gold. Perhaps that will change due to the motivation that comes with competing at home.
Jon Eley (Great Britain)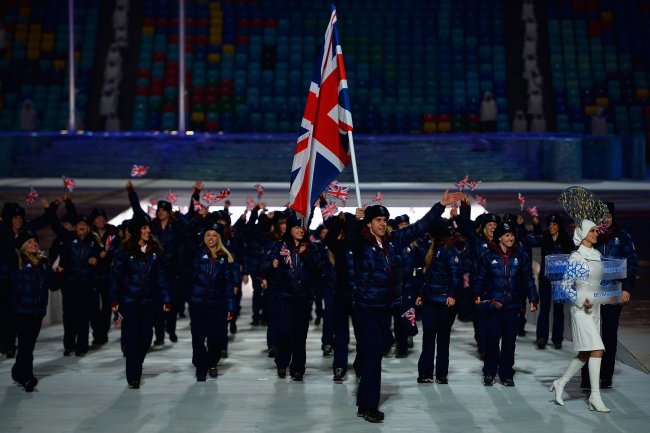 Pascal Le Segretain/Getty Images
Great Britain took center stage with short-track speedskater Jon Eley bearing the flag. The three-time Olympian has yet to win a medal, but he was ecstatic about being chosen to lead the delegation, according to Eleanor Oldroyd of BBC Radio:
3 times Olympian John Eley talking about pride of carrying @TeamGB flag at Opening Ceremony tomorrow. "They made a great choice"!

— Eleanor Oldroyd (@EllyOldroyd) February 6, 2014
The British contingent brought a great deal of energy to the stadium, and the scene was a spectacle, as evidenced by this photo from Bleacher Report UK:
First shot of Team Great Britain entering the Olympic Stadium at the Opening Ceremony (via @TeamGB) pic.twitter.com/2Prf74iuGy

— Bleacher Report UK (@br_uk) February 7, 2014
Although Great Britain is still growing as a Winter Olympic power, it should have plenty of influence in Sochi.
Maria Hofl-Riesch (Germany)
As interesting as Team USA's garb was, it can be argued that Germany stood out more than any other nation. This photo illustrates that, as the Germans' multicolored coats ensured that nobody in the building would be able to miss them.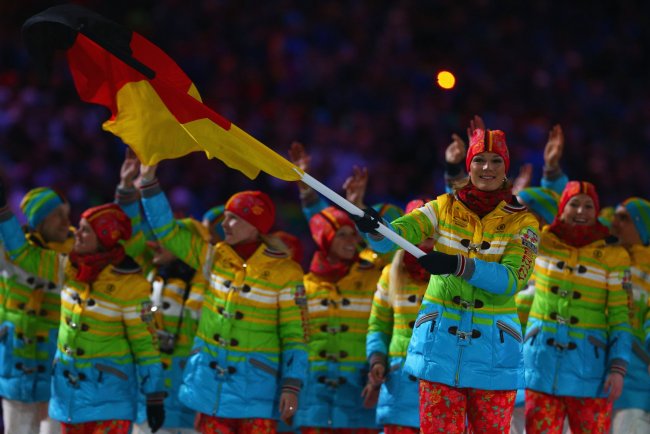 Paul Gilham/Getty Images
German skiing star Maria Hofl-Riesch led the way, which is fitting since she is a contender for multiple gold medals in Sochi. Hofl-Riesch won gold in both slalom and combined in the 2010 Olympics, and with American Lindsey Vonn unable to compete, the 29-year-old German icon has an even better chance to earn more hardware.
Hayley Wickenheiser (Canada)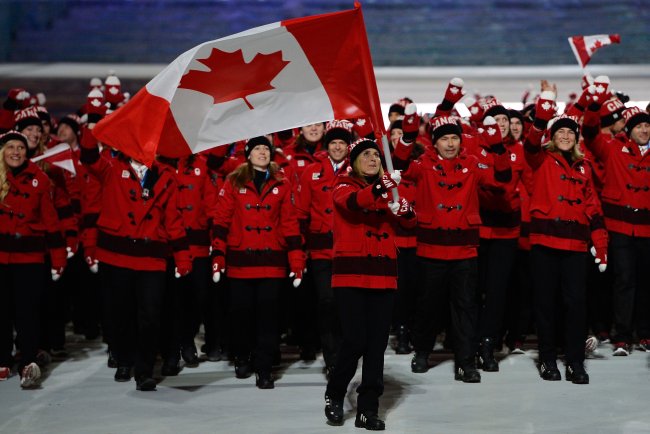 Pascal Le Segretain/Getty Images
After a fantastic performance on home soil in 2010 in which Canada won its most Winter Olympic gold medals ever, the Canadians came out to a thunderous ovation, per Paul Waldie of The Globe and Mail:
Actually biggest cheer so far for Canada. #Sochi2014

— Paul Waldie (@pwaldieGLOBE) February 7, 2014
Making her fifth Olympic appearance and having won three consecutive gold medals, Canadian women's hockey captain Hayley Wickenheiser carried the flag for Canada. The importance of leading the Canadian delegation wasn't lost on the 35-year-old veteran, according to Shawna Richer of The Globe and Mail:
Hayley Wickenheiser calls carrying the flag for Canada "such an honour it's chilling." #Sochi2014

— Shawna Richer (@shawnaricher) February 7, 2014
The Canadian women's hockey team will receive a tough challenge from Team USA, but Wickenheiser is all but guaranteed at least a silver medal unless something goes catastrophically wrong for the Canadian women.
Aksel Lund Svindal (Norway)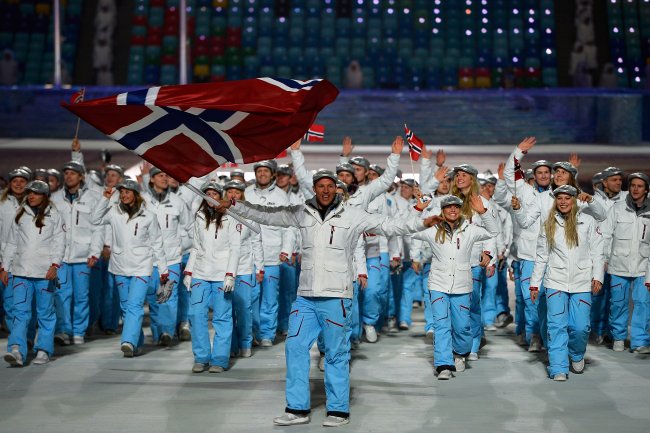 Pascal Le Segretain/Getty Images
If Team USA doesn't win the medal-count race in Sochi, then it is likely that Norway will. Due to its dominance in skiing events, Norway figures to come away with a huge haul. The Norwegians were headed by one of the most decorated athletes in recent memory, alpine skier Aksel Lund Svindal.
Svindal won a medal of every color in Vancouver and is a five-time World Championships gold medalist to boot. Despite Svindal's excellence as an athlete, Nick Zaccardi of NBC Olympic Talk jokingly critiqued his flag-bearing technique:
Nobody has ever choked that high up on a flag as Aksel Lund Svindal ... pic.twitter.com/1VlWnKEb9c

— Nick Zaccardi (@nzaccardi) February 7, 2014
Norwegians won't care how Svindal carries the flag as long as he lives up to the hype and dominates the Winter Games as expected.
Zdeno Chara (Slovakia)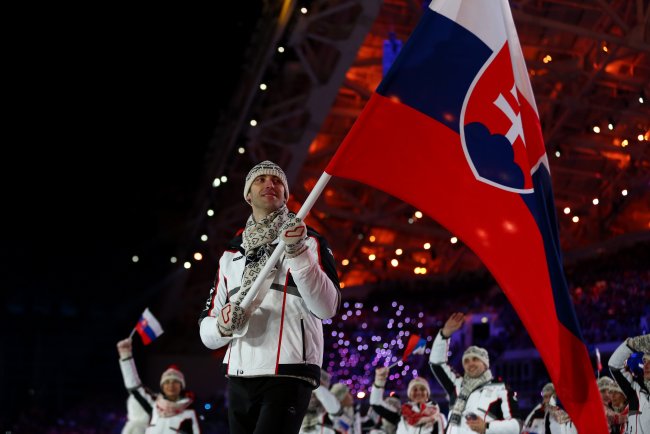 Ryan Pierse/Getty Images
While most don't anticipate Slovakia to have a ton of Olympic success, its flag bearer was among the most famous Olympic athletes to appear during the opening ceremony. The Slovaks were paced by 6'9" Boston Bruins defenseman Zdeno Chara, who will carry Slovakia's medal hopes in men's hockey on his broad shoulders.
Chara and his teammates fell in the bronze-medal game in 2010, and although they aren't expected to make it that far again in 2014, Chara gives them a fighting chance. Chara has made waves in Sochi already after getting his photo taken with diminutive Canadian figure skater Kirsten Moore-Towers, as seen in this photo courtesy of TSN Radio 1290.
Great pic of Slovakia hockey team captain Zdeno Chara (6'9") posing with Canadian skater Kirsten Moore-Towers (4'11") pic.twitter.com/1RUAwQeVHq

— TSN Radio 1290 (@TSN1290Radio) February 7, 2014
Chara already has a Stanley Cup to his credit, and an Olympic medal would cap what promises to be a Hall of Fame career.
Marvin Dixon (Jamaica)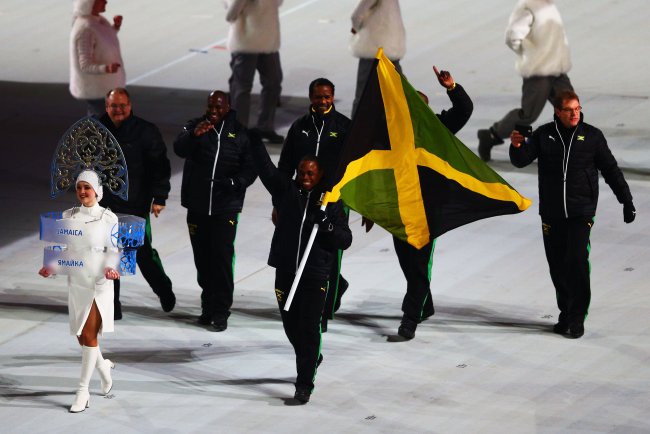 Clive Mason/Getty Images
There may be no bigger feel-good story in Sochi than the return of Jamaica to the Winter Games. Jamaican bobsledding first became popular after the release of the move Cool Runnings in 1993, and the underdog Jamaicans have made it back to the Olympics despite a lack of funding and support.
The delegation contains just two athletes in the form of veteran Winston Watt and flag bearer Marvin Dixon. The Jamaican Olympic team celebrated its entry into the Games on Twitter:
We are happy for flag bearer Marvin Dixon and the rest of the @Jambobsled delegation at Sochi 2014 Winter Games #JamaicaBobsled #Sochi2014

— Team Jamaica (@JamaicaOlympics) February 7, 2014
Even though Jamaica almost certainly won't win a medal, plenty of people will tune in to see how its athletes fare.
Follow @MikeChiari on Twitter