The Canadian Olympic hockey team won gold in Vancouver in 2010, and they will do everything they can to try and repeat in 2014 in Sochi.
Many of the game's biggest stars, including Sidney Crosby, are on the roster. On paper, this is probably the most talented team in the tournament.
But the game isn't played on paper, and even with the plethora of talent on the roster, it will only be effective if the team is constructed correctly.
We've made Coach Mike Babcock's job a bit easier by projecting what the ideal line combinations are for the tournament.
Read on to find out what they are.
Canadian Olympic Hockey Schedule

| | | | |
| --- | --- | --- | --- |
| Date | Time (ET) | Time (MSK) | Opponent |
| Feb. 13 | 12 p.m. | 9 p.m. | Norway |
| Feb. 14 | 12 p.m. | 9 p.m. | Austria |
| Feb. 16 | 12 p.m. | 9 p.m. | Finland |
Sochi2014.com
First Line: Chris Kunitz-Sidney Crosby-Jeff Carter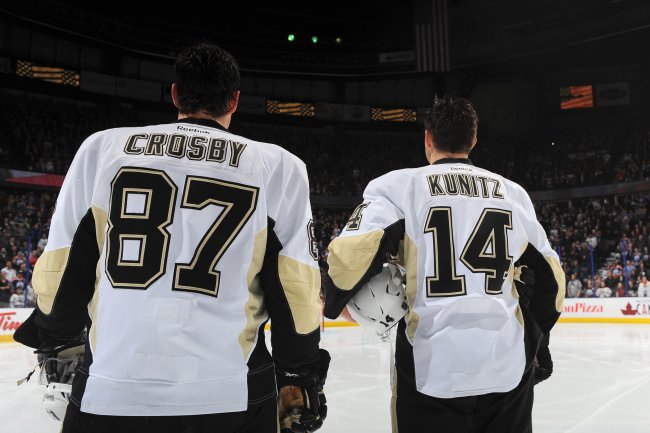 Andy Devlin/Getty Images
With Steven Stamkos officially out, the easy choice for this line is to go with Martin St. Louis, who was selected to replace his Tampa Bay teammate.
VIDEO: Marty St. Louis spoke to the media about replacing Steven Stamkos on Team Canada. http://t.co/P8QlFyx7Pi

— Tampa Bay Lightning (@TBLightning) February 6, 2014
He's certainly the sentimental favorite, but it's wise to remember that there was a reason that he was left off the team in the first place, and that was mainly over concerns about his foot speed.
That's why we selected Jeff Carter, a fast, big winger with a hard shot.
He'll fit in well with Sidney Crosby and Chris Kunitz, who have been making beautiful music for the Pittsburgh Penguins for a few years now. Kunitz and Crosby have tremendous chemistry, and it shows, as Crosby has 28 goals and 49 assists, while Kunitz has 27 goals and 28 assists.
Opposing defenses are naturally going to be drawn towards Sidney Crosby, which is why someone like Carter could be really dangerous coming down the wing. Carter has 20 goals and 17 assists.
Canada is going to rely heavily on Crosby and his linemates, so look for this trio to get a lot of ice time and put up points.
Second Line: Patrick Sharp-Jonathan Toews-Rick Nash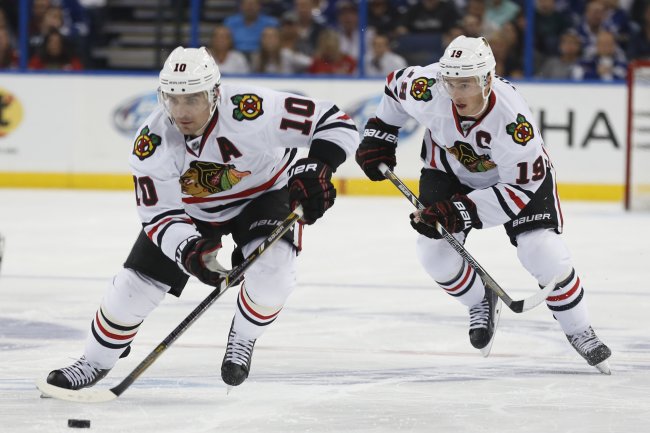 Reinhold Matay/Associated Press
This could be a really dangerous line for Canada.
Rick Nash is one of the hottest scorers in the NHL right now with 11 goals in his last 14 games. Patrick Sharp has 28 goals this season and has six points in his last five games.
And then there's Toews, the ultimate glue guy and a pretty impressive offensive player. He has 19 goals and 36 assists.
This line is fast, big and knows how to score. Toews and Sharp are also tremendous in their own zone.
If I had to pick a line that would lead the team in scoring, it would be this one. It's so well-balanced, with so much skill, that it will really fluster opponents.
Third Line: Jamie Benn-Ryan Getzlaf-Corey Perry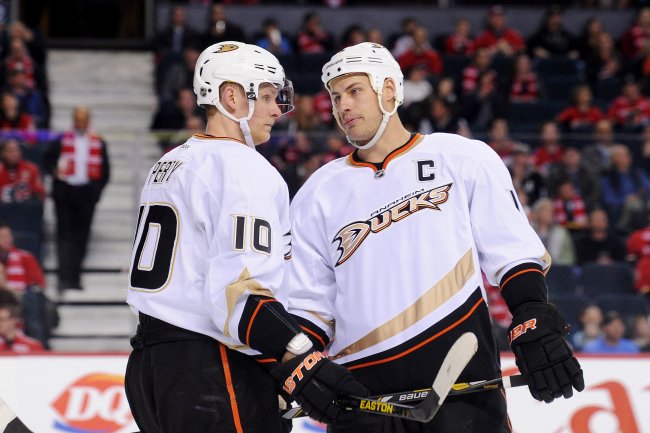 Derek Leung/Getty Images
Ryan Getzlaf and Corey Perry are one of the best 1-2 punches in the NHL, so it would be no surprise if they are paired together in Sochi.
Getzlaf has 27 goals and 37 assists, while Perry has 29 goals and 30 assists.
Complimenting this big duo could be Jamie Benn, one of the game's most underrated player. He's hidden a bit in Dallas, but the winger has scored 22 goals and has 28 assists.
This line would be incredibly physical, and could play an important defensive role. They're all big—Getzlaf is 6'4", Perry is 6'3" and Benn is 6'2"—and all play a bullish, tenacious game. They will hit, agitate opponents and score a lot. Beyond that, they will play solidly in their own zone.
This would probably be the best all-around line for Team Canada, and one that would play a really valuable role.
Fourth Line: Patrick Marleau-John Tavares-Patrice Bergeron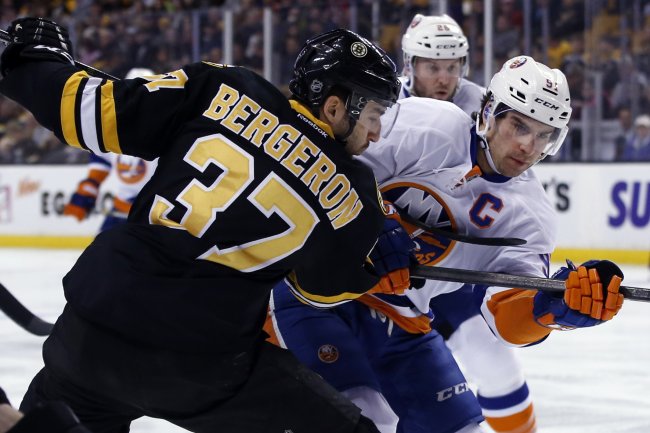 Elise Amendola/Associated Press
It's hard to imagine John Tavares centering the fourth line, but that's how deep this Canadian team is.
Tavares has established himself as one of the best players in the world. He's an electric offensive threat, with 23 goals and 42 assists.
He'll have plenty of offensive opportunities playing against opposing fourth lines, but he's also responsible enough defensively to make an impact.
Which of These Projected Lines Would Be the Best?
He could be helped by Patrice Bergeron, who is probably the best defensive forward in the world. While he wouldn't be playing his normal center position on this line, he would take all the faceoffs and lock down opposing players. Bergeron is fearless and would play a really important role on the penalty kill. He can also chip in on offense, as evidenced by his 14 goals and 21 assists.
Finally, Patrick Marleau could add experience and scoring touch. The 34-year-old has 22 goals and 27 assists this year and put up an impressive five points in seven games in the 2010 Olympics.
Any fourth line really needs to focus on defense and this line could certainly do that. But there's so much offensive upside, as well, and they would be able to take advantage of opposing fourth lines.
Extra Forwards: Matt Duchene-Martin St. Louis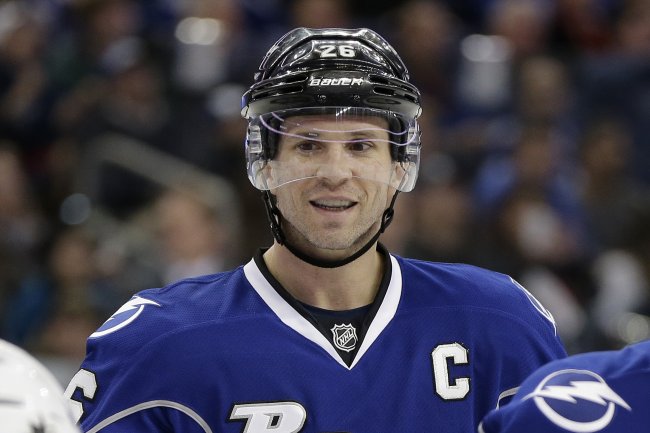 Chris O'Meara/Associated Press
Matt Duchene probably won't see too much ice time, as the winger is really struggling right now. He has just one goal in his last 23 games. His hot start, where he scored nine goals in October, seems like a distant memory. His speed is intriguing, especially on the big ice, but unless there's an injury, it's hard to see him playing much.
St. Louis has been having a great year, with 25 goals and 30 assists, but the fact that he was a late injury replacement suggests that Steve Yzerman and the Team Canada brain trust felt obliged to put him on the roster. There's not really a space for him without sacrificing something important. Many will say that he should play over Jeff Carter or Patrice Bergeron, but St. Louis doesn't have the size of Carter, nor does he have the defensive acumen of Bergeron.