WWE fans know that precious few tag teams avoid dismantling.
The company's best groups will eventually break up thanks to jealousy, stress and members seeking a brighter spotlight. The tag division once featured The Prime Time Players, Team Hell No and Rhodes Scholars, three units that are no more.
The Shield, The Wyatt Family and Cody Rhodes and Goldust will eventually follow suit. It's the WWE way. There is too much potential excitement in seeing teams crumble.
The Usos are the rare team that appears to be capable of staying together forever. Their partnership and the fact that they are twins are so key to who they are that it would be difficult to have them function as solo stars.
Bet on infighting to tear The Shield in three, and for the Rhodes' sibling rivalry to be one of WrestleMania's highlights.
The Shield: WrestleMania
The tension is mounting between "The Hounds of Justice."
It will be Dean Ambrose who ultimately destroys the team, a scenario that appears to be impending. He is the braggart of the group, the one who seems more and more interested in personal glory over team conquest.
Dean Ambrose gets in his teammates' faces.
At the Royal Rumble, he broke rank and tried to eliminate Roman Reigns from the Royal Rumble. Reigns responded by tossing both him and Seth Rollins out of the ring.
Rollins, ever the peacemaker, has worked to hold the group together.
That hasn't prevented moments of great tension. For example, Ambrose forced his way into a six-man tag match on the Feb. 3 edition of Raw. Reigns was setting up for the Spear to finish off Big E Langston.
Tension between Dean Ambrose and Roman Reigns
Ambrose tagged himself in and got the pinfall for himself. Reigns stared at him in disbelief, seemingly holding back rage.
With incidents like these piling up, fans know the end is coming for The Shield and that it's coming soon. WWE is going to want to milk that expected moment as much as possible.
Except some infighting to cause The Shield to lose at the Elimination Chamber, but for the group to stay together long enough to implode on "The Grandest Stage of Them All." If WWE is set to skyrocket Reigns' solo career after dominating performances at Survivor Series and the Royal Rumble, there's no better place to have him embark on that journey than WrestleMania.
The company has kept The Shield together for so long and have had them accomplish so much that any lesser stage won't seem worthy of their breakup.
The Wyatt Family: Early 2015
While The Shield's ride together is winding down, The Wyatt Family's run is still in its early stages.
The Shield have won the tag team titles, a singles championship, competed at WrestleMania and compiled a number of signature wins. Expect The Wyatt Family to create a similar resume before disbanding.
The cohesion of the group is as strong as iron. Bray Wyatt is more than the leader—he's a father figure, a general and a mastermind. For now, that dynamic has the clan completely unified.
The Wyatt Family work as a dangerous unit against Dolph Ziggler, R-Truth and Xavier Woods.
That means that dissolution is a long ways away.
Eventually, though, just about every group falls apart. There is just too much of a tempting narrative in seeing a team splinter.
Batista broke away from Evolution. The Four Horsemen broke apart and reformed several times. Triple H and Shawn Michaels both founded D-Generation X and served as bitter rivals.
The Wyatt Family's time will come also, but not before the audience has much more time to see them as a unit and see these brutes do far more damage.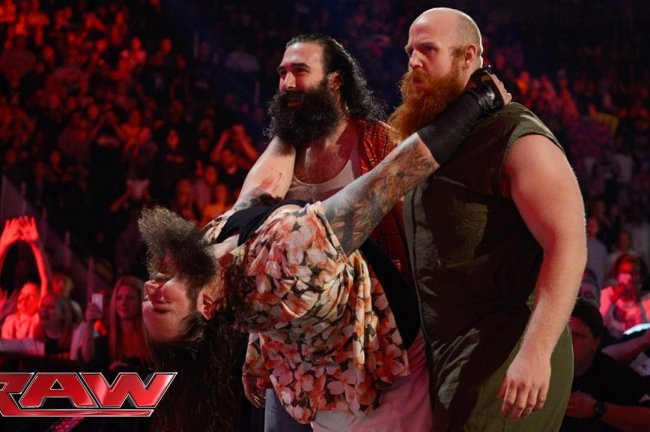 Credit: WWE.com
The Shield have lasted over 15 months together. Wyatt and Co. appear to be on a similar path, one that began in NXT and then saw them ambush others before shining in pay-per-view.
Should both The Shield and the Rhodes boys break up this spring, WWE will look to delay the inevitable for The Wyatt Family as to not crowd the calender with similar narratives. Wyatt, a potential headliner, will eventually break away from his crew, but not until next year.
Cody Rhodes and Goldust: Elimination Chamber
The Rhodes brothers are struggling to reclaim the tag team championships. Expect the stress of that struggle to break them apart.
It has to be done soon too, as Rhodes and Goldust have a date at WrestleMania XXX as opponents. F4WOnline, via WrestlingInc.com, provides the following backstage insight:
The split between Cody Rhodes and Goldust may come at the Elimination Chamber pay-per-view where a tag team title match is expected. There are plans for Cody vs. Goldust at WrestleMania XXX this year.
There is nothing as naturally explosive in the world of pro wrestling booking than a brother-against-brother story. Bret and Owen Hart collided at WrestleMania as did Jeff and Matt Hardy.
Buildup to Jeff Hardy vs. Matt Hardy at WrestleMania 25
Beyond tradition, it's good sense to have these two second-generation wrestlers go from allies to enemies on the biggest stage WWE has to offer.
After losing to The New Age Outlaws in a steel cage on the Feb. 3 Raw, count on "The Brotherhood" to get one more shot at the gold at Elimination Chamber. Be it a three-team tilt or otherwise, that match will serve as the point where frustrations erupt.
A loss will be the catalyst for their WrestleMania feud. Perhaps Rhodes blames his older, slower brother. Perhaps Goldust blames Rhodes for trying to play hero and not tag out frequently enough. Either way, it has to begin soon in order to properly build this bout up.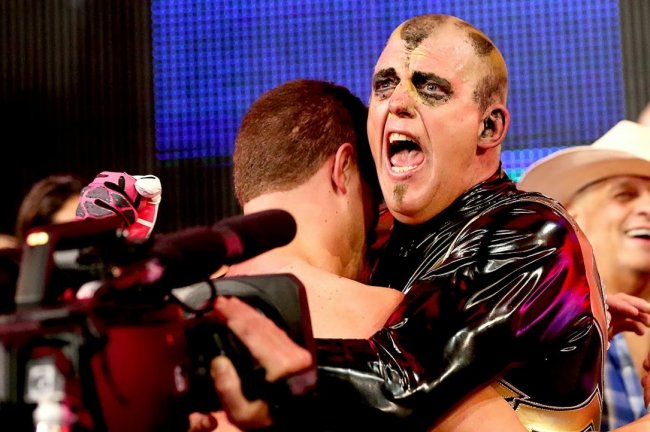 Credit: WWE.com
Elimination Chamber is five weeks before WWE's marquee event, an ideal time to turn the brothers' tension into hatred.
Their split will mark another major change for the division. It peaked with the Rhodes brothers battling The Shield, The Usos and The Wyatt Family.
A year from now, the majority of those squads will have dissolved, the tag team division a markedly different beast yet again.