Day 1 of the Sochi Olympics will get underway on Saturday, and the prime-time NBC Olympics schedule will feature three exciting events and two medals awarded in the nighttime broadcast.
Whether it's the debut of Men's Slopestyle, or the continuation of the team event for Figure Skating, Day 1 of these Games is must-see TV.
Below, we will give you full live stream and TV info for NBC's Day 1 prime-time coverage,
2014 Winter Olympics Info
Where: Sochi, Russia
When: Saturday, February 8
Watch: NBC
Live Stream: NBCOlympics.com
Mobile: NBC Sports Live Extra App (iPhone/iPad|Android)
Complete Viewing Information
Complete Day-by-Day Sochi Competition Schedule
Complete Sochi Olympic Television Listings
Olympics Day 1 Primetime Coverage

| | | |
| --- | --- | --- |
| Sport | Discipline | Time (ET) |
| Snowboarding | Men's Slopestyle Finals | 3:45 a.m. |
| Freestyle Skiing | Women's Moguls Finals | 1 p.m. |
| Figure Skating | Team Event | 1:05 p.m. |
Source: NBC Sports. Events will be aired on NBC at 8 p.m. ET
Women's Freestyle Skiing Moguls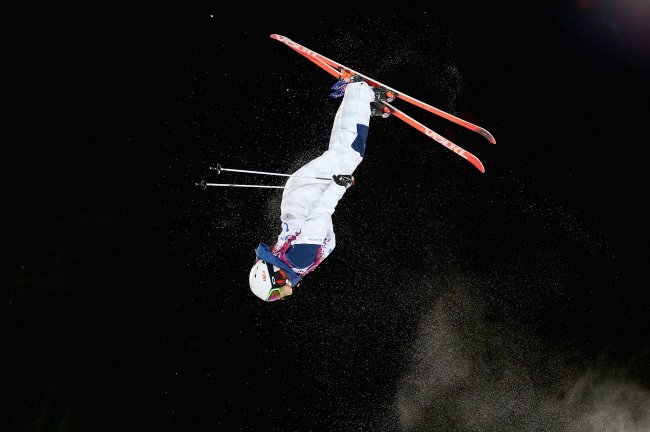 Streeter Lecka/Getty Images
Hannah Kearney entered these Olympics as the defending champion in this event, and she did not disappoint in the qualifying rounds.
Kearney finished first in the qualifying round, posting an impressive score of 23.05.
USA athlete of the day: Hannah Kearney @HK_Ski with 23,05pts is nr.1 in Moguls Qualification. Congratulations Hannah! pic.twitter.com/th1zHCW7Uw

— Team USA 2014 (@team_USA_2014) February 6, 2014
As the best moguls skier in the world, and the current world cup leader, Kearney will have to suffer a fall or something catastrophic to lose this event.
The only real challenge to Kearney are the Canadian Dufour-Lapointe sisters. 22-year-old Chloe sits in second place after qualification, and 19-year-old Justine sits in third place.
Kearney and the two Dufour-Lapointe sisters are widely expected to take the medals in this event. If they are to win, they'll have to deal with this steep course, as per Sean Casey of the NBC affiliate in Washington D.C.:
Tough on the knees @NBCOlympics: #Whoa: The view from the top of the Olympic #moguls course (via @jonnymoseley): pic.twitter.com/2vuW4Bc7QP

— Sean Casey (@CaseyNBC) February 7, 2014
One of the biggest shocks of the qualification is the injury to American Heidi Kloser. According to the NBC affiliate in Denver, Kloser suffered a torn ACL:
Colo skier Heidi Kloser out of Olympics. She crashed during a training run yesterday- tore her ACL. #9newsmornings pic.twitter.com/T0tARYEdNX

— 9NEWS Denver (@9NEWS) February 7, 2014
Kloser entered the competition at fourth in the world cup standings. While she was a long shot to medal, it is certainly a disappointment for Kloser.
Men's Slopestyle Snowboarding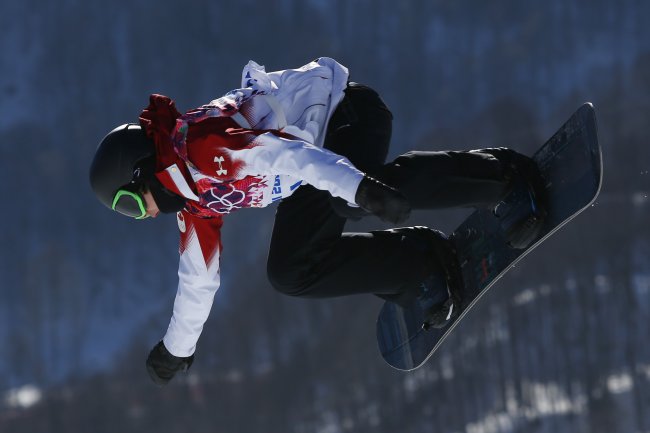 Sergei Grits/Associated Press
The debut of men's slopestyle snowboarding in the Olympics has brought unique visuals and concerns over the course's safety.
Shaun White was concerned about the safety of the course, and actually dropped out of the event, which took many by surprise, as per the NBC affiliate in Denver:
"The difficult decision for forego slopestyle is not one I take lightly" ~Shaun White #9newsmornings pic.twitter.com/01DqNQ40CL

— 9NEWS Denver (@9NEWS) February 5, 2014
Now that its biggest star is out, the attention will turn to the course itself. Roope Tonteri, a snowboarder from Finland, told reporters that he was quite concerned with the state of the course, as per the New York Times:
It looks pretty sketchy. I think they wanted to make big kickers, and it's not really good for riders and it's not really safe anymore. I just don't want to get injured. It's not a really fun course to ride.
That is a situation that certainly bears watching.
On the course, however, the competition was exciting. In the first heat, Norwegian Staale Sandbech posted a score of 94.50 to take the lead, with Finnish snowboarder Peetu Piiroinen right behind.
In the second heat, Canadian Max Parrot posted the highest qualifying score, and did so in style, according to Jason Blevins of The Denver Post:
Canadian #slopestyle rider @MaxParrot stomps clean triple-cork (&1st of 32 riders to hit 3rd rail feature) posts qualifier-high score 97.50

— Jason Blevins (@jasontblevins) February 6, 2014
Perhaps the biggest surprise, though, was Canadian superstar Mark McMorris failing to automatically qualify for the finals. While he will have a chance to qualify for the finals by competing in the semifinals, McMorris finished seventh in his heat, a result that flabbergasted noted television personality Sal Masekela:
Are you kidding me?! Who in the world is judging this event. Outrageous. @markmcmorris should be in without question. Joke. #Slopestyle

— Sal Masekela (@SalMasekela) February 6, 2014
For his part, McMorris seemed quite disappointed in the outcome, as he told Vicki Hall of the Calgary Herald:
Mark McMorris:" It's hurting mentally more than anything...I didn't get the score I wanted..."

— Vicki Hall (@vickihallch) February 6, 2014
It will be interesting to see how McMorris, considered one of the favorites for this event, responds to the early frustration.
Team Figure Skating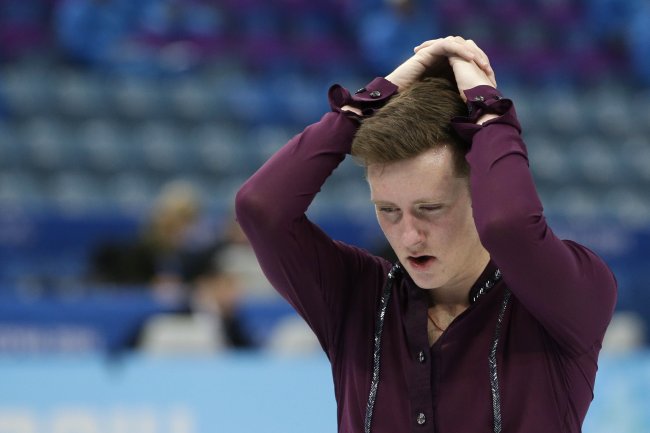 Darron Cummings/Associated Press
After the first round of team figure skating, Russia is leading the pack with 19 points, while Canada is second with 17.
USA is currently in seventh place with 10 points, although it must be mentioned that their best skaters for the event, ice dancers Charlie White and Meryl Davis, have yet to skate. Still, it'll be an uphill climb for the Americans.
Jeremy Abbott took a fall that really cost the Americans, but tried to put the moment in perspective, telling Rachel Cohen of the Associated Press (via ABC News):
I really wanted to pull out a win for my friends and for my family. That was very important to me. I'm torn apart I couldn't do that for them.But for me, I feel like it was a very positive step. You're all going to think I'm crazy. I just fell on my butt and did a horrible program. But I have another chance next week.
U.S. figure skating champ Jeremy Abbott falls in his short program during the team competiton http://t.co/iEGlba9rTm pic.twitter.com/sH7GyqRpyU

— Post Sports (@PostSports) February 6, 2014
Saturday night will feature the ice dancing portion of the team competition, which will showcase White and Davis, two of the stars of these Olympic games.
Medals won't be awarded until Sunday, but this event bears watching, especially to see if the Americans make a comeback.