It has not been a full three years since Harry Kane made his Tottenham Hotspur debut. Considering what has gone on at the club since then, the striker's first full start in that 0-0 Europa League draw with Hearts seems far further back.
The then 18-year-old was one of several youngsters drafted in by Harry Redknapp to provide cover for first-team players he wanted focused on the Premier League.
It was the only way the teenager was going to play at that point. Around the start of that season, Kane was behind Emmanuel Adebayor, Jermain Defoe, Roman Pavlyuchenko and Rafael van der Vaart in the attacking pecking order at Tottenham.
In the present, it is fair to say Kane's importance to Spurs has increased somewhat. Defoe is soon to depart for Major League Soccer, leaving the now 20-year-old as the squad's third out-and-out forward behind Adebayor and Roberto Soldado.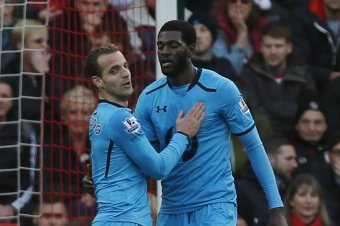 Sang Tan/Associated Press
Whilst Adebayor's return to the Spurs starting lineup has generally been a fruitful one—in both goals and performances—the misfiring Soldado is enduring his roughest patch of the season thus far.
The seniority of that duo (and, prior to his transfer's announcement, Defoe) has meant Kane has been confined to a supporting role, largely regardless of their form. His two appearances in 2014 have been off the bench, in the 2-1 win over Manchester United, and last weekend's 1-1 draw with Hull City.
With Soldado struggling as he is, Kane potentially has his best chance yet of earning a first league start for Spurs.
It is a prospect manager Tim Sherwood will almost certainly be considering. For the time being, though, it appears he will continue to back the Spain international. Speaking to Sky Sports earlier this week, Sherwood expanded on this:
It's just a matter of time before Robbie hits the target again, starts scoring and gets on a run. He's a good trainer and he's just got to stick at it...What are you going to do? You have to keep training hard, working hard at it and it'll turn around because it always does.

I'm sure it's not the first barren spell he's had...I'm not putting pressure on him and he's not putting pressure on himself.
Sherwood was unlikely to respond much differently. The last thing a player battling for form in an unprecedentedly difficult year needs is to be publicly criticised by his manager. For a striker as previously prolific as Soldado was, he is going to be hard enough on himself.
The turning point Sherwood talked about could be as near as this weekend. If he scores against Everton, Soldado might never look back.
For all the difficulties the 28-year-old has faced this year, his class has been in evidence enough to banish fears his form cannot be salvaged. Be it in the expertly-taken finishes against Aston Villa and Anzhi Makhachkala, or the impeccable nerve he displayed dispatching penalties in four Spurs wins.
Sherwood has already shown, though, that he is not unwilling to dropping Soldado if he feels the need to. The reasons for leaving him out against Swansea City and Manchester City were primarily tactical. Nonetheless, it was a decision made slightly easier by Adebayor's comparatively better recent displays.
Kane coming in for Soldado would be a big call, but save for any other options (post-Defoe certainly), one that gives Spurs the option of maintaining the front two that has generally fared them well of late.
The England youth international has come along leaps and bounds since his persistent, but slightly cumbersome bow against Hearts—a game in which he won and missed a penalty. Experience garnered out on loan—particularly in a strong, nine-goal spell with Millwall in 2012, and the injury-hit period with Norwich City—has aided his progress as he has developed into a more mobile player with altogether sharper finishing.
The latter is still in need of refinement, but the goal Kane scored from the edge of the penalty box against Hull City earlier this season demonstrated the talent he has at his disposal. That was arguably his best showing to date, his substitute appearance helping to galvanise Spurs into securing an eventual penalty shootout win.
Though unproved in the top flight, Kane is not going to be able to prove otherwise without a run in the team. That should not be handed to him on a plate, of course, but any sign of him performing comfortably in the glare of the first team spotlight would at least warrant a further look.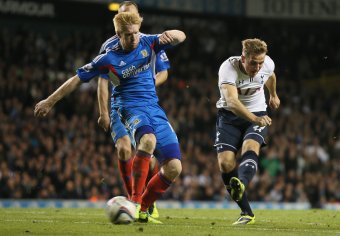 Alastair Grant/Associated Press/Associated Press
Bringing Kane in alongside Adebayor would first and foremost give Spurs an even more physical, aerially serviceable attack. In that instance, Sherwood would have to insist on using these options within the context of Spurs' preferred passing style—crosses in dangerous areas, positionally conducive hold-up play.
(Back in the days of Peter Crouch in North London, Spurs would too often revert to lumping the ball up at him when they found other routes obstructed. Easy pickings for Premier League defenders well-versed in dealing with such strikers).
The mobility of Kane and particularly Adebayor should preclude their joint presence from becoming too staid, however. The main tests would be seeing how they coexist in an often-crowded final third, and as previously noted, if Kane become a legitimate threat in attack.
Whether Sherwood has any of this in mind remains to be seen.
Soldado should not be discounted completely, even if a change definitely becomes due. But the options for trying a different approach are there. If the Spaniard wishes to avoid the possibilities that might ensue, he is going to again need to start helping his team find the back of the net.