Better late than never.
No. 2 Arizona was ice-cold from the field and the free-throw line for about 39 minutes against Oregon on Thursday night at the McKale Center, but T.J. McConnell nailed a late three-pointer and Nick Johnson buried a couple of clutch free throws to help the Wildcats escape with a 67-65 victory.
With its win over Oregon, Arizona is 9-0 all-time following a midseason loss as the No. 1 team.

— ESPN Stats & Info (@ESPNStatsInfo) February 7, 2014
"Our offense was a little out synch play-wise, but we battled back," McConnell said, according to the Associated Press (via ESPN.com). "We've done that so many times this year, been in games like that before, so I think we're a battle-tested team."
With the win, the Wildcats improve to 22-1 and 9-1 in Pac-12 play. Meanwhile, Dana Altman's squad (15-7, 3-7), which let a second-half lead slip through its fingers, continues to struggle to finish games in conference play.
According to KenPom.com (subscription required), the Ducks entered ranked just 152nd in America in effective field-goal percentage defense, but for much of the game, Arizona simply couldn't take advantage.
Playing without Brandon Ashley for the first full game, the 'Cats shot just 40 percent from the field, 25 percent from beyond the arc and 54.3 percent from the free-throw line.
Johnson, who has been so good for the Wildcats this year, was just 5-of-16 from the field for a game-high 18 points, although he showed off his unbelievable athleticism in the first half.
McConnell made just two of his nine shots for six points and Aaron Gordon was dreadful from the free-throw line, converting just two of 11 attempts.
Foul trouble. Ice-cold shooting. Less intimidating defense. Everything Arizona misses without Brandon Ashley is on display so far tonight.

— Jeff Eisenberg (@JeffEisenberg) February 7, 2014
Fortunately for the Wildcats, Rondae Hollis-Jefferson (14 points, 10 rebounds) and Kaleb Tarczewski (12 points, 7 rebounds) did just enough to keep Arizona close before McConnell hit the go-ahead shot with 1:33 remaining and Johnson shut the door with late free throws.
I'd buy stock in Rondae Hollis-Jefferson over the next two months. Will blow up with expanded minutes. 14 + 10 rebounds vs. Oregon.

— Jon Rothstein (@JonRothstein) February 7, 2014
Coincidentally enough, just as the Wildcats started hitting shots in the final minute, Oregon fell victim to the same mistakes Arizona was committing earlier.
Joseph Young and Jason Calliste led the Ducks with 14 points each, but Young threw up an errant three-point attempt and Calliste—along with Dominic Artis—missed late free throws to seal an ugly-yet-thrilling contest.
CBSSports.com's Jeff Borzello pointed out the shocking statistic that defined a game both teams can't wait to move on from:
Arizona and Oregon a combined 31-for-53 from the free-throw line. Brutal.

— Jeff Borzello (@jeffborzello) February 7, 2014
Player Grades
Jason Calliste, Oregon: B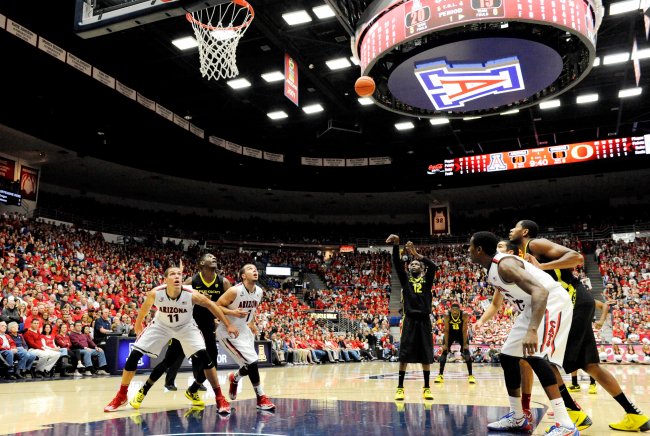 Casey Sapio-USA TODAY Sports
Calliste, who comes off the bench for the Ducks, is very quietly one of the most efficient offensive players in America. That was once again evident on Thursday night.
On his way to 14 points on just seven shots, the Detroit transfer knocked down shots from the outside (2-of-4) and got to the foul line (seven attempts). He also added six rebounds, two assists and three steals.
However, he was quiet in the second half and missed three free throws, which brings his grade down a touch.
Rondae Hollis-Jefferson, Arizona: A-
Receiving just his third start of the season because of Brandon Ashley's injury, the true freshman didn't disappoint.
Hollis-Jefferson still doesn't really have a consistent jump shot, but that didn't stop him from making an impact all over the court. Whether he was crashing the offensive glass, playing lockdown defense on the perimeter or on the interior, or just setting hard screens, he brought constant energy.
Making his 1st Pac-12 start, Arizona's Rondae Hollis-Jefferson has recorded his 1st career double-double.

— ESPN Stats & Info (@ESPNStatsInfo) February 7, 2014
He finished with 14 points, 10 rebounds (four offensive), one steal and two blocks, and was a major reason why Arizona won this game.
Joseph Young, Oregon: C+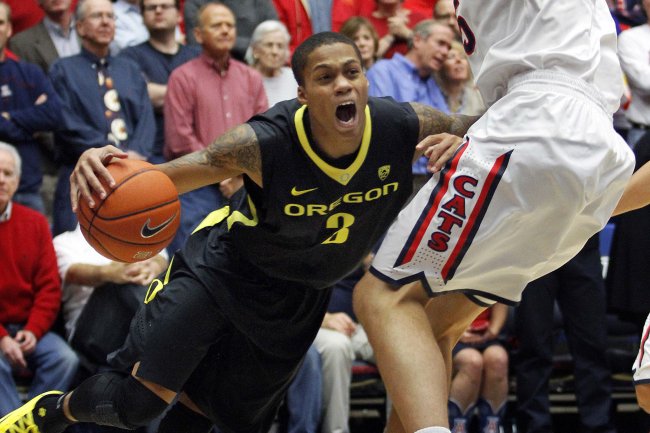 John Miller/Associated Press
Oregon's leading scorer got into early foul trouble, and as a result, he entered halftime with zero points on just one shot.
However, he got a chance to be a little more aggressive on the offensive end in the second half, finishing with 14 points and two rebounds.
While he was a big part of Oregon's second-half offense, poor shot selection (14 points on 13 shots) stands out.
Aaron Gordon, Arizona: C+
There are times when Gordon looks like the most dominant player on the floor—like when he uses his unbelievable athleticism to dunk over someone or sky for a rebound. Or when he shows off his impressive dribbling for a big man.
It's all a joy to watch, but then he goes to the free-throw line.
These missed free throws are messing with Aaron Gordon's head at this point. 2-for-11 tonight.

— Rob Dauster (@RobDauster) February 7, 2014
Gordon finished with six points and eight rebounds, but he was an atrocious 2-of-11 from the charity stripe. With Arizona's depth hurt by the absence of Ashley, it was difficult for Sean Miller to justify taking Gordon out of the lineup and his free-throw shooting made him a liability on the court.
What's Next
Oregon looked like a real threat come March after it won its first 13 games of the season, but with this lost opportunity at a resume-building win, the Ducks can't afford any more defeats down the stretch. On Saturday, they will continue their trip through the Grand Canyon State with a contest against Arizona State.
Meanwhile, life without Ashley didn't start all that well for the Wildcats. They'll look to continue to adjust when they host Oregon State this Sunday.
As for what's next for Ashley himself, he made it clear the NBA isn't on his mind, telling ESPN.com's Jeff Goodman he'll be back in Tuscon for the 2014-15 season:
"I wasn't 100 percent (about coming back) before the injury," Ashley told ESPN.com. "But I've thought about it, and there's a very, very, very strong chance I'll be back at the University of Arizona next year."
Judging by tonight's struggles offensively, that should enthuse Wildcats fans.