The 10 Biggest Steals from National Signing Day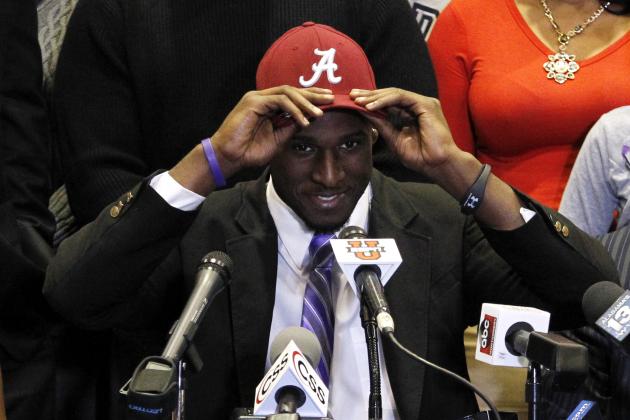 Butch Dill/Associated Press

National signing day came and conquered the headlines again, as it was another exciting day. However, some programs were just downright thieves.
The day featured several "steals," with some programs sneaking in and taking recruits from other schools. A 5-star defensive player announced for a rival school's enemy only minutes from its own campus, while a Pac-12 powerhouse got an underrated cornerback.
Also, a Big Ten program got a player to commit against his parent's wishes, while Florida State hurt a conference rival twice.
Player evaluations are based on review of tape at Scout.com, Rivals and 247Sports.
Begin Slideshow

»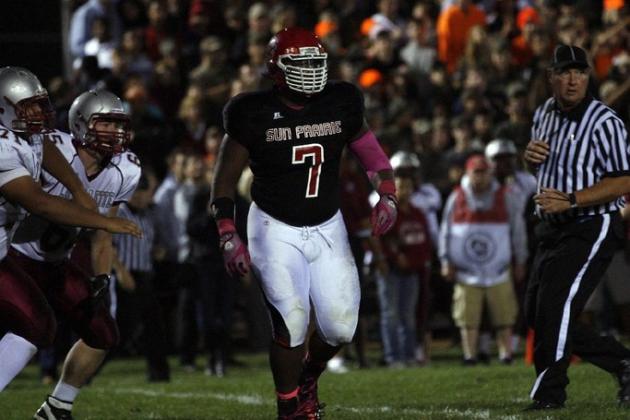 Credit: 247Sports

School: Michigan State
One of the reasons why Michigan State won the Big Ten and Rose Bowl this past season was its defense. Specifically, the Spartans are one of the elite programs at stopping the run.
Craig Evans, a 4-star defensive tackle, had been committed to conference foe Wisconsin for much of the 2014 recruiting cycle. However, the 6'3", 305-pounder committed to MSU right before national signing day.
He made it official on Wednesday, and Evans is a steal for the Spartans. His size and strength will aid Michigan State's defense in its effort to continue dominating against the run—even versus run-oriented Wisconsin.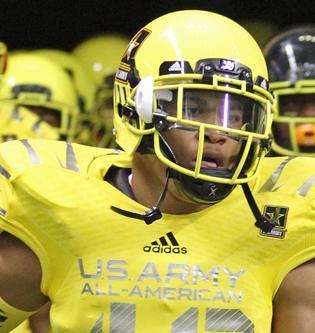 Credit: 247Sports

School: UCLA
Usually, the best players in New Orleans end up in Baton Rouge to play for LSU. The Tigers rarely allow anyone to beat them out for elite in-state targets, especially non-SEC schools.
That's why UCLA going into NoLa and poaching 4-star linebacker Kenny Young is a steal. Young picked the Bruins on national signing day, which certainly brought smiles to the coaches in Westwood.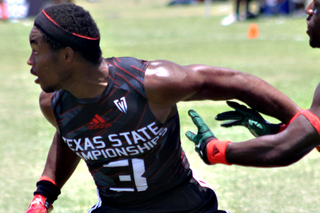 Credit: 247Sports

School: TCU
Although he committed the day before, 4-star running back Varshaun Nixon made things official with TCU on national signing day.
Committed to Texas A&M for a large portion of the 2014 recruiting cycle, Nixon chose to become the face of the Horned Frogs class. He gives them a quick and shifty running back who can make big plays at 5'9" and 185 pounds.
Nixon could be a breakthrough recruit for TCU moving forward.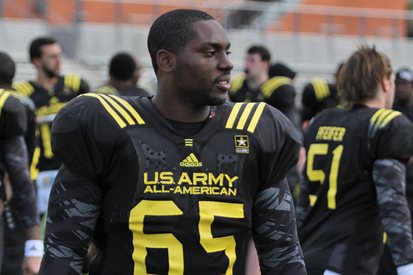 Credit: 247Sports

School: Florida State
Derrick Nnadi is a 4-star defensive tackle from Virginia whose father attended Virginia Tech, according to Michael Clark of Scout.com (subscription required).
Coming into national signing day, the feeling here was that his decision would come down to the Hokies and Florida State. With family ties, early playing time and the chance to stay close to home surrounding Virginia Tech, the prediction was that Nnadi would sign up to play in Blacksburg.
Well, Florida State stole him, as Nnadi announced for the Seminoles on Wednesday. To pour salt on the Hokies' wounds, FSU also got 4-star athlete Javon Harrison to flip from Virginia Tech on national signing day.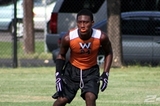 Credit: 247Sports

School: Boise State
Sure, 4-star safety Dylan Sumner-Gardner committed to Boise State a few weeks before national signing day.
However, come on—some of you thought he wouldn't actually go through with it.
That's why he is on this list; oh, and because Boise State signs a top 100 recruit about as often as pigs fly. Getting a player of Sumner-Gardner's caliber to commit to a new coaching staff at a mid-major program when he was committed to an SEC powerhouse is clearly a steal.
Credit: 247Sports

School: Florida
Florida lost some recruits during the 2014 recruiting cycle, but it gained 4-star athlete Treon Harris on national signing day.
At 5'11" and 180 pounds, the Miami native has a nice stroke as a quarterback. He's also a mobile athlete with great quickness. The Gators are going to overhaul their offensive attack going forward, so Harris has a chance to make an impact as a dual-threat quarterback.
Plus, Florida took him away from that program in Tallahassee.
School: USC
National signing day was a great one for USC, as the Trojans finished the 2014 recruiting cycle with a flurry.
However, while most of the attention of their class will go to the two 5-star prospects, Heritage Hall received a fax from an underrated cornerback on Wednesday.
His name is Lamont Simmons, and he's a 3-star cornerback from Florida. He is 6'2" and 180 pounds, plus he has great press-man coverage skills and can carry receivers downfield to safeties.
With USC being thin at cornerback, Simmons has a chance to surprise people down the line.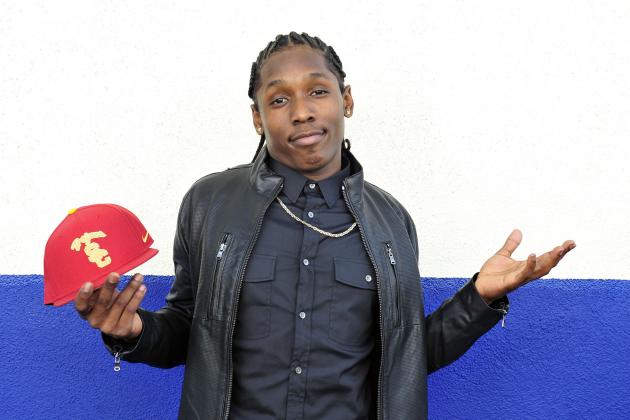 Gary A. Vasquez-USA TODAY Sports

School: USC
Speaking of USC, the Trojans got the news they wanted on Wednesday as 5-star athletes Adoree' Jackson and John Smith and 4-star guard Damien Mama all separately announced for Troy.
Jackson is a steal because nobody had a good read on where he was going. He could have gone anywhere in the country, but he picked USC during an odd press conference.
Smith qualifies as a steal because, well, he is when you consider the Long Beach Poly Jackrabbit told Chris Swanson of USCFootball.com that he had made up his mind to sign with Oregon on Sunday. Plus he probably would not have signed with the Trojans if Lane Kiffin were still in charge.
Mama had a chance to sign with anyone in the country, including Alabama. There were some times during the 2014 recruiting cycle that it appeared USC was behind the pack for him.
Yet, head coach Steve Sarkisian and his staff got Mama, Jackson and Smith on national signing day.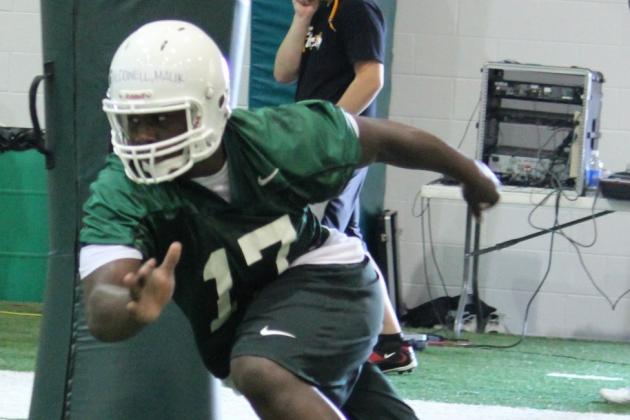 Credit: 247Sports

School: Michigan State
A 5-star defensive lineman, Malik McDowell is a talented player who is already 6'7" and 290 pounds. He was a coveted recruit who could have signed anywhere, expect Michigan State, according to his parents.
On Feb. 3, McDowell's mother told Sam Webb of Go Blue Wolverine (subscription required):
I don't prefer that (Malik) leave the state. I just prefer that he doesn't go to Michigan State. If he goes to Michigan, of course I'll be okay with that. If he goes to Ohio State, I'll be okay with that too. If he goes to Florida State, I'll be okay with that."

Just anywhere but Michigan State.
That's why it was a bit shocking to see him announce for the Spartans on national signing day.
It should be noted that McDowell has yet to sign and send his national letter of intent to Michigan State, per 247Sports.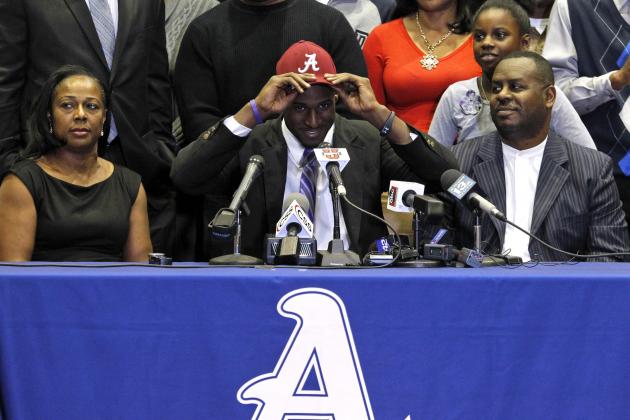 Butch Dill/Associated Press

School: Alabama
Rashaan Evans is a 5-star outside linebacker/defensive end who attends Auburn High School in Auburn.
That should have made him a lock to Auburn, right? Well, not exactly.

Not many people thought he would hold a press conference event in Auburn to announce he wasn't signing with the Tigers.
Yet, that's exactly what he did, plus it was even more surprising and ironic that he chose bitter rival Alabama. Besides, Auburn was thought to be the school many thought he would select throughout the recruiting process.
The Crimson Tide stole Auburn's top recruiting target—almost literally from right underneath its nose.
Locate the biggest steals on national signing day on the 2014 Bleacher Report College Football Recruiting Heat Map!
Edwin Weathersby is the College Football Recruiting Analyst for Bleacher Report. He has worked in scouting/player personnel departments for three professional football teams, including the New York Giants and Cleveland Browns.