It's hard to believe, but the opening day of the Olympics is already in the books! It was a brief one, with only three sports seeing action, but for most of the athletes who were competing, it was the biggest day of their lives.
Team USA got off to a mixed start. Some athletes shined under the pressure, living up to or even exceeding pre-Olympic expectations. Others didn't handle the super-sized stage all that well. The lucky ones live to compete another day in Sochi.
In case you missed any of the action, here's how the American athletes fared on Thursday:
Snowboard Slopestyle (Men and Women)
After his sudden withdrawal from the event, Shaun White was desperately missed in the slopestyle—none of the remaining American men made it straight into the final round.
Charles Guldemond, who came in fifth in his heat, was the closest, but he'll still have to compete in the semifinals along with Sage Kotsenburg and Ryan Stassel. The semifinals will be on Saturday, right before the final.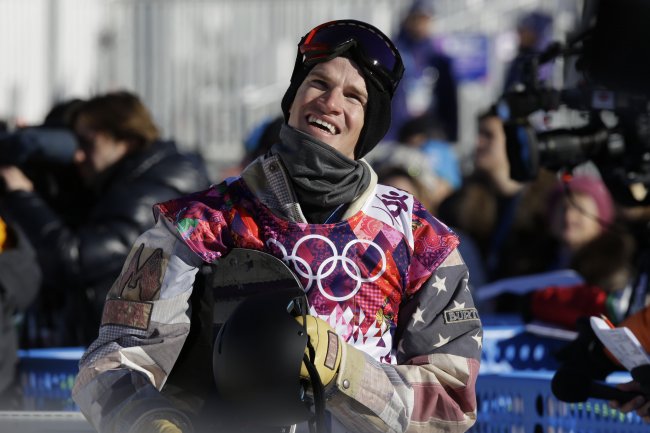 Andy Wong/Associated Press
Even though he was absent, White was the talk of the course:
Chas Guldemond on Shaun White: 'I'm surprised he pulled out so late. I knew it was coming sometime this year.' Why? 'No comment.'

— John Branch (@JohnBranchNYT) February 6, 2014
The women fared a bit better.
The favorite Jamie Anderson qualified second in the slopestyle, with a laid-back run that wowed. Her teammate Karly Shorr will join her in the finals while Jessika Jensen and Ty Walker will have to sweat it out in the semifinals.
The whole slopestyle team has been enjoying themselves in Sochi this week despite the rough course, so it's nice to see them all advance.
Got some freshies with the ladies @ty_walker_ @KarlyShorr @Jme_Anderson pic.twitter.com/uRyXKDPg5u

— Jessika Jenson (@jessika_jenson) February 2, 2014
Sixteen-year-old Walker, one of the youngest on Team USA, alarmed a lot of people with her tactics today. After dealing with injuries all week, Walker eased down the slope during her first run, bypassing all of the obstacles and jumps and earning a 1.0 from the judges. She then skipped her second run altogether. But hey, it was all part of her plan.
Afterward, she posted this on Instagram.
Her caption on the picture read:
my score of 1.00 is one for the books! still healing my heel and living to ride another day... Sunday, in particular. sorry to everyone back home that woke up to watch me compete but I needed to make the strategic decision to put myself in the best position for semis/finals. #goUSA #livetorideanotherday #icetub#roadtoouchi
Since she did post a score, Walker moves onto the semifinals on Saturday, where hopefully she'll be healthy enough to compete.
Freestyle Skiing Moguls (Women)
Defending champion and comeback queen Hannah Kearney got off to a great start—she finished the qualifying round in first place!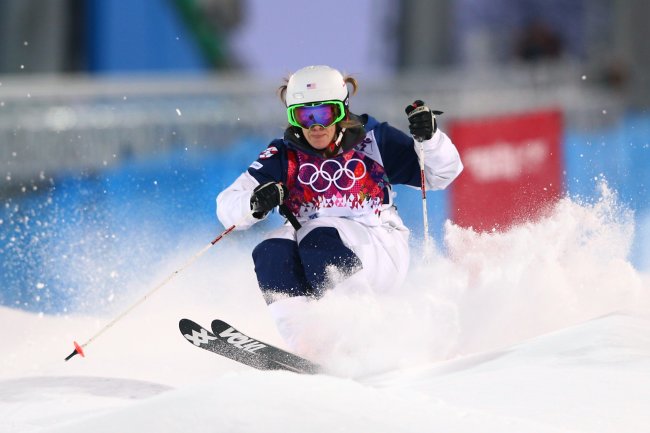 Cameron Spencer/Getty Images
Yesterday, her coach tweeted a tally of all the work she's put in since Vancouver, and it's quite an impressive list:
Hannah Kearney has squatted, deadlifted and leg pressed 38,904 times since winning Gold in Vancouver. #sheisready

— Troy Flanagan (@FlanaganTroy) February 5, 2014
American Eliza Outtrim also had a fantastic qualification run, putting her into fourth place and straight into the final. Heather McPhie, 29, will have to compete in the semifinal on Saturday.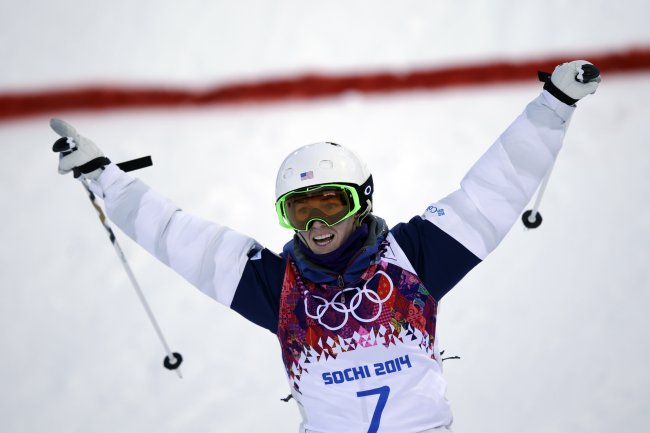 Andy Wong/Associated Press
The worst news of the day came from Heidi Kloser, who was second on the team and fourth in the world. She crashed in a training run this morning, had to be taken off of the course in a stretcher and reportedly has a knee injury.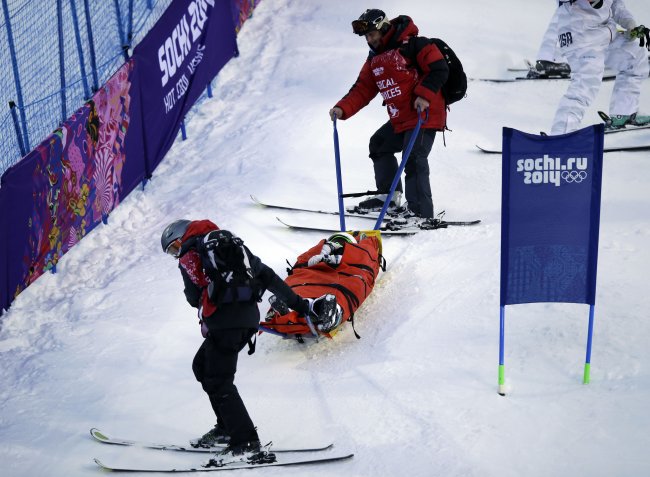 Andy Wong/Associated Press/Associated Press
What a terrible way for an Olympics to end.
Figure Skating (Team Competition: Men's and Pairs' Short Programs)
National champion Jeremy Abbott was the first skater to take the ice in the team competition, and yesterday he tweeted out his excitement:
Let the games begin!!! Literally! (There is no emoji to properly express this!) #Sochi2014

— Jeremy Abbott (@jeremyabbottpcf) February 6, 2014
Unfortunately, it didn't go so well. Abbott had a disastrous fall on his first quad attempt and couldn't recover his form for the rest of the performance.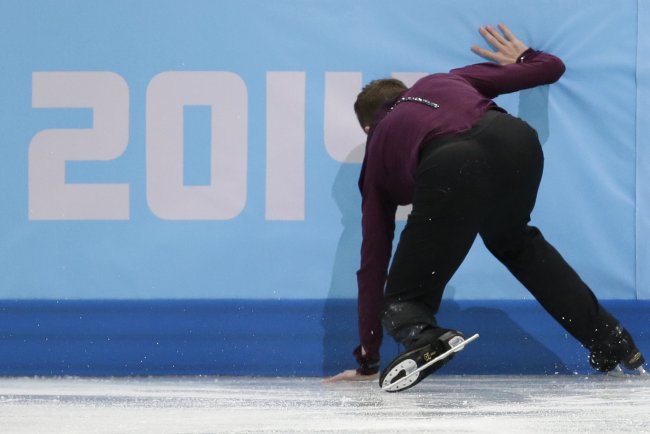 Bernat Armangue/Associated Press
He finished seventh out of 10. Even though he was pretty devastated afterward, he tried to keep his head up.
``I had my Olympic disaster and now I can move on," Jeremy Abbott said. 2d straight Oly disaster. This time he gets 2d chance (singles)

— Philip Hersh (@olyphil) February 6, 2014
Next, it was all up to the pairs duo of Marissa Castelli and Simon Shnapir to save the day.
They performed a solid but not spectacular routine, bobbling the landing badly on their side-by-side triple Salchows. They finished fifth in the pairs competition, and the U.S. finished the day tied with Germany and France in fifth place.
Castelli/Shnapir in the mixed zone. "The team event is still anybody's game. I think we're going to move up." -Simon pic.twitter.com/MzuPAnjq0t

— Nick McCarvel (@NickMcCarvel) February 6, 2014
The best part of the team competition was seeing Team USA cheer each other on from the box and comfort each other while waiting for the judges to give scores. It's special to see these individual athletes coming together in the Olympic spirit.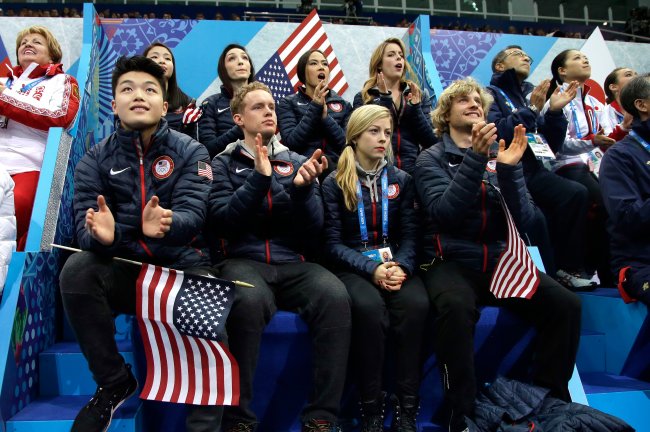 Pool/Getty Images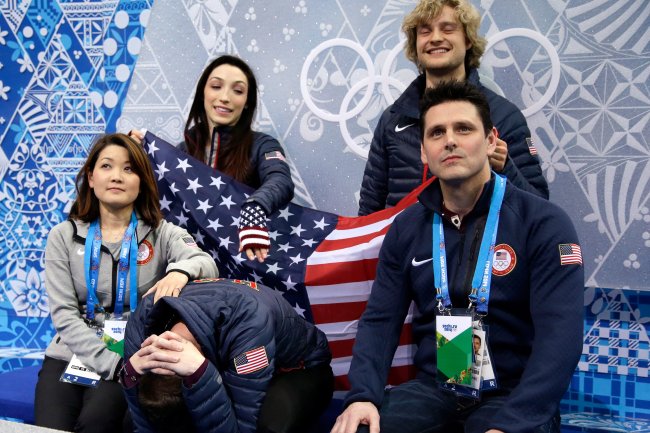 Pool/Getty Images
On Saturday, the ladies and ice dancer will skate their short programs, and after that, the top-five teams will advance to the medal round. Luckily, those are the two strongest events for Team USA.
Overall, it was a typical Olympic day, filled with tragedy, heartbreak and triumph. The only thing missing was the medals, but those will start coming out on Saturday!