Flawless.
In order for the Americans to pull out a gold or to even medal in the first ever figure skating team competition in the Winter Olympics, they would have to be just that on Thursday, Feb. 6, in Sochi.
Unfortunately, any hopes of medaling in the event were forgotten when American star Jeremy Abbott went down during his performance, crashing into the wall and crushing Team USA's chances of coming away with hardware.
On the opposite end of the spectrum sat Yuzuru Hanyu of Japan, who was sensational on the ice and gave the Japanese the top spot in the team competition after the men's portion.
Here are the results following the men's short program and analysis of the top skaters and Abbott.
Men's Short Program Results

| | | | | |
| --- | --- | --- | --- | --- |
| Rank | Name | Country | Score | Team Points |
| 1 | Yuzuru Hanyu | Japan | 97.98 | 10 |
| 2 | Yevgeny Plushenko | Russia | 91.39 | 9 |
| 3 | Patrick Chan | Canada | 89.71 | 8 |
| 4 | Han Yan | China | 85.52 | 7 |
| 5 | Florent Amodio | France | 79.93 | 6 |
| 6 | Peter Liebers | Germany | 79.61 | 5 |
| 7 | Jeremy Abbott | USA | 65.65 | 4 |
| 8 | Yakov Godorozha | Ukraine | 60.51 | 3 |
| 9 | Matthew Parr | Great Britain | 57.40 | 2 |
| 10 | Paul Bonifacio Parkinson | Italy | 53.94 | 1 |
nbcolympics.com
Yuzuru Hanyu, Japan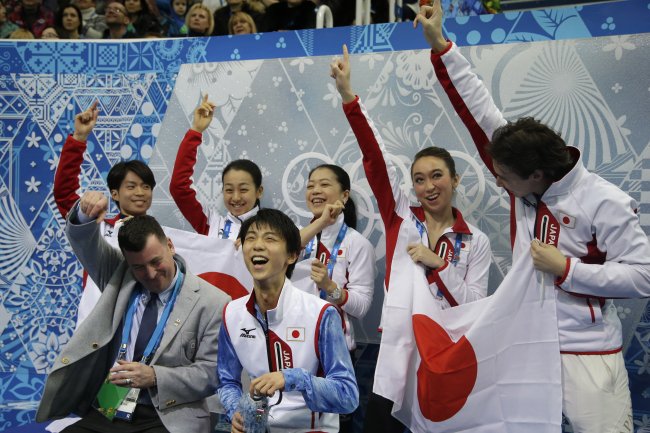 Darron Cummings/Associated Press
The Japanese phenom has done just about everything possible this season to emerge as the top skater in the world. He followed it up with a magnificent performance in the team men's short program.
Jackie Wong of Examiner described the 19-year-old's routine:
Yuzuru Hanyu: 4toe, 3axel, 3lutz3toe - that was as good as it gets http://t.co/A3vfkC7IaG #Sochi2014

— Jackie Wong (@examinerskating) February 6, 2014
The combinations Hanyu hit, which were done to perfection, were enough to make him the clear-cut favorite coming out of his routine. With Hanyu performing the final routine of the day, Japan immediately jumped to the top of the standings with a crucial 10 points.
All the momentum is in Hanyu's corner after the first portion of the team competition, so expect even more brilliance from the Japanese star when the individual events begin.
Yevgeni Plushenko, Russia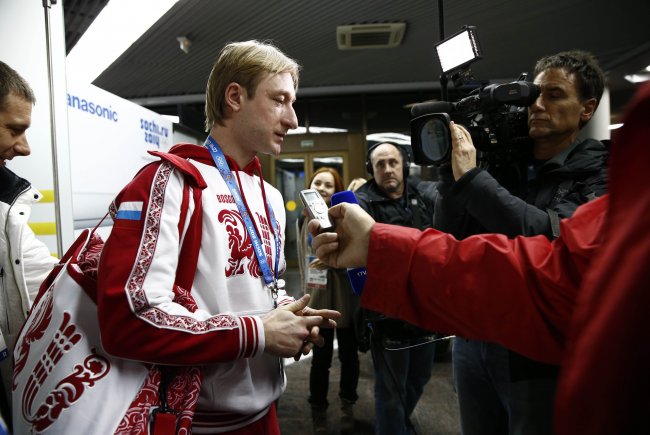 Rob Schumacher-USA TODAY Sports
One of the elder statesmen in men's figure skating, Yevgeni Plushenko wasn't perfect in his performance but was good enough to steal the show in the early portion of the competition.
Plushenko's score of 91.39 was good enough to thrust him into first at the time, but he was later booted out of the top spot by Hanyu.
Nick McCarvel of NBC gave his thoughts on the Russian skaters performance, noting that it might have been scored incorrectly:
#Plushenko scores a 91.39. That was a great skate, but not sure if it was 90+ material. How'll #Abbott handle the pressure of following that

— Nick McCarvel (@NickMcCarvel) February 6, 2014
"It felt great. I feel so happy," #Plushenko says. Mixed zone packed for questions #Sochi2014 pic.twitter.com/F0qJu8ko0A

— Nick McCarvel (@NickMcCarvel) February 6, 2014
Despite the potential for earning a higher score than he deserved, Plushenko would have finished behind Hanyu no matter what after his incredible skate.
Plushenko perhaps also added extra pressure on Abbott, as he went just before the American who would eventually stumble in his portion.
Patrick Chan, Canada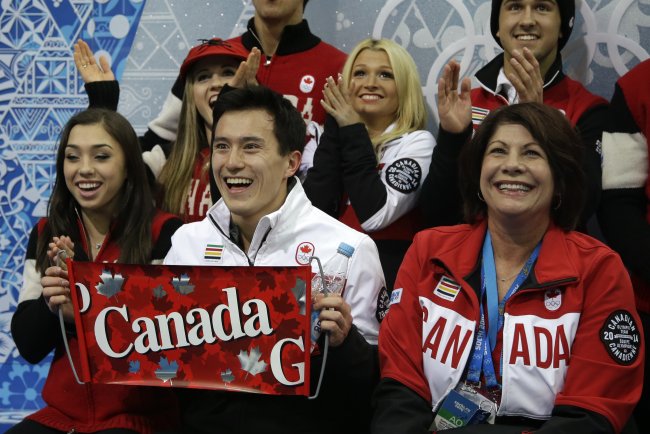 Darron Cummings/Associated Press
Despite what most would consider a disappointing skate from Patrick Chan, the current World Champion still finished in third place with a somewhat subdued performance.
Chan spoke about his thoughts on the performance after the event, according to McCarvel:
Chan (@Pchiddy) says he is satisfied with the way he skated under Olympic pressure. Canada third #Sochi2014 pic.twitter.com/WjixTwvVcu

— Nick McCarvel (@NickMcCarvel) February 6, 2014
The Canadian's landing was a bit off on several of his combinations and he didn't look particularly happy when leaving the ice. But his team is in third place with a chance to medal after the men's short program, which is better than seven other competitors can say following the event.
Though he was not dominant in his first skate of the Olympics, it might also serve as a chance to get out the jitters of performing on the biggest stage of his career.
With that in mind, Chan might be coming back with a vengeance in the men's individual competition.
Jeremy Abbott, USA
It certainly wasn't the performance Abbott was expecting. And after finishing in seventh place after the first leg of the team competition, it wasn't the outcome Team USA wanted either.
The fall was just the beginning of the troubles for Abbott, as he appeared shaken and upset during the remainder of the performance. His score reflected the struggles he went through, as Team USA dropped all the way down near the bottom of the standings.
McCarvel provides some commentary on the emotions Abbott showed following his disappointing routine:
#Abbott down on quad in what was to be his combo pass, then pops triple Axel. Hasn't skated this poorly all week #Sochi2014

— Nick McCarvel (@NickMcCarvel) February 6, 2014
Abbott with head in hands. Worst score for him since... A long, long time. US in second, could fall to sixth #Sochi2014

— Nick McCarvel (@NickMcCarvel) February 6, 2014
"There are times when you say you wish you could do it again, I feel that way now." - @jeremyabbottpcf #Sochi2014 pic.twitter.com/4NBnbqs0F3

— Nick McCarvel (@NickMcCarvel) February 6, 2014
Luckily for Abbott, this will not be the only event he skates in during his final Olympics. But for the veteran American skater, a major improvement in his confidence will be necessary to medal in Sochi.
The 28-year-old placed ninth in Vancouver during his last try at the Olympics. Following a huge collapse in the team competition, Abbott will now need a huge turnaround to erase his past struggles.