Complete Analysis of Luis Suarez's Liverpool Role
Use your ← → (arrow) keys to browse more stories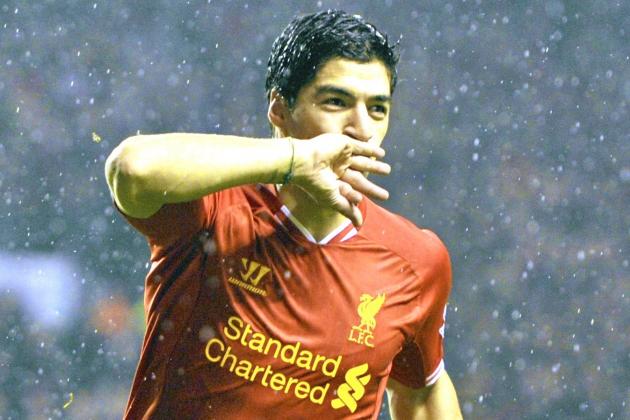 Associated Press

Talk about Liverpool striker Luis Suarez, and a superlative won't be far off. This season he's been showered in them.
Chris Bascombe of the Telegraph summed up the pure magic aura Suarez bestows on Anfield after the Reds' 5-1 victory over Norwich City in November:
There are some evenings at Anfield when a footballer is granted a standing ovation, and others when only gasps of approval are sufficient.

Luis Suárez's performance for Liverpool on Wednesday night ought to have seen him carried off the pitch in a Sedan chair. That was just at half-time.
The comparisons to Lionel Messi and Cristiano Ronaldo this season have been apt. The 27-year-old Uruguayan international is in the prime of his career, tearing Premier League defences apart and playing a key role in a successful season for his team.
To Liverpool, Suarez is indispensable. He's the best player at the club by a country mile and, worryingly, far too good for a team not playing in the Champions League.
Position
Suarez makes himself available across the full width of the pitch in the final third, concentrating his immense work rate and energy toward being a constant hassle for opposition defenders.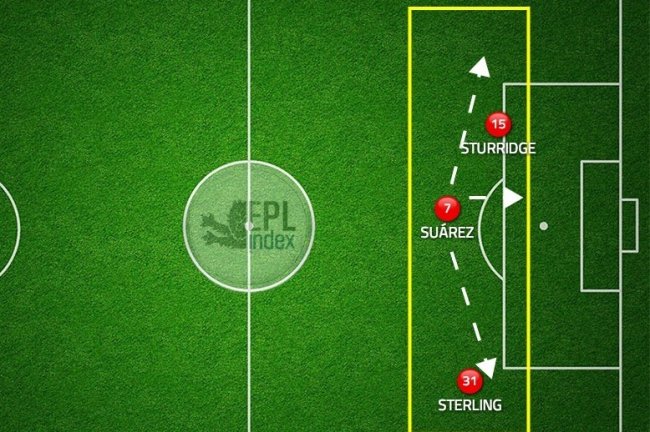 EPL Index
In a typical game, Suarez will begin his forward actions in the yellow box illustrated, constantly readjusting himself to fit with the phase of play.
From here, he will chase balls, put defenders in possession under pressure, take the ball into wide areas or drive forward into the box with the technically brilliant, deft close control he possesses.
This constant movement allows his fellow attackers—Daniel Sturridge and Raheem Sterling—the freedom to drift into space, either to draw defenders out of Suarez's path or create opportunities of their own.
It is an offensive trio that is flourishing at Liverpool.
Goals
Suarez's rate of goals—he's averaging over one per game in the Premier League this season—is the type of edge that could win the league for any team.
Combining his 23 goals with Sturridge's 14 and considering both players have missed chunks of the season, it is clear that Liverpool have a lethal front two.
31 - Since Daniel Sturridge made his debut for Liverpool, the top two Premier League scorers are Suarez (31) and Sturridge (24). Power.

— OptaJoe (@OptaJoe) February 6, 2014
Not only is it a marvel to admire the sheer amount of goals that Suarez scores, but the way he scores them brings people to their feet in awe of the wonder of him.
His four goals against Norwich in December epitomised the variety in his goalscoring talents.
A long-range effort from 40 yards got the ball rolling, quickly followed by a poacher's goal from a corner. His third, a mesmeric run past three Norwich defenders with a neat finish at the end of it, was in complete contrast to his stunning fourth from a trademark free kick.
Fans leaving Anfield that day felt an immense sense of privilege at being able to watch one of the world's best players, if not the best, week-in, week-out.
There's a consistency there, too. Suarez terrorised the West Ham defence in a similar way a week later with two more goals, scoring another two at Tottenham the week after.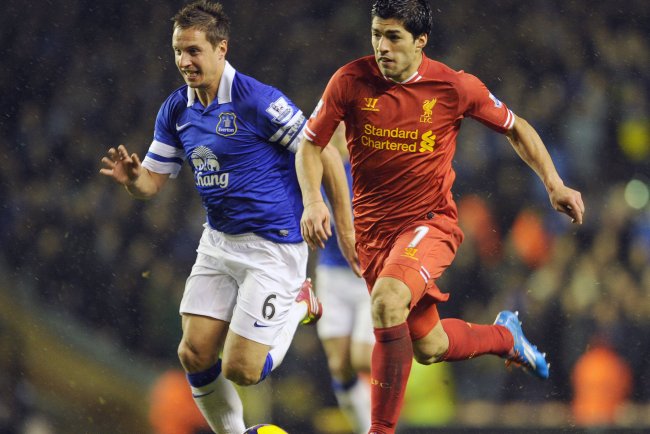 Clint Hughes/Associated Press
His recent strike in the second half of Liverpool's 4-0 thrashing of Everton exemplified his pace.
Having taken advantage of a defensive error to pick up the ball on the halfway line, Suarez made a direct line for goal, outpacing Phil Jagielka and completing the move with a clinical finish past Tim Howard.
Assists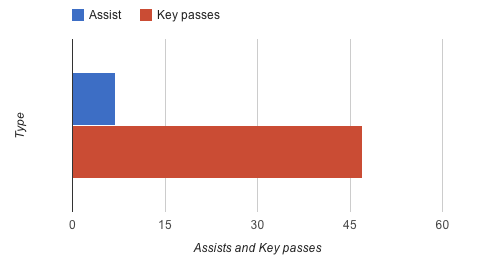 Squawka.com
According to Squawka, Suarez has created 54 chances this season—that's 27 more than Manchester City forward Sergio Aguero, whom Manuel Pellegrini compared to Suarez in December.
The Chilean boss was quoted by the BBC Sport as saying:
Suarez is a very important striker, but I think Sergio participates more in the game.

I never said he was the best striker in the Premier League - I said he was the best player. Maybe there are players who are better strikers than him, but not as complete as him.
Yet, instilled with Brendan Rodgers' mentality of playing as a group, Suarez has formed exciting and productive relationships with both Sterling and Sturridge on the pitch this season.
His recent through-ball to Sturridge for the second goal of the game in Liverpool's FA Cup fourth-round tie at Bournemouth demonstrated an understanding of his teammate's movement, swiftly moving the ball forward, creating the killer blow for the Championship side.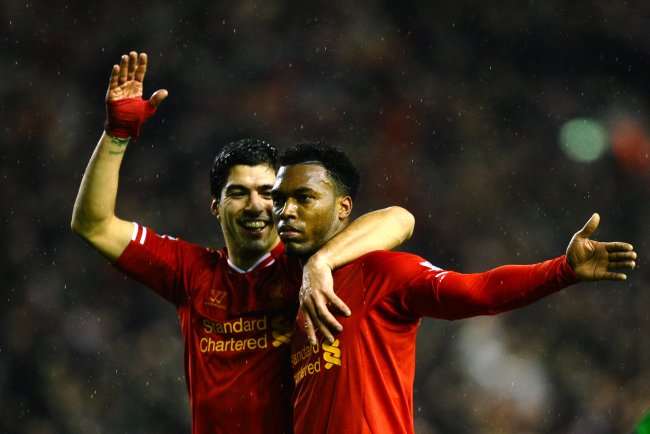 Laurence Griffiths/Getty Images
Rodgers recently explained the understanding between his strike force, per James Pearce of the Liverpool Echo:
They interchange because they are floating players anyway and their movement is really dynamic. When they haven't got the ball they have to work like animals as there is a big responsibility on them to defend that side of the field.
In Liverpool's 4-0 win over Fulham at Anfield in November, Suarez produced a nearly perfect performance, contributing positively to the Reds' all-round attacking play.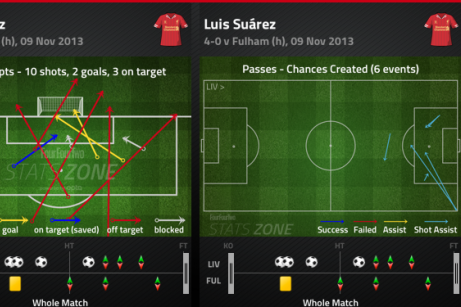 FourFourTwo StatsZone
Suarez's individual creativity and record in both goals and assists proves that he is very much a complete and well-rounded player, capable of excelling on his own up front and with players in support.
Icon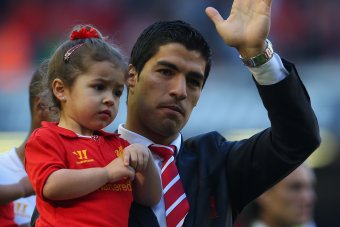 Julian Finney/Getty Images
Inevitably, such is Suarez's brilliance and allure as a footballer that he is firmly a face of Liverpool Football Club.
With that comes responsibilities, both on and off the pitch.
Rodgers' handing the captaincy to Suarez during Steven Gerrard's and Daniel Agger's absences over Christmas showed how valuable he sees Suarez's team spirit and hunger to win.
The two major controversial incidents that have cast a dark shadow on his career in English football are a thing of the past, as this season the Premier League has enjoyed a more mature Suarez.
And the player himself is looking a happier and more dynamic player with the headlines off his back and the focus on his football.
Furthermore, his PR team have done a good job in clearing up the mess left by Suarez's public pressure to force an exit from Anfield last summer by way of a number of charming interviews in English.
Daniel Taylor wrote in the Guardian back in September about how Suarez, despite his faults, will always answer his critics on the pitch—and he was right:
Maybe there will be a greater understanding that he cannot continue undermining his own brilliance at a club that has persistently, sometimes desperately, redrawn the line every time he has crossed it. Or maybe we should just fasten our seatbelts and understand that, at this stage of his professional life, second-guessing Suárez and what he is capable of, both good and bad, is never going to be straightforward.
Furthermore, with the plethora of young talent at Liverpool and more to come through the youth system, Suarez is an inspirational role model, and his more mature self this season goes a long way to fulfilling that valuable responsibility at the club.
Suarez plays an important role at Liverpool for so many reasons—contributing to the team's all-round play, goals, assists and the development of the players around him.
Yet inside every great sportsman is the burning desire to be at the top of their profession. Until he is playing among the world's elite, many will continue to dismiss the comparisons to Messi and Ronaldo.
So long as he is playing, Suarez has the ability to play as much a part in the Reds becoming a Champions League club next season as anybody else at Liverpool.
Despite having re-signed in December, failure to secure Champions League qualification will surely see Suarez depart Liverpool this summer, which would leave a gaping hole at Anfield.
And who could blame him?