Dundee United, Baby Messi and a Possible Rebirth for Scottish Football
February 7, 2014

EuroFootball/Getty Images
At a time when transfer fees, at the more high-profile end of the game at least, are getting ever more inflated, it can be easy to overlook a more general trend that has actually seen many clubs move with increasing determination the opposite direction—investing more and more in an infrastructure to enable them to produce their own talent, rather than have to keep buying it in.
Barcelona may not be averse to paying an eye-watering sum for a top player—as the recent, increasingly controversial, capture of Neymar only underlines—but they remain the poster boys for such an approach, thanks to the success of their vaunted Masia academy, a sophisticated and continually refined incubator that has produced players as marvellous as Andres Iniesta, Sergio Busquets and Xavi Hernandez.

Manu Fernandez/Associated Press
Another prime example comes in the Netherlands, where the cultivation of home-grown talents holds an extra prominence, due in part to geographical and cultural tendencies.
Ajax's De Toekomst is often mentioned in the same breath as La Masia, famous as it is for producing much of the Champions League crop of 1995 and, more recently, a new crop of prodigiously talented individuals led by current Tottenham attacking midfielder Christian Eriksen.
The two academies enjoy something of a shared lineage, one cultivated in great part by Johan Cruyff, the former Netherlands international widely accepted as one of the finest footballing minds of the 20th century.
Cruyff grew up in the Ajax academy, then spent the most successful years of his career in Catalonia, importing and exporting what he learned from both experiences as he returned to both clubs in playing and non-playing capacities over the following years.
Speaking to the Irish Examiner last year, Cruyff explained his principles thusly:
What's the difference between a good player and bad player?

It's the speed of [control], so if you've got to speed them up, it's to provoke mistakes. And the main thing is that the quicker you can change your mentality, offensive [to] defensive, the first defender is the centre-forward. He's the nearest by, so the quickest he can put the pressure on, start defending.

And you run less. You don't run more. Of course, you've got to do possession. It's a way of thinking and it's the way you can re-organise the whole thing. Because, whoever's got the ball, who scores the goal?
Cruyff is widely credited with installing the 4-3-3 as the basis of Barcelona's tactical ideas, building on what he was taught by the great Ajax, Netherlands (and Barca) coach Rinus Michels, and the passing and pressing style that was subsequently refined—some say perfected—by Pep Guardiola.
The Masia education also produced Lionel Messi, the best player of his generation. But Messi is not simply a product of his environment, he is also a vestige of his country's initial approach to the game.
Born in Rosario, in Argentina, it is well-documented that one of the main reasons Messi moved to Barcelona as a 13-year-old was because the club were prepared to pay for the injections he needed to combat his growth hormone deficiency.

Jamie McDonald/Getty Images
Nevertheless remaining undeniably diminutive in stature, Messi embodies a particular Argentine preference for small, technically-adept ball players with a lightning change of pace and even faster close control that can be traced back through Diego Maradona and even to the game's first imprint on the South American country.
When English explorers, playing a robust, physical version of "football," came to Argentina, few of the locals were impressed. When the Scots arrived, however, playing the same game but with a premium on close control and movement that had much more of a rhythmic quality to it, Argentines were enthralled.
The somewhat differing British approaches were consolidated in the very first international match, in 1872, as Scotland held England to a goalless draw despite being more than a stone lighter per man.
In his book, Inverting the Pyramid, Jonathan Wilson describes the match thusly: "Although direct evidence is sketchy, it seems probably that, Queen's Park [Scotland] decided they had to try to pass the ball around England rather than engage in a more direct man-to-man contest in which they were likely to be outmuscled."
Of the development of the game in South America, Wilson adds:
The Football Association's Laws of the Game arrived in Argentina in 1867...[but] only in the 1880s did football really take off, thanks largely to Alexander Watson Hutton, a graduate of the University of Edinburgh, who came to Argentina to teach at St Andrew's Scotch School.

Different conditions necessitate a different style. Just as the game of the cloisters differed from the game of the playing fields in English public schools, so, in the tight, uneven, restricted spaces of the poorer areas of Buenos Aires and Montevideo, other skills developed and a new style was born.
If Messi is a product of Argentine football as much as La Masia, then in some ways he is also a product of his cultural style, a style that owes some debt, however, small to Scottish explorers.

A BOY BRANDED 'BABY MESSI'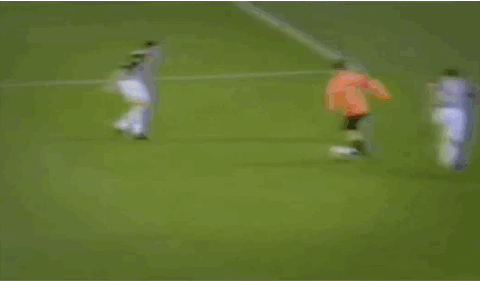 B/R UK
From inverting the pyramid to completing some sort of generational circle then, it is perhaps fitting that the player most recently branded "Baby Messi" hails from Scotland. Dundee United midfielder Ryan Gauld is just 18 (his birthday is in December), yet already he seems to have the hopes and expectations of his country on his shoulders.
Just 5'4" but preternaturally composed on the ball and capable of spotting and executing a defence-splitting pass with an ease that belies his experience, Gauld has already attracted attention from almost all the top clubs in Europe; assuming you believe the regular reports in the press.
The comparisons with Messi are—as is almost the case—somewhat facile and lazy but perhaps can be generously written off as a shorthand way of underlining his talent, rather than a nuanced attempt to capture his playing style.
"I keep reading about it and then forgetting about it straight away," Gauld told The Guardian late last year. "The comparison to Messi is quite laughable. It is good to read, I just don't think about it too much."
As remarkable as Gauld's emergence is in a country that, in all fairness to Scotland, has not had a great recent track record in the department of youth development, what makes it even more notable is that he is merely the most prominent of the young players coming off the Dundee United production line.

Paul Thomas/Getty Images
John Souttar, who was at the same school as Gauld, is a 17-year-old centre-back who has already impressed in the first team, while 19-year-old right-back Andrew Robertson has already been scouted extensively by Everton, with Roberto Martinez—usually no fool when it comes to identifying young talent—apparently believing he has the ability to make the move south of Hadrian's Wall.
Two other youngsters, defender Euan Spark and midfielder Scott Smith, are also tipped to make their breakthrough soon.
United's manager, Jackie McNamara (whose playing career peaked with a successful spell at Celtic), seems to be a calm and considered custodian of the prodigies. Unusually for many in his high-pressured position, he seems unwilling to put the short-term demands and expectations upon him above the importance of their long-term nurturing.
McNamara recently removed Gauld and Souttar from the first team for a period to attempt to minimise the prospects of burnout, telling the Daily Record:
The learning curve they have been on is huge and it's incredible they have handled it so well.

From my own experience of being a young player coming through I know the demands, the pressure and the expectation that is placed on you.

Add in the transfer speculation hanging over them and it will have an effect because they are only human...I think this is down to managing the players and making sure they are progressing at peak levels.
McNamara may be in charge of managing his prodigious charges now, but the existence of them as a cohort—rather than one blistering talent finding its way into their academy as a statistical outlier—indicates that the club have hit upon a new and successful approach somewhere along their production line.
It is no coincidence that Southampton, for example, have recently brought through players such as Gareth Bale, Theo Walcott, Alex Oxlade-Chamberlain and Adam Lallana. They are the almost inevitable result of extensive (and widespread) scouting networks, a finely-tuned and well-funded academy setup and the best possible coaching.
Seemingly, Dundee United have hit upon a similar recipe.
A NATIONWIDE LOSS OF FOCUS
If Scotland gave the game, or at least the seeds for its germinating style, to Argentina, then in recent years it has increasingly drifted away from those roots.
Since Archie Gemmell jinked through the Dutch defence so memorably in the 1978 World Cup, the smaller, technical player has slowly seemed to be erased from the national team.
Perhaps influenced by the success of the sport, particularly the multi-billion pound Premier League south of the border, since the retirement of Kenny Dalglish, the national team has increasingly been populated by less skilful but physically more imposing players; tenacious tacklers such as John Collins and Scott Brown becoming ever more prevalent as the smaller players have become hustlers—Gordon Strachan (now the national team manager), for example—rather than playmakers.

Petr David Josek/Associated Press
As good as those players were (or are), Scotland as a team seemed to be attempting to match up physically against their rivals, eschewing their roots in the process.
The nadir in that process came in 2010 when then-national team manager Craig Levein opted not to field a single striker for a European Championship qualifier in the Czech Republic. The 4-6 formation saw a midfield comprised of Darren Fletcher, James Morrison, Graham Dorrans, James Mackie and Steven Naismith; a mixture of the water carriers and the hard workers.
Unsurprisingly, they lost.
That is not to say that Scotland have not continued to produce smaller, guileful players in that time (Barry Bannan, for example, might wonder why Gauld is suddenly being so touted—although he can perhaps only look to himself for reasons why his career has taken the turns it has). But they certainly have struggled to get international recognition under managers invariably fearful for their jobs.
The emergence of Gauld, should he continue to develop as many hope, is perhaps a chance for those changes to be rolled back.
GREAT TALENT, DEVELOPED THE RIGHT WAY
B/R UK
How did Gauld get where he is, then, and develop the skills that he has? Obviously natural talent and aptitude play a huge part, but nurture has helped make the most of those basic advantages.
Gauld was raised in the small village of Laurencekirk, in Aberdeenshire, an area far enough from Scotland's typical football hotbeds that his school, Mearns Academy, did not even take part in a local league.
Playing alongside Souttar and Spark, the trio played five- or seven-a-side games for their school where possible, then took their skills to Brechin City Boys Club at the weekends where Souttar's father, Jack, was the coach.
Souttar Sr., a former professional for Brechin City, knew how to develop his players, and their age group went unbeaten for two seasons. Unusually, however, he always knew there was more work to do to push the teenagers onwards—with his charges tasked with playing futsal in the winter, for example, to improve their touch and technique.
That continued a few years later as Gauld and Souttar graduated to the local Cathro Coaching Clinic, a sort of boot camp for aspiring professionals run by a forward-thinking coach.
The eponymous Ian Cathro told The Times:
The concept behind the clinic was that we could do it differently, we could make football beautiful. We tried to give them more time on the ball, to create a stimulating environment. Everything was done in scenarios. It was very intense. I was very intense.

We would stop training sessions if a player passed the ball to a team-mate without knowing what he was going to do with it. You had to know that second step, otherwise you could not pass it.

It was not a soft coaching technique. It was serious, me staring at the player's eyes, him staring into mine. It was that intense, but that was because we had to make an impact. We could not fail.
Cathro, who is now assistant manager at Portuguese top-flight side Rio Ave, was a man hugely passionate about coaching and modern coaching methods. He set up the CCC as a teenager, and when Dundee United (then-manager Levein, in fact, to give him his due) spotted his talent and interesting methods and brought him on board, he took Gauld, Souttar and a number of others with him.
He was always saying that you need to see not just the pass that you are going to play but when that person receives the ball what they can do with it, so thinking of the second and the third pass. A lot of nights of the week we would just work on awareness, just knowing what was around you. It's all about making life easier for your team-mate.

Ryan Pierse/Getty Images
The micro example at Dundee United has, somewhat coincidentally, been emulated on a more macro level around Scotland. Since his appointment in 2011, Scottish FA performance director Mark Wotte has placed a premium on the relationship between schools and local club academies, and the enhancement of technical skills.
It was almost as though Gauld's experiences were operating as an ongoing blueprint for what Wotte wanted to make a more national phenomenon—although, if that is the case, it is perhaps odd that he fell out with Cathro who, having briefly graduated to the SFA setup, soon departed for Portugal complaining that he would never be given the chance to be a manager in his homeland.
Upon his appointment three years ago, Wotte said (per the BBC): "I think in general, we are under-achieving. To be honest, we are not good enough and I think we can do a much better job at every level.

Mark Runnacles/Getty Images
"But it is a big task for us Scottish football people to improve and make sure that in a couple of years we will do better. I think the infrastructure can be better, I think programmes can be more intense and there should be better cooperation between clubs and academies."
Wotte has spent the last few years attempting to fulfil those ambitions, with some promising early results. There seems to be a greater camaraderie between local schools, clubs and the national team setup—culminating in the Under-16s winning the Victory Shield outright (beating England in the decider) for the first time in 15 years last October.
The Under-17 and Under-19 squads have also reached the elite round in Euro 2015 qualifying, enhancing the feel-good mood.
"We are now getting good results all the way down through Under-19s and to the Victory Shield boys," U-16s coach Scott Booth commented to the Daily Mail. "Everyone is working hard to fulfil this new philosophy, the players are buying into it and there is more talent coming through."
Wotte, whose CV includes coaching stints in Holland, Egypt, Qatar, Romania and England, believes a continuing mix of statistical analysis and interpersonal attention will soon bring rewards to the senior setup.
In his most recent blog for the Scottish FA, he wrote:
I am a great believer in the development of strong relationships between the national teams and the club coaches. Whilst at times there can be a feeling that young players are not being treated with the kid gloves that clubs would like, nevertheless I believe clubs should also be proud of watching their players represent their country.

It is an acknowledgement and endorsement of the work undertaken by their clubs and rest assured we do our utmost to ensure players are returned enriched by the experience and able to add value to their club side as a result of the opportunities they have been given.

Through our own Performance Information Management System, we can now evaluate that progress from all of our National Youth Teams in a more scientific and technological way: evaluating pass completion rates,  possession retention, opportunities created in the final third, goals conceded and other KPIs [key performance indicators] that we can measure on a regular basis to provide evidence of improvement.

These components are all part of The Scotland Way: developing and harnessing an attractive and purposeful style of play throughout all our National Youth Teams. Ultimately, we aspire to have all our teams confident in attack-building from defence, quick and incisive midfield play, exciting wing play and, of course, clinical finishing.

While the World Cup in Brazil will be a poorer place without the Tartan Army, we should at least be heartened by a future of possibility.
THE NEXT STEP

Mark Runnacles/Getty Images
If the aim for Scotland is once again to become a nation that regularly qualifies for World Cups (the European Championships, under its new 24-team format, should be a comparatively straightforward proposition), then what about the individual ambitions for "Baby Messi"?
Gauld has already been strongly linked with a switch to England, while Wotte has previously expressed a belief that a switch to Celtic—or Rangers, should they soon return to their former primacy within the domestic game—would grant the winger another element in his development without unduly unsettling him.
The player, himself, however, seems to be looking further afield—to Italy or Spain. He told the Guardian:
When I've been growing up, I watched the Spanish leagues and prefer the style of that. Getting the ball down and being patient with the build-up play.

In England, it's maybe more direct. If you are a winger you are expected to take on a full-back and get a cross in. If it's abroad, you can turn out, keep the ball and just keep the attack going.

Abroad you see more players who are smaller in stature. In England, it's more athletes. Me being a smaller guy, I need to think about what's best for me and what's best around me and I think being abroad is the best culture of football for me.
This would be an impressive step. English football, for all the players it produces, still struggles to produce many individuals with the the technical skills, or the open-mindedness on a more cultural level, to make the switch to a European side.
Such a transfer would perhaps say more about Gauld's personal development than the wider Scottish development culture, but it would nevertheless be an impressive statement of intent.

Jeff J Mitchell/Getty Images
For Scottish football, it would be a source of pride. But, if the country is to "catch up" with similarly-sized European nations (Croatia and Serbia for example, or even Holland, which is "only" twice as large), then it needs to ensure its players at least make some positive impact on the domestic game—which has been in turmoil in recent years due to the implosion of Rangers and subsequent squabbling over the restructuring of the league ladder—before they move on to bigger challenges.
The best way for Scottish football to improve is for its domestic game to get ever more competitive; to do that, considering the financial constraints almost all clubs outside of the Old Firm work under, professional clubs will need a constant supply of young players able to replace those plucked away by Europe's heavyweights—just as those sides in the Eredivisie have grown accustomed to doing.
As Cruyff, speaking nominally of Dutch talents but in terms that apply across the borders of all lesser footballing nations, said:
At a certain age, they [talented young players] will go because somebody will pay more, which is reality.

But, as soon as you know reality, you can do something against it. Or start earlier. Or get them back when they are finished, but one of the most important things is to treat them well.

We have these new players, good players, but we need to educate them still.
Having helped give the game to some parts of the world, it seems Scotland is finally starting to retrain and adjust to the modern evolution—an evolution that is not too far removed from the ideals they held most dear in the first place.

Paul Thomas/Getty Images