While I think that the so-called Manchester United "fans" are moronic for calling for David Moyes' head, I may have to jump on the "Moyes Out" bandwagon if he allows centre-back Nemanja Vidic to move away from Old Trafford in the summer.
The Sun (via the Mirror) reports that the 32-year-old Serbian is unhappy that he's yet to be offered an extension on his contract that runs out at the end of the current campaign. You have to question just what is going through Moyes' head—though other stories suggest that it may be too late for a moment of clarity for the Scot.
Vidic has been a stalwart at the heart of defence since signing from Spartak Moscow back in 2006, and his contribution to the United cause has been clear for all to see—particularly for the eyes of the Inter Milan powers that be, who are looking to bring the defender to the San Siro when this season comes to a close.
Jamie Sanderson reports in Metro that Vidic is in advanced talks with Inter Milan for a pre-contract transfer agreement worth around £100,000 per week; and as his move to Serie A gets evermore likely, Moyes needs to pull it out of the bag to keep Vidic in a United shirt.
Vidic has his critics, and yes, we all remember when Fernando Torres would tear him apart back when the Spaniard used to know how to play football, but the fact of the matter is, Vidic is still one of the best defenders in the world. He formed one of the greatest-ever partnerships in world football with Rio Ferdinand, and while the 35-year-old Ferdinand is being branded Fossil Ferdinand, there's no such slurs of a "vulnerable, veteran Vidic."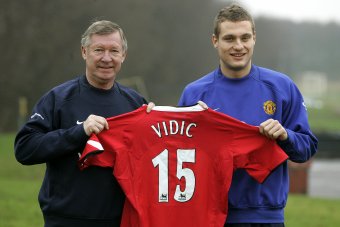 DAVE THOMPSON/Associated Press/Associated Press
His form for the Red Devils has been impeccable over the years, and this season is no different. On top of some commanding performances at the heart of defence, Vidic has contributed to seven clean sheets in all competitions, and he has been a rare shining light in what has been a gloomy campaign for United.
Back in the Fergie era, which must seem like centuries ago for frustrated fans, Vidic helped himself to 15 doses of silverware and personal honours galore—all of which were fully deserved.
Performances cannot be a factor behind Moyes' reasoning for allowing Vidic to leave, because essentially, he hasn't stepped a toe out of line. So, is the Scotsman trying to convince us that he doesn't need Vidic? Because, let's be honest, he really does.
Let's look at Vidic's possible replacements in the heart of defence: Chris Smalling, Phil Jones and Jonny Evans, who cannot be mentioned in the same breath as the Vidics, the Ferdinands, the Bruces and the Stams—they simply don't have the match-winning calibre and heart that it takes to control a Manchester United defence.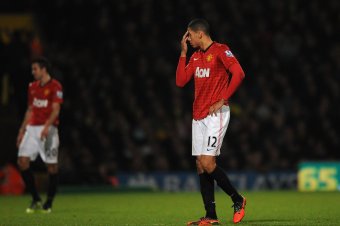 Christopher Lee/Getty Images
Taking Smalling for example: He's started 13 times in defence for United in the Premier League this season, and he has let 19 goals slip past him; Vidic, on the other hand, has allowed 11 goals in 15 starts.
That record is hardly something to gloat about, sure, but it screams out that rather than letting their best defender slip through their fingers, United rather need to find a capable partner for Vidic.
If Moyes instills faith in the current crop of young United defenders then he does so at his own peril. If he wants the "crisis" nonsense to end, then he must keep Vidic in red.
Stats via Transfermarkt.