For the first ever time at the Winter Olympics, women's slopestyle hopefuls took to Sochi's Caucasus Mountains on Thursday morning, easing into their qualification process but showing enough to impress in their opening runs.
With 23 athletes competing in the first two heats of the qualifier, the competition gradually hit more intense climates, but it's clear that some entrants are saving their biggest moves for the latter stages.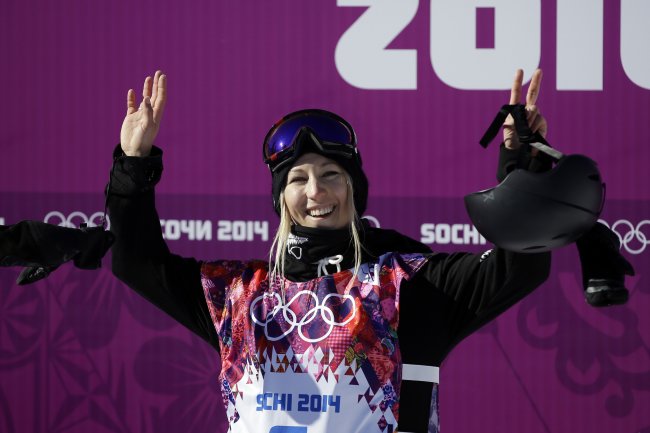 Andy Wong/Associated Press
That being said, there was still a flurry of flips, grabs and lightning-quick rail manoeuvres on show as some of the sport's biggest names laid down a marker in these first outings.
Scored out of 100 by the six judges for each of their two heat runs, not every hopeful managed to claim the score they will have been seeking, but there's a long journey ahead before we reach Sunday's final.
Let's take a look at the women's qualification scores, per the Winter Olympics' official website.
Women's Slopestyle Snowboarding Qualification Results, Heat 1

| | | | |
| --- | --- | --- | --- |
| Heat Rank | Name | Nation | Best Score |
| 1 | Isabel Derungs | SUI | 87.50 |
| 2 | Torah Bright | AUS | 85.25 |
| 3 | Spencer O'Brien | CAN | 82.75 |
| 4 | Enni Rukajarvi | FIN | 79.00 |
| 5 | Jenny Jones | GBR | 74.25 |
| 6 | Rebecca Torr | NZL | 70.75 |
| 7 | Christy Prior | NZL | 67.50 |
| 8 | Stefi Luxton | NZL | 59.75 |
| 9 | Sina Candrian | SUI | 58.25 |
| 10 | Aimee Fuller | GBR | 44.50 |
| 11 | Shelly Gotlieb | NZL | 18.00 |
| 12 | Kjersti Buaas | NOR | 12.50 |
Sochi2014.com
Heat 1 Recap
Jenny Jones was the rider handed the responsibility of getting matters underway, taking the tack of hitting these opening runs with some conviction, rather than reserving all her surprises as some in turn chose to do.
Cooler Magazine on Twitter was quick to praise Great Britain's best hope of claiming a medal, her cab 540 in particular being noted for a courageous start:
@jennyjonessnow drops first with with a cab 540, backside 360 and frontside 360.. nice start!

— Cooler Magazine (@coolermag) February 6, 2014
The Bristol native soared into an unchallenged first place, but it wasn't long before the competition started to bubble as Enni Rukajarvi, Isabel Derungs and Spencer O'Brien superseded their rival in the standings.
However, Australia's Torah Bright drew some of the early attention. The reigning Olympic half-pipe women's champion sent out a clear message of intent, edging O'Brien's 82.75 with an 85.25 of her own, finishing her first run with an emphatic frontside 360 in front of the Sochi onlookers.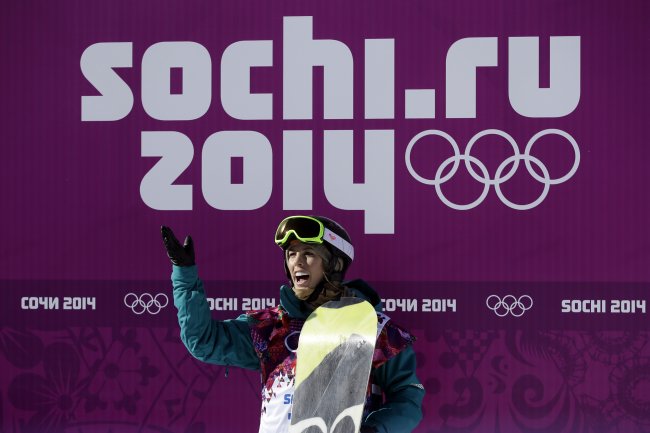 Andy Wong/Associated Press
The lead wouldn't last the length of the heat, however, as Switzerland's Derungs beat her by a mark of five points, running into first place with an 87.50 second attempt.
Bright has a busy schedule ahead, considering she's the first ever rider to qualify for three snowboarding events at the Winter Olympics—the slopestyle, the snowboard cross and the half-pipe.
The official Australian Olympic team account was quick to laud its athlete:
Straight to the top of the leaderboard! @TorahBright nails her 1st ever Olympic snowboard Slopestyle run scoring 85.25 #theonetobeat! #GoAUS

— AUS Olympic Team (@AUSOlympicTeam) February 6, 2014
Bright would maintain an incredibly clean approach in her second run through, hitting two frontside 360 jumps off the kickers, with a switchside 180 interspersed between. But her 80.00 was not quite good enough to reclaim the qualification lead.
A small break was forced midway through the qualification after Kjersti Buaas, who finished Heat 1 at the bottom of the pile, nosedived off a kicker, taking a heavy tumble on her front.
As Sportslobster pointed out, the sight of seeing one of their opponents fall so hard may have had an impact on other riders:
That Kjersti Buaas has placed doubt in everyone else's mind. All other runners look to have taken a more cautious approach.

— Sportlobster (@sportlobster) February 6, 2014
The moment Kjersti Buaas fell flat on her face from about 30m up. We hope she's okay. #Slopestyle #WinterOlympics pic.twitter.com/PnoqHyuH2B

— Sportlobster (@sportlobster) February 6, 2014
Buaas posted a statement on Facebook following the fall:
Oh snap...That was a real scare!!! Good news is that I only ruptured a muscle... I am so grateful it's nothing worse, even though I have some severe pain in my stomach and back... #sochi2014 #olympics#worstslamofmylife #thankful #
Shelly Gotlieb of New Zealand gave us a brief glance of the kind of stunt quality we can look forward to in the next round of the competition, attempting to clinch a cab 900 off her first kicker, but crumbling when it came to the landing.
Britain's other hopeful, Aimee Fuller, was one of those who hit a speedbump halfway through her second run, opting to bypass the final kicker of the slope and instead registering a surprise nollie front flip off the knuckle.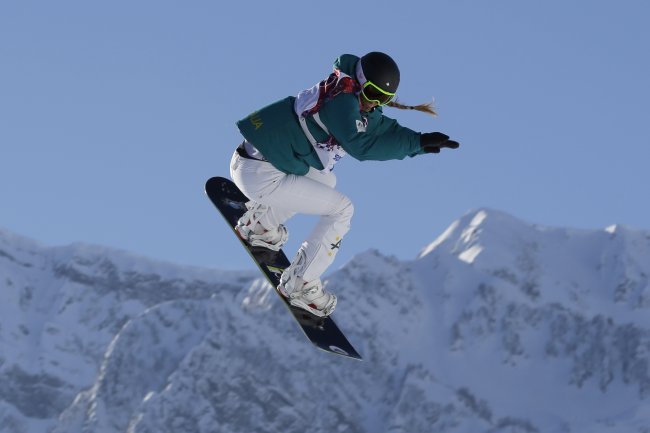 Andy Wong/Associated Press
Derungs, Bright and O'Brien finished as the only competitors to break the 80-point mark from the first heat. They reserved some energy in their supply, but also stamped their pedigree on matter, showing precisely how dangerous they'll be in the days to come.
Women's Slopestyle Snowboarding Qualification Results, Heat 2

| | | | |
| --- | --- | --- | --- |
| Heat Rank | Name | Nation | Best Score |
| 1 | Anna Gasser | AUT | 95.50 |
| 2 | Jamie Anderson | USA | 93.50 |
| 3 | Elena Koenz | SUI | 86.25 |
| 4 | Karly Shorr | USA | 84.75 |
| 5 | Sarka Pancochova | CZE | 77.75 |
| 6 | Jenna Blasman | CAN | 60.25 |
| 7 | Jessika Jenson | USA | 58.5 |
| 8 | Silje Norendal | NOR | 39.00 |
| 9 | Cheryl Maas | NED | 31.25 |
| 10 | Merika Enne | FIN | 17.00 |
| 11 | Ty Walker | USA | 1.00 |
Sochi2014.com
Heat 2 Recap
The United States' 17-year-old Ty Walker opened up the second heat in anticlimactic fashion. Coping with injury and not taking any major risks, she scored a paltry 1.00 with her first run, but it wasn't long before Ann Gasser of Austria hit the headlines.
The Austrian contender went through the motions, flying over Sochi's giant matryoshka doll with a buzzing start to her qualification and surging into the lead after an incredibly clean performance, scoring 89.50 at the first time of asking.
Red Bull's Mel Cheng heaped admiration on the unrestricted first outing:
Wow impressive 1st run Anna Gasser!! #olympics #Sochi12014

— Mel Cheng (@missmonkee) February 6, 2014
A sumptuous backside 720 set Sarka Pancochova up for a booming 77.75 run, but the cat was set among the pigeons when the USA's Jamie Anderson came out to play.
The experienced veteran flew through her switches, coping equally well with her goofy and normal footing to hit three huge jumps with big frontside and backside manoeuvres, storming the summit of the qualifiers with a score of 93.50.
NBC Olympics photographer Skyler Wilder sums up just how impressive the start was:
Full pull from @Jme_Anderson! That 50-50 to front board to fakie on the jib section = tech! She wanted that 93.5 and top spot!

— Skyler Wilder (@NorthWestWilder) February 6, 2014
Finland's Merika Enne, like Walker, was still showing signs of restraint after hurting herself in Tuesday practice, scoring just 17.00 with a tentative follow-up to Elena Koenz's 86.25.
Who's the favourite to win women's slopestyle gold?
Karly Shorr and Jessica Jenson were the last of the four USA participants left on the Heat 2 order. The former may have pitched in with a surprisingly high score had she not slipped up on the third kicker, forced to steady herself in the attempt to land a frontside 360 finish, while a much messier trip down saw Jenson finish with just 34.00.
Walker opted not to go out for her second run, with any score enough to assure those taking part with a place in the next round, so it was Gasser who got the second half of the heat off to a bang once more.
The 22-year-old's frontside 720 capped off a remarkable descent, the judges rewarding such grace with a 95.50 score that catapulted the Austrian right to the top of the seed.
CBC's Kate Pettersen reacts to the second attempt:
Anna Gasser puts the pressure on @Jme_Anderson scoring 95.50 on her 2nd run. The competition is heating up! #CBCOlympics

— Kate Pettersen (@KatePettersen_) February 6, 2014
It was a standard that none of the remaining qualifiers could replicate. The likes of Jenna Blasman, Pancochova and Dutch Cheryl Maas all fielded fairly secure runs, but an air of security rang throughout each, with attention clearly set on what's to come in the competition.
Shorr wasn't quite so settled on the bare minimums, though, and almost doubled her patchy first display with a second run earning her a score of 84.75, good enough for fourth place in Heat 2.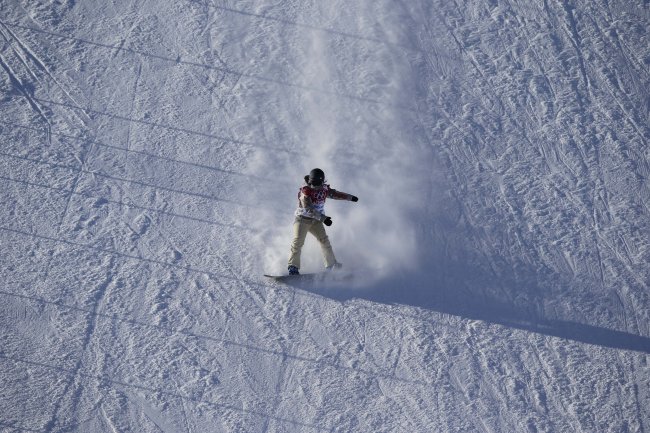 Andy Wong/Associated Press
Enne and Anderson left audiences slightly disappointed, choosing not to take any risks after getting scores on the board in their first runs and omitting themselves from the second-run line-up.
For now, though, it's Gasser and Anderson, the first two women to break the 90-point mark ahead of this year's semi-finals, who will court the most praise, and rightfully so.