Former WWE star Antonio "The Promise" Thomas joined me on the Feb. 4 edition of WrestleRant Radio to promote his involvement in the upcoming New England Championship Wrestling event on March 8. There, he will be doing battle with recent rival Genesis, a man who played a part in his loss of the NECW Heavyweight title back in October.
A member of The Heart Throbs, Thomas signed with WWE in February 2005. He and his tag team partner, Romeo Roselli, made their main roster debut that April, competing for the World Tag Team Championships in their very first match.
Following his release from the company in February 2006, Thomas went on to make a name for himself on the independent circuit. In touring the world, Thomas said Japan was his Japan was his favorite country to wrestle in.
"I worked for All Japan (Pro Wrestling) from 2008 to 2010. I always wanted to make it to Japan," said Thomas. "I always wanted to make it to WWE, but I was always a huge Ring of Honor fan, All Japan fan in the '90s, early 2000s."
"It wasn't until after WWE that I finally got a chance to learn all these different styles and put pieces in the puzzle together for wrestling. WWE is where you want to be, but pure wrestling in the ring, by far it's Japan."
During his brief stint in WWE, Thomas was able to mix it up with some of pro wrestling's finest. However, among the names Thomas listed that he enjoyed working with the most were Val Venis and Goldust.
"Everyone you think would be at the top of the list, (they were) some of the best workers," said Thomas. "Justin Credible was also... I didn't have to think at all, it was so easy. It was a night off."
In regards to who his dream opponent would be, the former NECW Heavyweight champ listed the likes of Shawn Michaels, Hulk Hogan and Ric Flair, among others. One interesting name that Thomas mentioned he would like to face one day was William Regal, the same man he competed against during his Raw debut.
"The last time I worked with him, I was so green that now we could get in there and wrestle and have one heck of a match." Thomas also said Christian and Kurt Angle are two wrestlers he wants to step in the ring with someday.
Although his time in WWE was short-lived, he and Roselli set a standard for tag team wrestling there and everywhere else they have wrestled since then. With WWE's tag team division flourishing at the moment, the former Heart Throb member praised the current state of tag team wrestling.
"In the past year, there's been new life breathed into it," said Thomas. "For the longest time, tag teams were put together to be broken up. Two top guys put together like Edge and (Randy) Orton, Big Show and (Chris) Jericho."
"And now, you have probably ten legitimate tag teams in WWE itself. Since The Shield came in, their matches and six-man tags, this past year has been as good for six-man tags as it has been since The Freebirds and the Von Erichs. There's more tag teams now since the first few Survivor Series shows."
Thomas and Roselli made a one-off appearance in TNA Wrestling in 2007, competing at their Destination X pay-per-view against The New Age Outlaws. The Promise spoke about what an honor it was to have wrestled the now-WWE Tag Team champions in his premiere match with the company.
"Facing them was awesome. We had a lot of ideas. Obviously, we wanted to make a great impression," said Thomas. "It's kind of hard to steal the show with all the talent they have there but that's what we wanted to do."
"The match didn't come out the way we wanted it to. I still haven't watched it, it just didn't click. But those guys were awesome to work with, very giving with us. (They were) easy to work with, it wasn't like pulling teeth."
Despite having an impressive outing against Road Dogg and Billy Gunn at the event, Thomas and Roselli were ultimately not offered a contract by TNA. Thomas discussed how it might have had something to do with his refusal to revert back to The Heart Throbs gimmick.
"It would have been nice to get a little bit longer of a run," said Thomas. "I would have loved to have gone to TNA then, but I think certain people or Creative were expecting us to do the Heart Throb gimmick."
"We were past that at that point. If that had any bearing on us coming back, then it sucks but, you know, it was time to move on."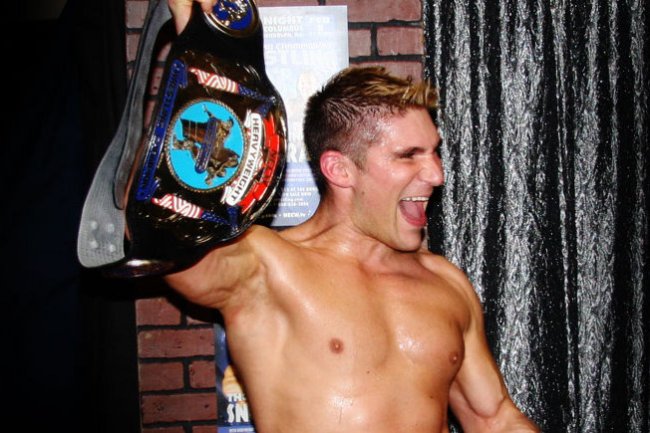 (Courtesy of ecwaprowrestling.com)
Having wrestled in WWE, TNA and even over in Japan, Thomas still has goals set for himself as a pro wrestler going forward. His main priority, though, is to one day to work for Ring of Honor on a regular basis while also staying healthy and growing as a performer and entertainer.
"I've worked for (Ring of Honor) in the past here and there and I would like to be a regular there. I want to be making a living at wrestling and that's very hard to do today," said Thomas. "I want to go back to Japan. I want to be the complete opposite of what I was in WWE."
"If something opened up in WWE, absolutely. I'm in my 30s and my body feels better than ever, but they're looking for different talent now. TNA would definitely be a possibility."
Other topics discussed included his longtime friendship with Roselli, the origin of his "Promise" nickname, aspirations to win back the NECW Heavyweight Championship and much more. To listen to the full interview, click here.
You can also follow Thomas on Twitter for more information on upcoming appearances at this link.