The sweepstakes for South Korean pitcher Suk-min Yoon is heating up.
Earlier in the week, Sang-Soo Kwon of JoongAng Daily reported that as many as five teams have shown interest in the 27-year-old right-hander. However, according to T.R. Sullivan of MLB.com (via Twitter), Yoon isn't close to signing.
As I wrote earlier this week, Yoon had an impressive nine-year career playing for the Kia Tigers of the Korean Baseball Organization after debuting as an 18-year-old in 2005. After working as both a starter and reliever early in his career, Yoon was moved into the team's starting rotation for the 2011 season. The right-hander responded to the challenge by registering a career-best 2.45 ERA and 9.30 K/9 rate in 172.1 innings and earning recognition as the league's MVP.
Yoon is an attractive option for any team still in need of rotation depth, as he's exempt from the international spending restrictions under the new collective bargaining agreement. Basically, the team that signs Yoon will not have to pay a posting fee or sacrifice a future first-round draft pick.
Since the Cubs, Giants Orioles, Rangers and Twins are rumored to be interested in Yoon, here's a look at each team's chances of signing the South Korean right-hander.
Baltimore Orioles
The Baltimore Orioles have emerged as the front-runner to land Yoon this offseason, as Dan Connolly of the Baltimore Sun reported on Monday that the team is one of several clubs to offer the 27-year-old a contract.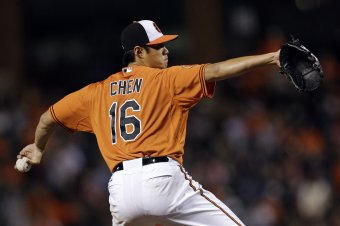 Patrick Semansky/Associated Press
Along with the San Francisco Giants, the Orioles reportedly attended a workout last weekend held by Yoon at the UC Irvine campus.
The Orioles have been hit-or-miss over the last few years with international pitchers. They signed veteran left-handers Wei-Yin Chen (three years, $11.388 million, plus 2015 club option) and Tsuyoshi Wada (two years, $8.14 million, plus 2014 option) out of the Asian professional leagues prior to the 2012 season.
Since then, Chen, 28, has posted a 4.3 fWAR in 329.2 major league innings (55 starts) while pitching in the middle of the Orioles starting rotation. In stark contrast, the 32-year-old Wada underwent Tommy John surgery after signing and missed essentially the entire 2012 season. The left-hander spent 2013 pitching at Triple-A Norfolk, where he registered a 3.92 FIP in 102.2 innings. However, Wada's history of elbow injuries and slow development in the minors ultimately prompted the Orioles to decline his 2014 option.
The Orioles view Yoon as a starter in spite of his recent shoulder injury, with the best-case scenario being he offers mid-rotation value similar to Chen's.
Chances of signing Yoon: 50 percent
San Francisco Giants
As previously mentioned, the Giants had scouts on hand last weekend for Yoon's showcase at UC Irvine. While the organization obviously is interested in the right-hander's services, they don't have an immediate need for him in the major leagues next season, which means Yoon would likely serve as rotation depth should one of the team's starters miss time.
However, it also means that the Giants are less likely to overpay for Yoon than the Orioles, who view him as a viable rotation candidate for the 2014 season. Plus, the organization wouldn't want to impact the developmental timeline of its talented pitching prospects, a majority of whom are roughly a year away from being major league-ready.
Chances of signing Yoon: 10 percent
Chicago Cubs
The Cubs have leftover spending money after coming up short in the sweepstakes for Masahiro Tanaka. Even though the team recently signed free agent Jason Hammel to a one-year, $6 million deal, they are likely to continue exploring cost-effective ways to improve the big league rotation.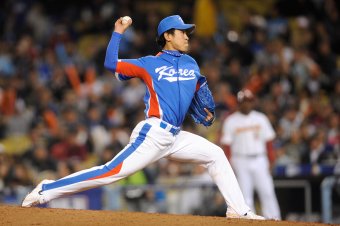 Kevork Djansezian/Getty Images
Enter Suk-min Yoon.
According to T.R. Sullivan of MLB.com, the Cubs and Rangers were on hand to scout the 27-year-old right-hander during a 30-pitch bullpen session on Tuesday. Like the Orioles, the Cubs are likely to overspend this offseason to land Yoon given his potential to contribute out of the gate at back end of the starting rotation.
Plus, the Cubs gave Kyuji Fujikawa, a 32-year-old reliever, a two-year, $9.5 million deal before the 2013 season, so it's conceivable that they'll spend even more for a starter such as Yoon.
The problem is, it appears the Cubs are not willing to get into a bidding war for Yoon, and are expected to be on the outside looking in when the dust settles.
Chances of signing Yoon: 5 percent
Texas Rangers
The Rangers watched Yoon throw a 30-pitch bullpen session on Tuesday at the team's complex in Surprise, Ariz., according to T.R. Sullivan of MLB.com.
Suk-Min Yoon threw 30 pitches for the Rangers and the Cubs on Tuesday. Big thing is his health. Not close to signing. Wants multi-year deal

— TR Sullivan (@Sullivan_Ranger) February 4, 2014
There's nothing new to report regarding the Rangers' interest in Yoon following the session, however, the offseason injury to Derek Holland, who is likely out until the All-Star break after undergoing microfracture surgery on his left knee last month, has created a void in the team's starting rotation that is yet to be addressed.
Considering the Rangers have already invited non-roster pitchers such as Armando Galarraga, Ryan Feierabend and Justin Germano, it makes sense for them to explore signing Yoon as a potential back-end starter.
Chances of signing Yoon: 30 percent
Minnesota Twins
The Minnesota Twins were one of the first teams to express interest in Yoon this offseason, as a Naver Sports article last week reported that both sides were engaged in talks.
W/Korean report that RHP Suk-min Yoon may be nearing decision, I'm told Yoon has yet to meet w/#MNTwins officials or visit Twin Cities.

— Mike Berardino (@MikeBerardino) January 29, 2014
However, according to Mike Berardino of the St. Paul Pioneer-Press, Yoon and his agent, Scott Boras, are yet to meet with Twins officials, though the club is still interested in the 27-year-old and "monitor[ing]" the situation.
Darren Wolfson of 1500 ESPN later tweeted that the Twins aren't inclined to meet Boras' current asking price.
As for FA P Suk-Min Yoon: told #MNTwins still monitoring his situation as well. Not inclined to meet Boras' price now. $ needs to come down.

— Darren Wolfson (@DarrenWolfson) January 29, 2014
The addition of Yoon would give the Twins rotation depth, but it's difficult to envision them shelling out significant money for him after the offseason signings of Ricky Nolasco (four years, $49 million) and Phil Hughes (three years, $24 million).
Chances of signing Yoon: 5 percent