Canadian Olympic Hockey Team 2014: Breaking Down the Goaltenders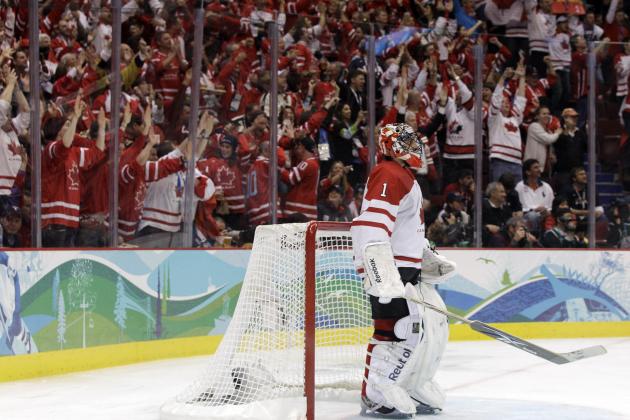 Matt Slocum/Associated Press
Goaltending will be the key to Canada's success in Sochi.
Goaltending will be the biggest question mark for Canada entering the 2014 Winter Olympics in Sochi, Russia. The role can be considered a strength or a weakness, depending on the day, and it will need to be top notch for Canada to have any chance at repeating a championship run.
With Roberto Luongo, Carey Price and Mike Smith holding down the crease for Hockey Canada, the powerhouse club should be in good hands. The real question comes down to who will carry the load and how will they fare early in the Games.
In all, Canada is perhaps the toughest team in the tournament in Sochi—at least on paper—and should be quite exciting to watch.
Here's a breakdown of the goaltenders on Canada's national team and how they will do in the competition.
Begin Slideshow

»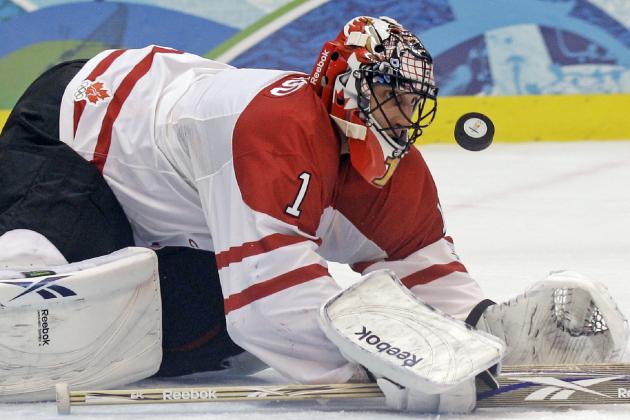 Matt Slocum/Associated Press
Roberto Luongo looks to repeat gold as starter for Canada.
2013-14 Stats
Record: 19-14-6
Goals against average: 2.32
Save percentage: .919


Strengths
Roberto Luongo has the benefit of previous Olympic experience, having won gold at the 2010 Games, that he can rely on in Sochi. He also knows what it's like to get to the Stanley Cup Final and then lose, which will only serve to motivate him to stay on top of his game.
Weaknesses
Many goaltenders suffer from issues with confidence, but Luongo is a special case given the way he was treated in Vancouver prior to the trade of Cory Schneider. He's fragile, and with Carey Price itching for a chance in the spotlight, Luongo could be poised for a big collapse under the pressure of Canada's expectations.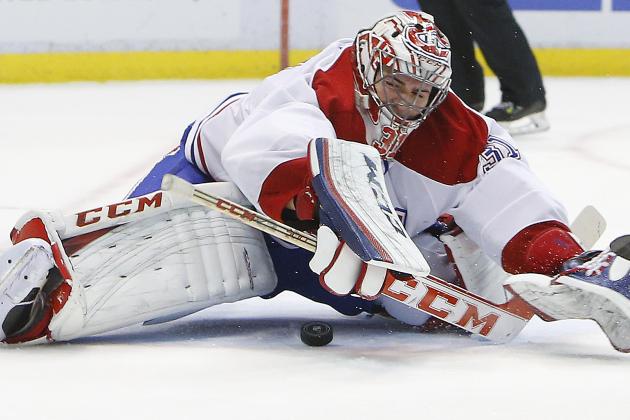 Paul Sancya/Associated Press
Carey Price looks to steal the role of starter for Canada.
2013-14 Stats
Record: 24-17-5
Goals against average: 2.37
Save percentage: .923
Strengths
Although the pressure on Canada to win gold is high, it will have less of an impact on Carey Price entering the tournament than it will on Luongo. Price plays in Montreal, a media-tough city for hockey players, for a franchise with high expectations. He knows what is required of him abroad and will execute as usual.
Weaknesses
The Canadiens have struggled mightily as of late, and it could be harder for Price to separate the Games from his NHL situation than many think. Given that there are only a handful of contests to play, the margin for error is slim, and Price won't see much ice time if he's giving up soft goals.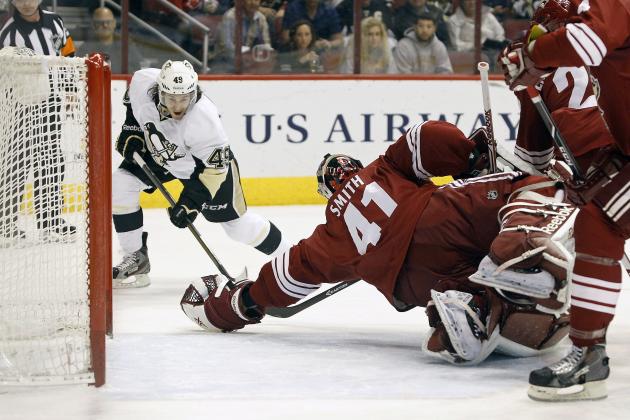 Ralph Freso/Associated Press
Mike Smith rounds out a superb goaltending trio.
2013-14 Stats
Record: 19-16-9
Goals against average: 2.85
Save percentage: .910

Strengths
Mike Smith's ability to move the puck away from the net will give him a nice edge on the bigger ice surface in Sochi. Combined with the absence of the restricting trapezoid—an NHL invention—in the corners, Smith could be quite active in dictating play in his own end.
Weaknesses
There are questions about the strength of play from goaltenders working outside of the system employed by Dave Tippett and the Phoenix Coyotes. Smith has a poor showing from Ilya Bryzgalov to thank for that, but it is a concern nonetheless. Smith also has to contend with both Luongo and Price being ahead of him on the depth chart.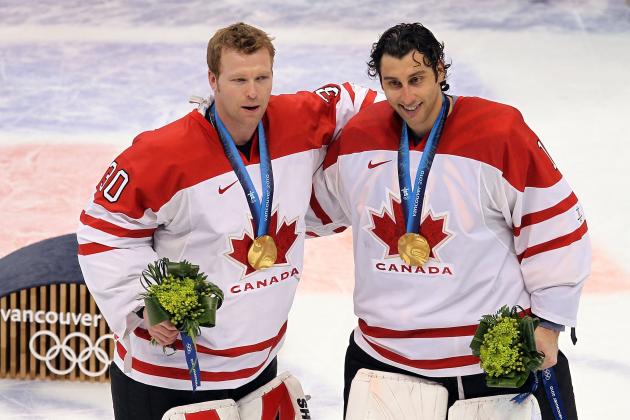 Jamie Squire/Getty Images
Roberto Luongo has a proven track record in the Olympics.
According to recent comments made by Canada head coach Mike Babcock on Hockey Central Radio, the current plan is to give both Roberto Luongo and Carey Price time in the first two contests in Sochi and then decide the starter from there.
This gives both keepers a chance to earn the right to carry the team, a strategy employed by Canada in 2010 as well. Luongo won the starting role in Vancouver, despite sharing time with Martin Brodeur, and should easily achieve the same in Sochi.
Luongo will be the starter if only because he brought Hockey Canada a gold medal the last time he played. He knows the tournament, he knows the management, and he knows what will be required of him if his country stands a chance to repeat.
The starting role is his to lose.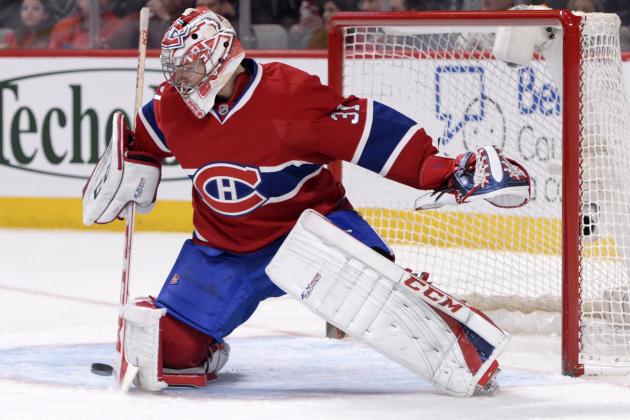 Eric Bolte-USA TODAY Sports
Can Carey Price crack the lineup?
Carey Price will see at least one, if not two games in Sochi, based on Mike Babcock's comments alone. Strong, dependable play in the face of any adversity Canada might see in the opening round could earn Price more starts, especially if Luongo shows any signs of stumbling in net.
Price is primed to steal the starting role, but a lot depends on how Luongo fares. If he can prove himself over the former gold medal winner, Price will be on the fast track to the medal round.
Mike Smith, meanwhile, has almost no chance of seeing ice time at all in Sochi. He's third on the depth chart and will only be called upon should the first two guys go up in flames or fall to injury. However, injuries have plagued many goalies in the NHL over the last few seasons, and Smith is one of the most valuable assets to have should either Price or Luongo come down with any complications.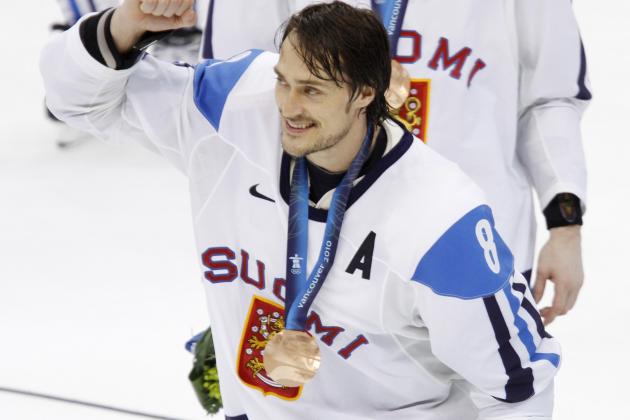 Gene J. Puskar/Associated Press
Finland will be a big threat for Canada.
The toughest test for Canada in the group stage in Sochi will be Finland.
The Finns took home bronze in Vancouver in 2010 and will look to do the same, if not better, again this year. Boasting Kari Lehtonen, Antti Niemi, and Tuukka Rask in the crease, Finland offers perhaps the only goaltending situation that could rival Canada's.
Any game with Finland, no matter the opponent, will come down to which goalie delivers the best performance amidst an onslaught of offense. While Canada is also stacked with forwards, Finland has more than a few top-tier talents that are apt for burning a goalie regularly.
This will be the only team in the first round that can give Canada a run for its money and will play a crucial role in determining the fate of the starting netminder.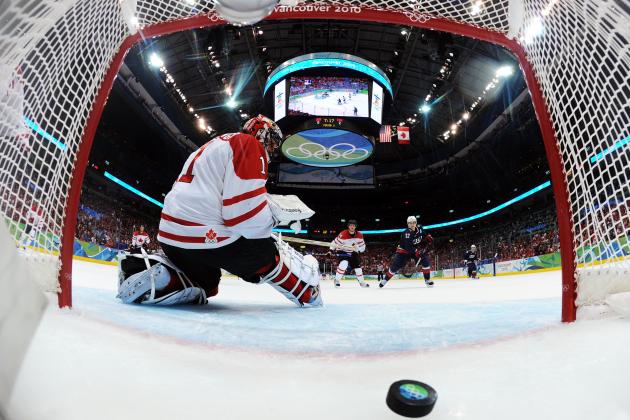 Bruce Bennett/Getty Images
How will goaltending fare in Sochi?
All of the goal scoring in the world won't matter to Canada if its goaltending cannot hold up against the best the world has to offer. Goaltending will make or break Canada's success, and it hinges on the mental fortitude of Roberto Lunogo and Carey Price.
There is a lot of pressure on Canada to perform well on the way to a consecutive gold medal win, and given the way both goaltenders' clubs have struggled, establishing and then maintaining confidence will be a testament to how each will perform as the compressed tournament goes on.
According to Bovada, Canada has the best odds of winning it all in Russia and should hold up well against most teams if goaltending is average. Luongo and Price will be at their best though, looking to outmatch the more dangerous clubs like Sweden, Switzerland, the United States and Russia.