Arsenal's trip to Anfield will be one of the most crucial fixtures the Gunners face this season. Both teams have an enormous amount to play for, and are set for an enthralling encounter. Heading into the game, there are four big questions that need answering.
Can Arsenal Stay Top?
Chelsea's victory at the Etihad ensured that Arsenal stayed top of the Premier League. This weekend, they must win at Anfield to be certain of remaining at the top of the pile.
In a best-case scenario, an Arsenal win could see the Gunners end the weekend with a five-point lead over their closest rivals. Given the harrowing fixture list that awaits Arsene Wenger's team, that sort of cushion could prove invaluable.
What will the result be in this game?
Are Liverpool Still in the Race for the Title?
Liverpool have largely been written off as title challengers. However, a win over Arsenal would see them move to within five points of the league leaders. With 13 games still to play, making up that gap would seem entirely plausible.
Liverpool are widely believed to be embroiled in the race for Champions League qualification rather than the Premier League trophy. However, the best way to ensure a top-four finish is to stay close to the summit for as long as possible. If Liverpool can keep the pace in the title race, Champions League qualification could come as a welcome runners-up prize.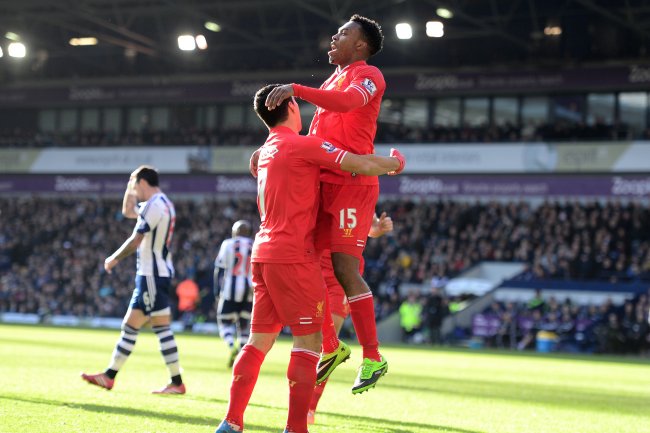 Jamie McDonald/Getty Images
Which is the Better Partnership: Liverpool's Attack or Arsenal's Defence?
This match will see two of the Premier League's most effective partnerships come face to face, as Luis Suarez and Daniel Sturridge line up against Per Mertesacker and Laurent Koscielny.
Between them, Suarez and Sturridge have scored 37 Premier League goals. Only five Premier League teams have bettered the tally amassed by that awesome duo.
However, at Anfield, the irresistible force dubbed "The SAS" will come up against the immovable object of the Arsenal defence. In the last 31 games in which Mertesacker and Koscielny have both completed 90 minutes, Arsenal are unbeaten. The central defensive pairing have not tasted defeat in more than two years.
Arsenal are unbeaten in each of the last 31 league games in which both Per Mertesacker and Laurent Koscielny have completed the 90 minutes

— Josh James (@JoshJJames78) February 2, 2014
At Anfield, something has to give.
Alex Oxlade-Chamberlain: Winger or Midfielder?
Handed an unfamiliar central-midfield role in Arsenal's last game against Crystal Palace, Alex Oxlade-Chamberlain starred. He put in a man of the match display, scoring twice to dispatch Tony Pulis' side.
However, against Liverpool, Oxlade-Chamberlain is far from certain to start in the middle. Jack Wilshere is due to be fit to partner Mikel Arteta, meaning that Oxlade-Chamberlain could drop to the substitutes bench.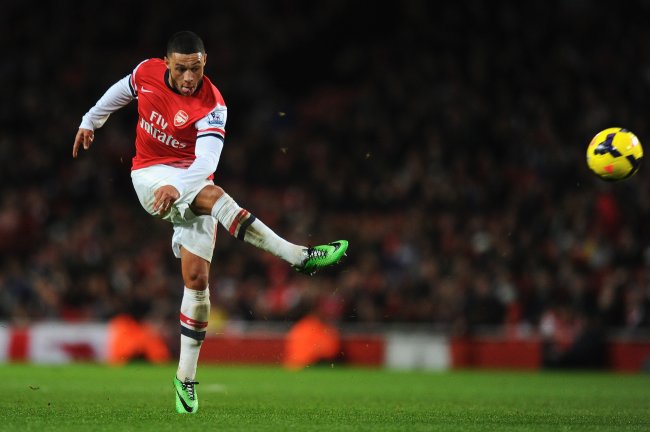 Mike Hewitt/Getty Images
Alternatively, Arsene Wenger could opt to deploy him on the wing. Although he is a promising midfield player, most of his experience to date has been on the flank. With Liverpool still missing the likes of Glen Johnson and Jose Enrique, Oxlade-Chamberlain could be asked to revert to his customary position to cause Liverpool problems out wide.
James McNicholas is Bleacher Report's lead Arsenal correspondent and will be following the club from a London base throughout the 2013-14 season. Follow him on Twitter here.