General manager Ted Thompson of the Green Bay Packers started his front office career in 1992, when he was hired by Ron Wolf, who then had the same title in the Packers front office.
General manager John Schneider of the Seattle Seahawks started his front office career in 1993, when he too was hired by Wolf.
Schneider worked under Thompson from 1993-1996, when Thompson was the director of pro personnel and Schneider was one of his assistants.
Both were able to get a Super Bowl ring after the 1996 season, as the Packers ended up winning Super Bowl XXXI. The department they both worked in were largely responsible for making that achievement possible.
The pro personnel department is responsible for adding other players who have played in the NFL, either through trade, free agency or by waivers.
When Thompson was just an assistant in the pro personnel department in 1992, a second-year quarterback named Brett Favre was acquired via trade from the Atlanta Falcons for a first-round draft pick. Another key player was also picked up that year as a Plan B free agent, when center Frank Winter was signed.
A year later, Thompson headed the department and on his staff was the young Schneider, who is a Green Bay native.
From 1993-1996, the Packers added a number of key pieces to the team, either via free agency or trade.
Players like wide receiver Mark Ingram, tight end Keith Jackson and safety Eugene Robinson were acquired by trade. Free agents such as defensive end Reggie White, safety Mike Prior, defensive end Sean Jones, wide receiver Don Beebe, defensive tackle Santana Dotson and wide receiver/kick returner Desmond Howard were signed.
A number of these players contributed to the Packers' Super Bowl XXXI victory.
After the 1996 season, Thompson and Schneider headed in different directions. The former moved over to run the department of player personnel for the Packers from 1997-1999, while Schneider became the director of pro personnel during that same time frame for the Kansas City Chiefs.
In 2000, Thompson became the vice president of football operations for the Seattle Seahawks, and he hired Schneider to become the director of player personnel for the team.
Thompson stayed on with the Seahawks thorough 2004, and a number of his draft picks were key pieces of the team that played against the Pittsburgh Steelers in Super Bowl XL.
In 2005, Thompson was named general manager of the Packers, a position that he still holds.
Schneider meanwhile, went to the Washington Redskins for a year (2001) as vice president of player personal, before returning to Green Bay in 2002, where he stayed until 2009. Schneider's titles during that time were personnel analyst to the general manger (2002-2007) and director of football operations (2008-2009).
In 2010, Schneider was named general manager of the Seahawks, a week after head coach Pete Carroll was hired.
Just like in 1996, both Thompson and Schneider have since been part of Super Bowl-winning teams. Thompson and the Packers won Super Bowl XLV and Schneider and the Seahawks recently won Super Bowl XLVIII.
One key to the success that both general mangers have had is a harmonious relationship with their head respective coaches.
Since 2006, the year Thompson hired Mike McCarthy to be the head coach of the Packers, the team has gone 82-45-1. The Pack have been to the playoffs six times in that stretch, won the NFC North four times and won a Super Bowl.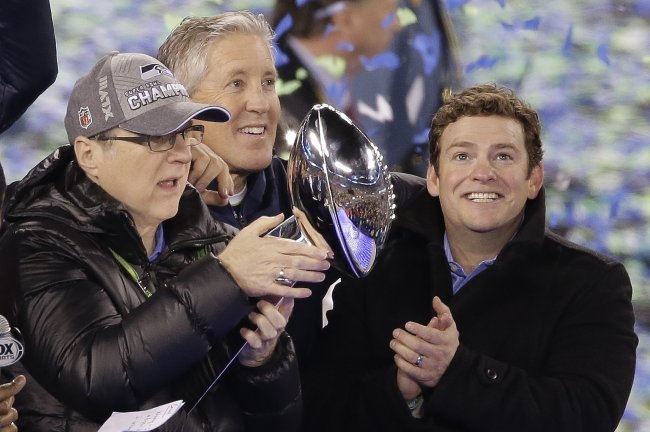 Charlie Riedel/Associated Press
Likewise in Seattle, the marriage between Schneider and Carroll has been a good one. Since 2010, the Seahawks have gone 38-26, been to the playoffs three times, twice won the NFC West and won a Super Bowl.
The major difference between Thompson and Schneider is their approach to building their organizations.
Thompson has built the Packers primarily using a draft-and-develop approach. He rarely uses pure free agency and seldom makes trades.
When Thompson has tried those routes in the past, the results have been pretty good for the Packers. In 2006, he signed both defensive back Charles Woodson and defensive lineman Ryan Pickett as free agents. Both players were major ingredients on the team that won Super Bowl XLV.
As a Packer, Woodson was phenomenal before he being released by Green Bay prior to the 2013 season. In 2009, the veteran safety was named the NFL's Defensive Player of the Year.
In his seven years in Green Bay, Woodson had 38 interceptions, nine of those were returned for touchdowns. No. 21 also had 11.5 sacks, forced 15 fumbles and recovered six others, one of which he returned for a touchdown.
The run-stuffing Pickett is still on the team, although he will be an unrestricted free agent this year.
The best trade Thompson made was when he traded a sixth-round draft pick for running back Ryan Grant in 2007. From 2007-2009, Grant rushed for 3,412 yards.
But for the most part, Thompson shies away from pure free agency and trades. He does, however, sign a number of street free agents or rookie free agents. But his true modus operandi is building the Packers through the draft.
Schneider also uses the draft, but is more aggressive both in acquiring free agents and making trades.
In October of 2010, Schneider acquired running back Marshawn Lynch via a trade with the Buffalo Bills. Thompson had a chance to acquire Lynch as well, but it was Schneider who pulled the trigger.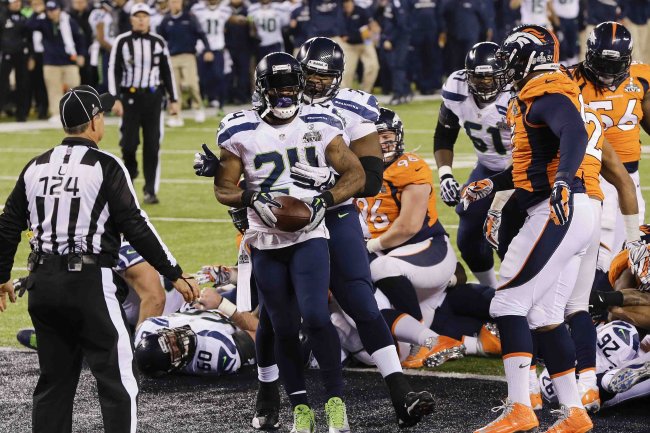 Chris O'Meara/Associated Press
Lynch has been superb with the Seahawks ever since, and he also scored a touchdown in Super Bowl XLVIII.
Another player who came via trade to the Seahawks is wide receiver/kick returner Percy Harvin. Schneider traded with the Minnesota Vikings to get Harvin prior to the 2013 season.
Although Harvin was injured for virtually all of the regular season and much of the postseason, he came on big in Super Bowl XLVIII, when he had 137 total yards, including an 87-yard kickoff return for a touchdown to open the second half.
Schneider has also dabbled in free agency while running Seattle's front office. He added key pieces to the vaunted Seattle defense by signing defensive linemen Cliff Avril and Michael Bennett. He also signed wide receiver Sidney Rice and tight end Zach Miller via free agency.
But like Thompson, Schneider has done a great job getting talent for the Seahawks through the draft.
Some early-round selections included offensive tackle Russell Okung, safety Earl Thomas and defensive end Bruce Irvin who were all drafted in the first round. Others are wide receiver/kick returner Golden Tate and linebacker Bobby Wagner, who were drafted in the second round. Schneider plucked quarterback Russell Wilson in the third round.
Schneider has done extremely well later in the draft as well. Cornerback Richard Sherman and safety Kam Chancellor were both drafted in the fifth round.
Bottom line, both Thompson and Schneider have been very successful throughout their years in the front office, both behind the scenes and in actually running the front office.
The two of them each have been part of two championship teams, and both have done it once as a general manager.
The difference between the two of them is that Schneider is more aggressive when it comes to making trades and utilizing free agency.
It might just be time for the Thompson, the mentor, to take a page from his protégé, Schneider. The Green Bay general manager has been aggressive before, but not to the degree of his Seattle counterpart.
Jeff Gross/Getty Images
Recently, Thompson has shown a willingness to trade up in the draft, which was something rarely did early in his tenure. Thompson has traded up to acquire players like outside linebacker Clay Matthews, safety Morgan Burnett and cornerback Casey Hayward.
Now Thompson needs to be aggressive in other areas like free agency and trades as well. Just like Schneider has been. Sometimes the student can educate the teacher.
A Super Bowl victory can do that.