10 Non-UFC Fights to Watch in February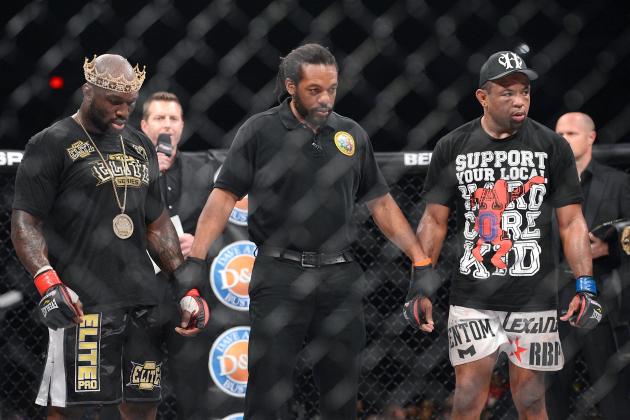 Jayne Kamin-Oncea-USA TODAY Spor

The UFC is obviously the most watched and biggest MMA promotion in the world. It provides fans with the best fighters and some of the best fights in the world.
However, there is a world outside the UFC that deserves to be experienced. A number of other MMA promotions with stars and great fights can provide entertainment.
We already missed the first weekend, as Legacy FC and Pancrase, among others, put on some great bouts. However, there are plenty of other non-UFC bouts you need to keep your eye on.
Here are the 10 non-UFC scraps to watch in February.
Begin Slideshow

»
Date: February 8
Event: CFFC 31

Where to Watch: Go Fight Live (gfl.tv)

The Cage Fury Fighting Championships featherweight title is up for grabs, and a familiar face in The Ultimate Fighter veteran Jeff Lentz will by vying for it against Scott Heckman.
Lentz participated on Season 12 of The Ultimate Fighter, where he was eliminated from the competition by Alex Caceres. That stint not considered, he has been on fire, winning three fights with one draw in his last four bouts, with wins over Billy Vaughan and Anthony Leone in that time.
Heckman is one of the better featherweight prospects in the sport, as the AMA Fight Club member, which also houses men such as Frankie Edgar, is 16-4. The submission specialist has been dominating the East Coast regional scene, warranting him this title shot.
Given Lentz's track record for having exciting fights and Heckman's skill, this could be an interesting bout.
Date: February 8
Event: Fight Night MMA 12

Where to Watch: Unknown
Marcus Davis is set to headline a regional New England card this weekend, as the Bellator veteran takes on fellow Bellator alumnus Ryan Sanders.
One might look at this fight as a gimme for Davis, given his track record. He is a UFC vet with some big wins on his resume, while Sanders has a record that sits just above .500.
Sanders is most remembered for getting annihilated by Michael Page in the latter's much-anticipated debut.
Although this may be a mismatch, it's always fun to watch Davis step into the cage.
Date: February 9
Event: University of MMA: Fight Night 5

Where to Watch: Unknown

I have never included an amateur fight on one of these lists, but this bout warrants a spot here. That is because Marina Shafir is the next big thing in women's MMA and is likely bound for big things once she turns pro.
Originally slated to meet Autumn Richardson, the submission ace judoka will now take on upstart Nicole Upshaw, who could make a name for herself with an upset of Shafir.
That being said, Shafir is set to follow a path similar to buddy Ronda Rousey. Both are Olympic judokas with an obsession for the armbar.
Shafir is a featherweight, so she could be a woman who gets a look from Invicta, which is in desperate need of contenders for Cristiane "Cyborg" Justino other than Ediane Gomes and Julia Budd.
Date: February 15
Event: WCFC 8

Where to Watch: Unknown

Scott Smith is never in a boring fight, and the UFC/Strikeforce veteran has a fight coming up in the West Coach regional scene against TUF veteran Max Griffin.
Smith left Strikeforce on a four-fight losing streak and did not get invited back to the UFC with the rest of the crew. The man with a granite chin and dynamite hands had to go back to the drawing board and returned to the win column in his last fight against Mark Matthews.
Griffin made the cast of TUF but didn't get past the elimination round. At 7-1 overall, he is on a three-fight surge, with the wins coming with the West Coast Fighting Championship promotion.
Smith is usually in fun fights, so this will be worth keeping an eye on. He has given us some great memories before, like his comeback knockout of Pete Sell after he had been destroyed with a body shot.
Date: February 21
Event: Legacy Fighting Championship 28
Where to Watch: AXS TV

UFC veteran Damacio Page is hellbent on making it back to the biggest promotion in the world. Right now, he has a challenge in the form of Matthew Lozano in his way.
After getting tossed from the UFC after an 0-3 run, Page has seen mixed results in his attempt to return to the promotion. He brutally knocked out Patrick Ybarra in his first fight outside the company but was narrowly edged in a bout against Marcelo Costa in Switzerland.
Lozano will be no pushover. He is very crafty on the ground with his submissions, which is Page's weakness. This includes an amazing inverted triangle-choke submission of Dave Morgan in 2012.
Can Page stave off the submission game of Lozano and put his meat-hook fists on the chin of his opponent?
Date: February 16
Event: Deep Jewels 3

Where to Watch: Unknown

If you like women's MMA, Deep Jewels in Japan has you covered. In fact, the company is finishing up a strawweight tournament this month with women's MMA prodigy Mizuki Inoue and veteran Emi Tomimatsu.
Inoue is just 19 years old and already 7-1 in MMA. Though she has great boxing, she has shown off her ground game as well, tapping out five of her opponents.
In addition to owning wins over TUF 20 competitors Bec Hyatt and Alex Chambers, Inoue beat Emi Fujino in the opening round of this tournament to get to the final.
Tomimatsu will offer some resistance, though.
Despite her 6-7 record, she took an upset win over Mika Nagano in the opening round of the tournament, shocking the women's MMA pioneer in the process. If she can stick and move, staying away from the ground with Inoue, she can attempt to pull off yet another upset.
Date: February 21
Event: World Series of Fighting Canada 1

Where to Watch: NBC Sports
World Series of Fighting's venture into Canada will give us the first Canadian champion in the company's existence, as Ryan Ford and Joel Powell compete for the Canadian Welterweight Championship.
Ford is a scary dude, as the athletic powerhouse has cruise missiles for hands. He hasn't lost since 2011, and on his current winning streak, he has defeated Luis Santos, Kyle Baker and TUF veteran Mike Hill.
He has improved his game since moving to Tristar Gym. However, Powell has an upset on his mind, as he pulled one off in his last bout against the aforementioned Hill.
Both men are promising prospects out of Canada. Whoever wins will get a huge win on his resume and a gold belt around his waist.
Date: February 22
Event: Made 4 the Cage 13: Nemesis

Where to Watch: Unknown
Some exciting prospects are coming out of the U.K. these days, and both Walter Gahadza and Ryan Scope are looking to become the top U.K. prospect in their weight class.
The welterweights both sport undefeated records; Gahadza is 13-0, while Scope is 7-0. Obviously, somebody's perfect record has to go here.
Gahadza is a well-rounded guy, but the power he possesses on his feet is scary. One punch is all it takes for this beast to put you down.
Scope is more of a submission fighter and is coming off the biggest win of his career over TUF veteran Luke Newman.
Combined, these two have gone to just three decisions. Don't blink because you could miss a spectacular finish.
Date: February 28
Event: Bellator 110

Where to Watch: Spike TV

These days, watching Rampage Jackson fight isn't as fun as it used to be when he was in Pride. However, he has an interesting fight on his hands with big implications.
Jackson takes on former Bellator champion Christian M'Pumbu in the opening round of a four-man tournament in the light heavyweight division. The winner will take on the winner of Muhammed Lawal vs. Mikhail Zayats for a chance to fight for the Bellator title.
Jackson showed he still has power in his hands with a knockout of Joey Beltran. M'Pumbu is also a striker, so this fight could be a war on the feet until somebody goes down hard.
Date: February 28
Event: Titan Fighting Championship 27
Where to Watch: CBS Sports
Honestly, Gleristone Santos should be in the UFC. However, Titan FC is not a bad place to start for a Brazilian who is looking to break into the USA.
Santos will take on Kalvin Hackney on the newly revamped Titan FC. The Brazilian Top Team rep can show a wider crowd why he is one of the best 145-pound prospects in the sport.
Hackney is no pushover, though. In fact, the 12-3 American has finished 10 of his opponents by knockout or submission, showing that he can finish guys on the feet or the ground.
This fight will show if Santos is for real. This could be a stage that gets him to the big league eventually.