It's been a little over a year since Daniel Sturridge arrived at Anfield for £12 million from Chelsea, and to say his career has taken an upward curve during that time would be putting it mildly.
Sturridge arrived after three-and-a-half years at Stamford Bridge, where he'd started just 31 Premier League games.
He's now made 35 appearances for Liverpool—and scored 28 goals in the process. A quite incredible turn of events.
So what have Liverpool done right?
Position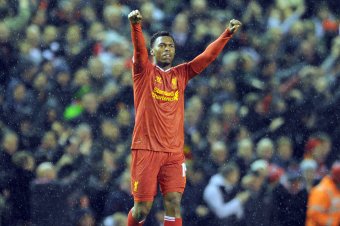 Clint Hughes/Associated Press
Sturridge not only had his chances limited at Chelsea but also found himself in his less-preferred position out wide.
Upon his arrival at Liverpool he explained to LiverpoolFC.com (via BBC Sport): "I see myself as a striker. I think I perform best there because my attributes, I believe, are used best as a central striker."
Brendan Rodgers put faith in the player and has used him predominantly in his preferred role over the last year. Sturridge excelled as the main forward towards the end of last season and led the way in the opening stage of this campaign while Luis Suarez was suspended.
Such was Sturridge's form that Rodgers was forced to change the shape of the side to accommodate the two of them in tandem. They quickly became the Premier League's new "SAS."
In more recent games, Sturridge and Suarez have interchanged from the left-forward and centre-forward positions.
"I'd never refuse to play in that position and I've never demanded to play up front, either" Sturridge said in that first interview after his move. He's proven his words true with recent performances, putting the team over the individual.
More lately, it's been "SASAS," as Raheem Sterling has flourished in the front three. Speaking of Suarez and Sterling, Sturridge anticipated success. "We all have similar attributes, so hopefully we'll be able to create a few nightmares for defenders" he told the club's official website (via the Guardian).
Ask the Everton back four whether that has come true.
Entertaining
"I'll try to put a smile on the fans' faces and try to bring some success to the club - it would be amazing," vowed Sturridge.
The 24-year-old has certainly done that.
It's easy to forget watching the master class Suarez has served up on occasion this season that Sturridge himself has scored his fair share of impressive goals this campaign: the superb dribble and finish at Aston Villa, the chipped lob against West Brom at home and the double against Everton recently.
Mentality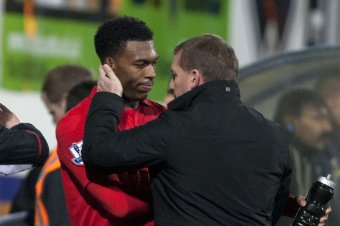 Jon Super/Associated Press
Sturridge is one of the players who has benefited from working with renowned sports psychologist Dr. Steve Peters at Liverpool.
In October, the striker spoke of how it has benefited his game. "Steve has helped a lot in terms of mindset," Sturridge told James Pearce of The Liverpool Echo. "He's all about self-belief: don't go out there with the mentality of trying to do something, just let it happen."
The recent penalty miss for his hat-trick in the Merseyside derby clearly affected Sturridge in the immediate aftermath, but to his credit the player came out after the game and apologised for his reaction and showed great maturity.
Henry Jackson of This Is Anfield wrote about the incident, discussing how it was a positive and drawing parallels with a similar incident between Jamie Carragher and Alvaro Arbeloa in 2009. "It shows that the team always wants to win even though we weren't playing for anything," Dirk Kuyt was quoted as explaining back then.
Days after their "public spat," Sturridge was celebrating alongside Suarez after the latter had assisted the former to his 14th Premier League goal of the season. No hangover; back to the positive.
"Arrogance"
The youth-football development blog The Whitehouse Address wrote about Sturridge recently, discussing the perceived attitude and character of the player under the heading "It is not a crime to be confident, in fact it is necessary":
Firstly you have to say that the 'attitude' and arrogance which people dislike Sturridge for is really not true. He is confident, he plays with belief and is happy to be expressive with the ball. How is this a problem?

Is it his celebration? Who really cares? He is not offending anyone, not speaking out about the opposition or his teammates. In fact Sturridge has kept a quiet profile more so than many others this past year, however people still don't like him.

Jon Super/Associated Press

If they find his attitude a problem then perhaps they don't understand or appreciate football and what it needs. Success comes from confidence.
That confidence has been provided to Sturridge from his manager and the aforementioned work with Dr. Steve Peters.