VCU's Briante Weber Sets School Record with 260 Career Steals
Use your ← → (arrow) keys to browse more stories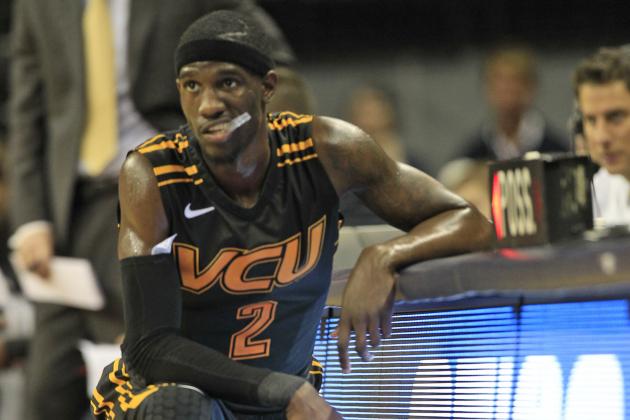 Uncredited/Associated Press

VCU Rams guard Briante Weber broke his school's record for career steals during Saturday's 81-70 win over the Richmond Spiders. Weber picked up five swipes to push his career total to 260, surpassing the 257 steals of former Rams point guard Rolando Lamb.
Weber captured the school record just 22 games into his junior season, meaning that there will likely be a huge gap between him and Lamb by the time Weber retires. The junior guard isn't just a compiler, either, as he easily leads all Division I players with 3.9 steals per game this season. In second place is Oakland guard Duke Mondy, with a mere 3.3 steals per game. Weber's 2.8 swipes per contest were good for fifth in the nation last season, and he'll likely remain atop the leaderboard this time around.
Of course, VCU's defensive system plays a huge role in Weber's gaudy numbers, as the Rams are known for their aggressive, pressing style. With head coach Shaka Smart unlikely to change that style anytime soon, Weber should be able to make a run at the NCAA Division I men's record for career steals. Former Providence guard John Linehan is the current record holder with 385, meaning that Weber needs another 126 steals for sole possession of first place.
Assuming he stays healthy, Weber probably has about 40-50 games remaining in his career, depending on how far the Rams advance in the Atlantic-10 tournament and postseason play. If he maintains his current career average of 2.8 steals per game, Weber would need 45 appearances to break Linehan's record.