Demaryius Thomas Injury: Updates on Broncos WR's Shoulder and Recovery
Use your ← → (arrow) keys to browse more stories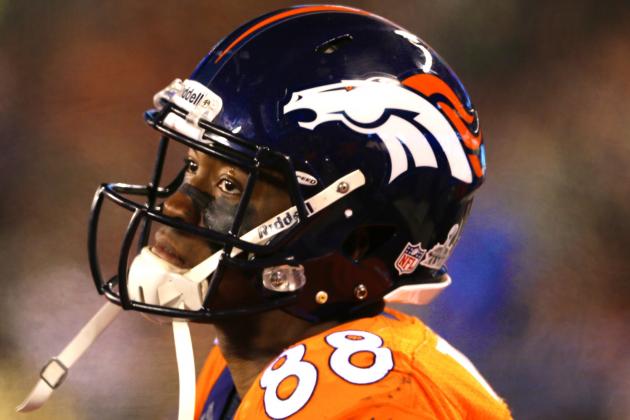 Getty Images

Denver Broncos wide receiver Demaryius Thomas suffered a separated shoulder during the first quarter of Super Bowl XLVIII, but that didn't deter him from setting a Super Bowl record.
Thomas notched 13 receptions to go with 118 yards and his team's lone touchdown in the 43-8 drubbing at the hands of the mighty Seattle Seahawks. The previous Super Bowl record for receptions in a single game was 11, held by Dan Ross, Jerry Rice, Deion Branch and Wes Welker.
Denver's CBS4 sportscaster Vic Lombardi reported the news of Thomas' ailment on Tuesday, Feb. 4:
DT separated his shoulder in the first quarter. Played through it. Maybe it was that Chancellor hit. Not sure.

— Vic Lombardi (@VicLombardi) February 4, 2014
Thomas was a raw first-round product of a run-heavy football program in Georgia Tech when the Broncos selected him No. 22 overall in the 2010 NFL draft. Since then, he has evolved into one of the premier receivers in the NFL, and he continued his sensational postseason play even as the Seahawks ruined Denver's quest for the Lombardi Trophy.
If there's any good news about this shoulder injury, it's that Thomas showed the toughness to fight through it and has months ahead to recover.
There's no reason Thomas shouldn't be ready for organized team activities, where the Broncos will look to pick up the pieces and attempt to get back to the Super Bowl once more. Next time, they'd prefer a considerably different outcome.