Willie Cauley-Stein started the 2013-14 season by putting up impressive numbers and looking like the best center in the country. Whether it was blocking shots, putting back offensive rebounds for dunks or grabbing double-digit rebounds, Cauley-Stein made his presence known when he was on the court for Kentucky.
However, since the calendar turned to 2014, it's hard to remember when Cauley-Stein has done anything productive on the court. Heck, it's almost impossible to remember him on the court. Cauley-Stein has suffered a severe setback during SEC play, struggling with his defense, foul trouble and overall play.
With a recent demotion to coming off the bench against Missouri, the question has to be asked now about Cauley-Stein; should he still be playing the same amount of minutes he has been? The answer is no, he needs a larger cut in his time on the court.
Kentucky freshman Dakari Johnson has proven to be a better player in conference play for the Wildcats. His strength in the post has shown to be a better defensive presence than the shot-blocking Cauley-Stein. In conference play Cauley-Stein has struggled against stronger post players, along the likes of Jarnell Stokes, Bobby Portis and Johnny O'Bryant.
Should Willie Cauley-Stein see a decrease in minutes?
In conference play Cauley-Stein is averaging only 3.8 points per game and 3.6 rebounds per game. That simply doesn't make up for his ability to protect the rim with his shot-blocking capability.
There are two solutions for Kentucky head coach John Calipari to consider. The first is to play a smaller lineup with Julius Randle at the center position and Alex Poythress playing more of the power forward. This lineup allows Kentucky to switch on every screen due to the athleticism of Randle and Poythress. There will also be more room for Randle to work in the post one-on-one with Poythress stepping outside the lane.
It could also allow Kentucky to run a five-out offense with all five players being able to hit a mid-range jumper. This could continue to jump-start Andrew Harrison's improvement at the point guard position for Kentucky.
Calipari's second and more likely option is to move Cauley-Stein to the third option at the center position. Johnson has cemented himself as the starting center for the rest of the season based on his improvement. He also provides the best offensive option for Kentucky in the post, due to his size, patience on the block and footwork. Unlike Cauley-Stein, Johnson catches the ball in the post and if there's not a move to make, he kicks the ball out to the wing and tries to repost.
The truth is freshman Marcus Lee provides the same type of game that Cauley-Stein does. Lee is a dominant shot blocker and decent rebounder that can protect the rim. Offensively, he looks to dunk with minimal other moves.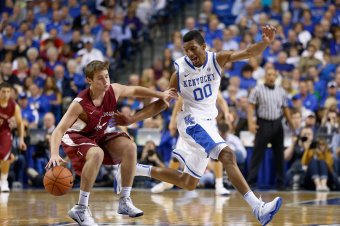 Andy Lyons/Getty Images
In Kentucky's recent game against Missouri, Lee played nine minutes to end the first half due to foul trouble to both Cauley-Stein and Johnson. Lee played similar to the way Cauley-Stein did to start the season. He provided a spark defensively, protecting the rim and doing an excellent job at showing on pick-and-rolls. His stat line isn't all that impressive with two points, one rebound and one block, but Kentucky made its run with him on the court.
Willie Cauley-Stein of 2014 isn't the same Willie Cauley-Stein of 2013. It's time for Calipari and the Kentucky coaching staff to accept this and move on, for the good of the team. Cauley-Stein has gotten a pass for his play recently and it's time to start rewarding Johnson, Poythress and Lee.