Eddie Alvarez vs. Michael Chandler III: Early Head-to-Toe Breakdown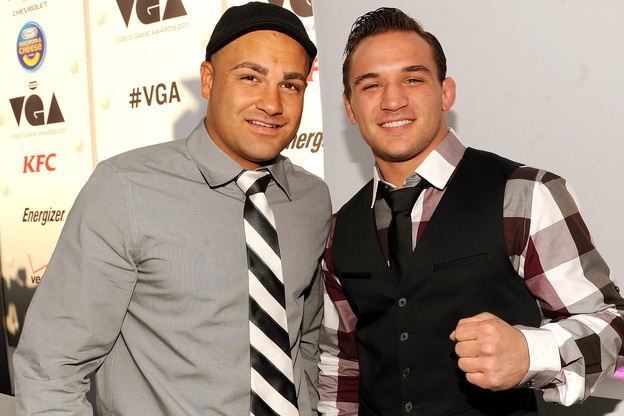 Associated Press
Eddie Alvarez (left) with Michael Chandler
Bellator is sitting on the most intriguing competitive rivalry in the sport of MMA right now in the form of Eddie Alvarez and Michael Chandler. The men have had two bouts that have been considered among the best fights of the year in 2011 and 2013.
The men have traded the title in splitting their current two-fight series. Chandler choked out Alvarez in their first meeting, taking the belt off the seemingly invincible champ. Then, in their most recent scrap, Alvarez took a split decision to recapture the gold to set up this rubber match. The date has not yet been determined, but Bellator CEO Bjorn Rebney said the bout will be the company's first pay-per-view.
This third fight, if it's anything like the first two bouts, has the chance to be an amazing scrap. Here is a head-to-toe breakdown of this third matchup that will decide the Bellator lightweight champion.
Begin Slideshow

»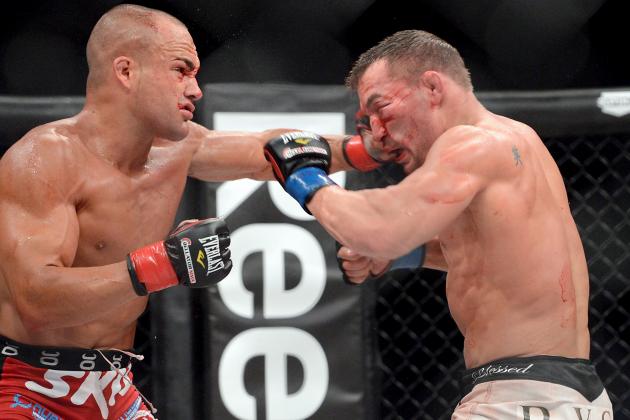 Jayne Kamin-Oncea-USA TODAY Spor

The striking matchup promises to be an interesting one, as Chandler's power matches up against Alvarez's technical prowess.
Alvarez has great footwork, good head movement and quick in-and-out movement. That's not to say his technique lacks power, either. The Philadelphia native earned more than half of his wins by knockout.
With his striking, Alvarez has put away Patricky Freire, Shinya Aoki and Tatsuya Kawajiri. The most spectacular was the head kick and punches against Freire, which really got him back on track and into title considerations against Chandler.
Chandler is a power puncher who has greatly improved his technical striking. This was especially evident against Akihiro Gono and David Rickels, when the Alliance MMA member pasted both men quickly to earn the knockout.
Chandler is a good ground-and-pound guy, but Alvarez gets the slight nod. His movement, quickness and technical prowess show how superior he is on the feet.
Edge: Alvarez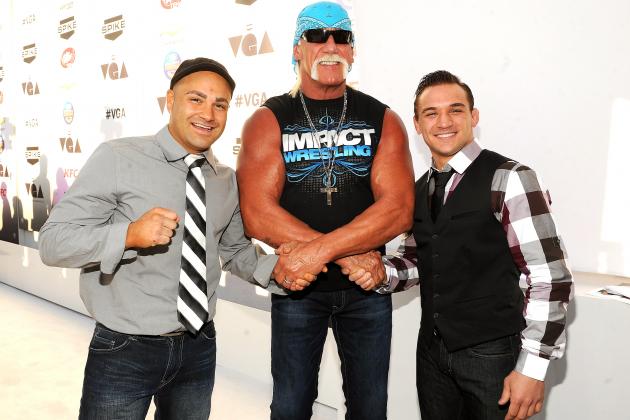 Frank Micelotta/Associated Press

Both men have wrestling backgrounds, making this yet another close matchup.
Alvarez was a star high school wrestler and probably could have had a decorated college career if he didn't immediately pursue MMA. He uses his wrestling in more of a defensive manner, though, as he likes to use his boxing on the feet.
Chandler is more of a decorated amateur wrestler. He was a teammate of Ben Askren at the University of Missouri. He was a star wrestler there for four years, and wrestling heavily figures into his arsenal.
As seen in past matchups, Chandler has been able to get takedowns on Alvarez. That being said, they haven't come easy. I was thinking a push would come here, but Chandler does in fact get the slight edge.
Edge: Chandler
Jayne Kamin-Oncea-USA TODAY Spor

The submission grappling aspect of the fight may in fact be the closest when looking at skill sets.
Despite having just 13 fights and not having an extensive jiu-jitsu background, Chandler has won five of his fights by submission. His three biggest tapout wins were against Polish grappler Marcin Held, Olympic judoka Rick Hawn and Eddie Alvarez himself.
He is incredibly strong. If he grabs a neck, it doesn't have to be perfect—he can simply squeeze the life out of his opponents.
Alvarez is no slouch in the grappling department, either.
Seven of his wins have come via submission, especially during a winning streak at the beginning of his Bellator stint, when he won five fights in a row via tapout. Those wins came over Greg Loughran, Eric Reynolds, Toby Imada, Katsunori Kikuno and Josh Neer.
It is super tough to pick an edge here, so we will go with a push.
Edge: Push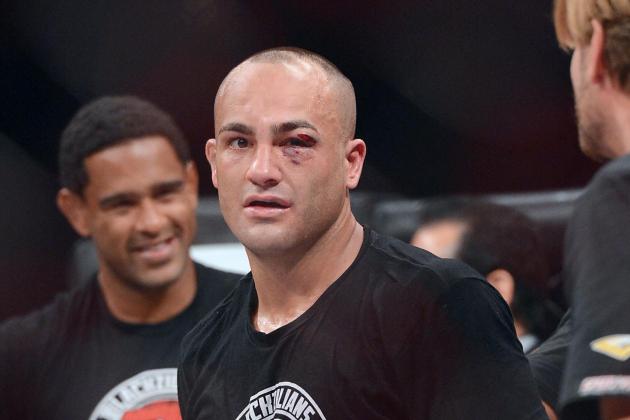 Jayne Kamin-Oncea-USA TODAY Spor

This fight has the potential to be an absolute barnburner. Bellator is lucky to have this rubber match.
Expect it to be like the second bout. Both men know from the first fight that they will tire down the stretch if they overextend themselves. Alvarez especially should know that.
Alvarez will be prepared for the takedown in this fight more than he was in the first fight. That should lead to an even better sprawl, which allows him to keep Chandler on the feet.
Of course, by fighting Chandler on the feet, he runs the risk of getting plastered with a huge punch.
However, Alvarez is technical and sharp on the feet and should avoid a huge fight-ending haymaker.
Alvarez will win another close fight here and come calling on the UFC.
Prediction: Alvarez def. Chandler via decision