Predicting the Revised Test World Rankings by March 31 2014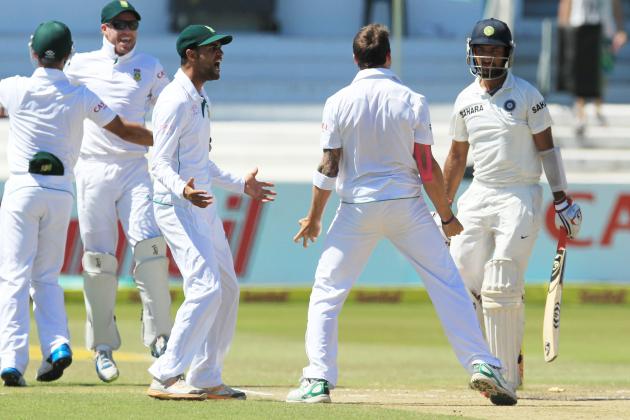 Themba Hadebe/Associated Press

This is a tantalising time for Test cricket. Australia, having beaten England 5-0 are making a charge for the top of the Test rankings and next week they begin a three-match Test series against South Africa.
This slideshow will use the ICC Rankings Predictor to project what the Test rankings will be by the end of March 2014.
Three series are scheduled to take place. One is already on-going—Bangladesh vs. Sri Lanka—and the other two, New Zealand vs. India and South Africa vs. Australia are imminent.
The current Test rankings are as follows...
| | |
| --- | --- |
| South Africa | 133 |
| India | 117 |
| Australia | 111 |
| England | 107 |
| Pakistan | 100 |
| Sri Lanka | 90 |
| West Indies | 87 |
| New Zealand | 82 |
| Zimbabwe | 34 |
| Bangladesh | 18 |
Begin Slideshow

»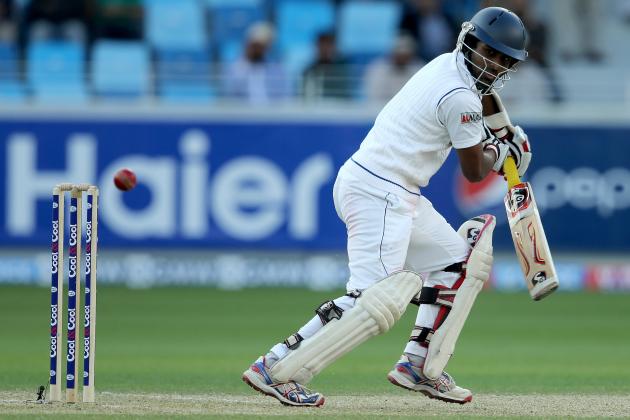 Francois Nel/Getty Images

This is the easiest series to predict. Sri Lanka crushed Bangladesh in the first Test match, by an innings and 248 runs, and they are currently dominating in the second.
Bangladesh continually frustrate in Test cricket, showing glimpses of potential that they never really capitalise on. Sri Lanka meanwhile, are an improving team, with the age and experience of Mahela Jayawardene and Kumar Sangakkara finally being married with the youth and vibrancy of the next generation.
Prediction: Bangladesh 0 - 2 Sri Lanka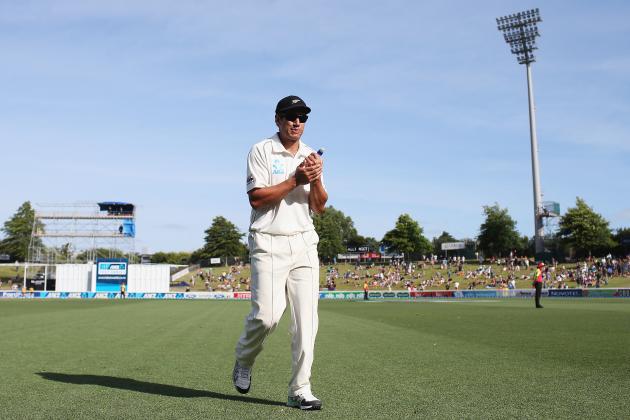 Hannah Johnston/Getty Images

This is a very difficult Test series to predict. The rankings suggest India should win, however, winning away from home of late has proven enormously difficult, and India, in particular, are in a poor run of form.
New Zealand have just won the ODI series 4-0 and will be high on confidence and their fast bowlers will prove challenging to face in helpful bowling conditions.
Rain is forecast for the first Test in Auckland, which is also a good batting pitch, so that match may be a draw. New Zealand's form and strength at home could be enough to win them the second Test.
Prediction: New Zealand 1 - 0 India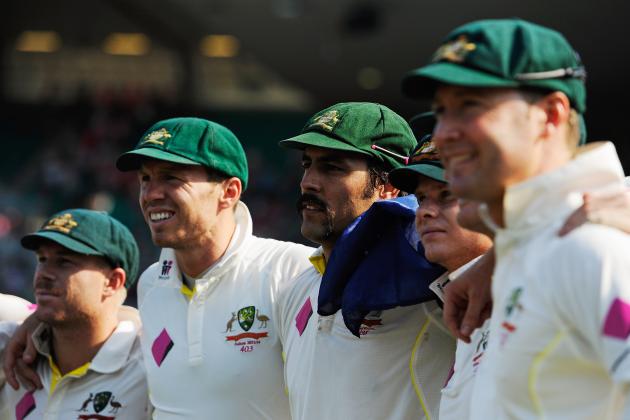 Brett Hemmings/Getty Images

This is a mouthwatering series matching the top-ranked nation against Ashes winners Australia.
Both sides have amazingly strong bowling attacks, and in South African conditions this could be a low-scoring series. Which batting side copes better could therefore be key.
In this regard, South Africa are surely favourites. Although Australia have a couple of really good, in-form batsmen, South Africa's batting, even without Jacques Kallis is packed with high class players.
How South Africa cope without Kallis will be interesting, though. While all eyes will be on Ashes hero Mitchell Johnson to see if he can replicate his stunning form.
Prediction: South Africa 2 - 1 Australia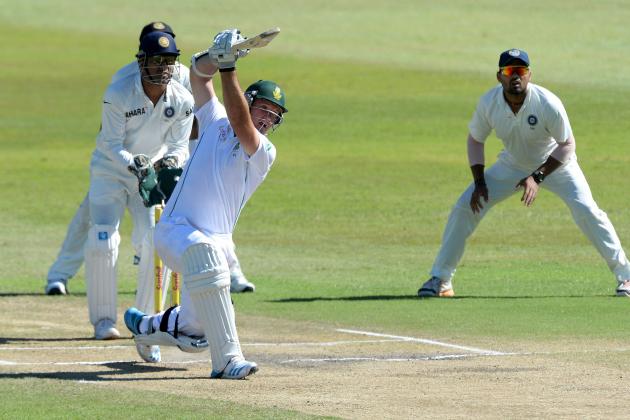 Gallo Images/Getty Images
Predicted ICC Rankings
According to Bleacher Report's predictions for the three Test series, little would change in the rankings.
South Africa would stay at number one, and India at two; in fact all of the top six would remain the same.
But that said, the margin of South Africa's lead would increase dramatically. India would lose five points after the defeat in New Zealand, and Australia would also lose ground, thereby missing a gilt-edged chance to take and solidify second spot.
Jacques Kallis may have retired from Test duty, but in the short-term the Proteas' dominance would be reinforced.
The only change in the rankings would be New Zealand climbing one place to seventh, pushing the West Indies down to eighth.
Those two sides, incidentally, are due to meet at some point this spring.
Predicted Rankings
| | |
| --- | --- |
| South Africa | 133 |
| India | 112 |
| Australia | 110 |
| England | 107 |
| Pakistan | 100 |
| Sri Lanka | 91 |
| New Zealand | 87 |
| West Indies | 87 |
| Zimbabwe | 34 |
| Bangladesh | 16 |