2013-14 Grades for New York Rangers Stars Ahead of the Olympic Break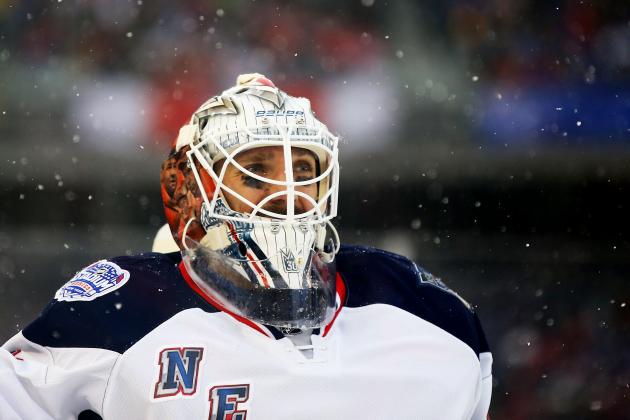 Al Bello/Getty Images

The New York Rangers are 31-23-3, good for second in the Metropolitan Division and firmly in the playoffs.
They are on a roll right now, and they are getting big performances from some key players.
Now that the Olympic break is almost upon us, it's time to look at the performance of the Rangers' stars during the 2013-14 season.
Get your pencils out, it's grading time. Read on to find out what grade the Rangers' stars get.
Begin Slideshow

»
Bruce Bennett/Getty Images

Henrik Lundqvist would like to forget the first three months of the season.
He was simply off his game. In October, he had a .908 save percentage. In November, he had a .924 save percentage. In December, it plummeted to .888.
But in January, the King found his crown, posting an 8-3-1 record, with a stellar .938 save percentage.
He started off February with a bang, stopping 27 shots in a victory over the Colorado Avalanche.
It's safe to say he's back. Maybe it was adjusting to Alain Vigneault's system, maybe he was just in an extended slump. But Lundqvist is back playing fantastic hockey, and it's no coincidence that the Rangers' rise in the standings has coincided with the goaltender's stellar play.
It does bear watching whether or not Lundqvist will suffer by playing so much with Team Sweden. But things are looking up.
His grade suffers, of course, from the awful start. But it will most definitely increase once the season is over.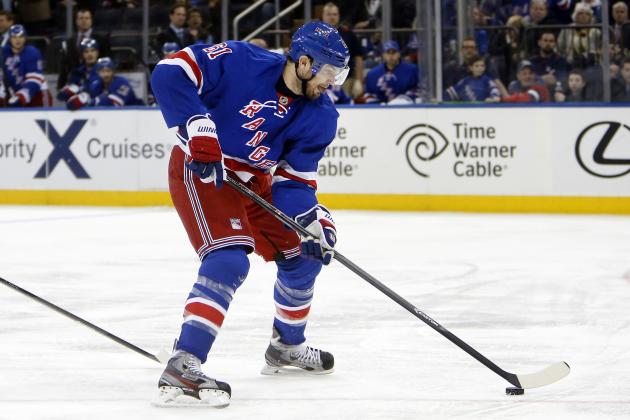 Jason DeCrow/Associated Press

Rick Nash started the season off poorly, but he is now on a roll.
After scoring just 16 points in his first 24 games, Nash has exploded in January, scoring 11 goals in 15 games.
He's been dynamic, scoring with his wrist shot, by cutting to the net and through breakaways. Nash has been a factor all over the ice, which should make Team Canada very happy.
It's hard to know whether the concussion he suffered in early October has played a part in his difficulty getting things going. Yes, he returned in mid-November, but concussions can linger. It seems that now he's finally gotten his legs back and is headed to the net more.
Obviously, his grade suffers a bit because of the really slow start. But given the way he played in January and how he dominated every game, he deserves a solid B+.
John Minchillo/Associated Press

This has not been Derek Stepan's best season.
After he missed training camp due to a contract dispute, Stepan got off to a slow start, scoring just seven points in October. He's rebounded a bit since, as he now has 35 points and is generating top-notch chances playing with Chris Kreider and Rick Nash.
But this is a player who had 44 points in 48 games last season. Stepan doesn't even resemble that player, who looked like one of the league's rising stars. Yes, the contract dispute hasn't helped, but it would seem that he would have recovered by now.
His stint with Team USA should give him an added edge, but this has definitely been a down year. He's still the No. 1 center and is still vital to the team's success. Stepan had 10 points in January, which could be a sign of things to come.
But the Rangers are expecting more of him, and he has yet to deliver. That's why we're giving him a C.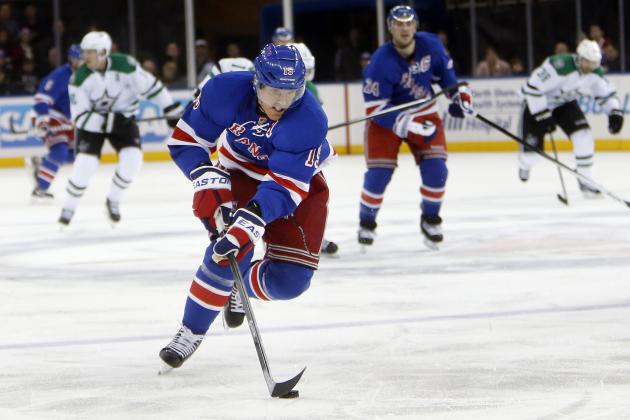 Jason DeCrow/Associated Press

It's been a bit of an up-and-down season for the Rangers' alternate captain.
After scoring nine points in October, he scored 10 in November, followed by eight in December. He lit it up in January with 12 points as the Rangers went 10-3-1.
Obviously, his success is crucial to the success of the Rangers.
He's the third-line center, but he plays an important role is setting up and maintaining offensive flow.
And if anything, it's a massive upgrade over last year's debacle. Richards, who only scored 34 points in 46 games last year, now has 41 points in 57 games, along with 14 power-play points.
Richards just looks more confident on the ice and is contributing in most games.
Is he worth the cap hit of $6.6 million? No. But he's still a useful player. For that, we give him a grade of B.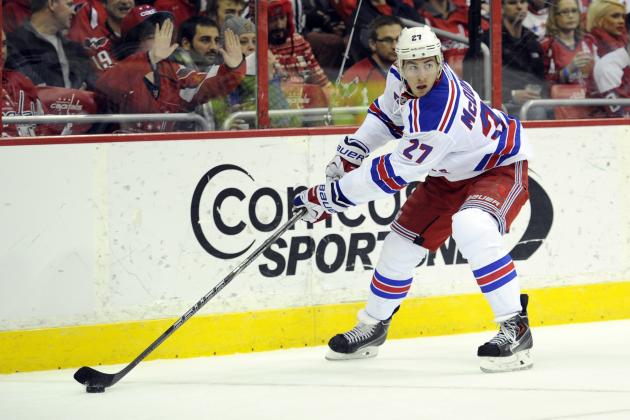 Nick Wass/Associated Press

Without a doubt, the Rangers' best player this season has been Ryan McDonagh.
The 24-year-old, who will be manning the blue line for the Americans in Sochi, has put up eight goals and 22 assists, all while playing nearly 25 minutes a game against the opponent's best players.
He's a rock, plain and simple. He's a fantastic skater, so he's never truly out of position. His wheels have allowed him to join the rush more and create offensive chances for his teammates.
As the season progresses, look for McDonagh to play a lot more minutes. In order for the Rangers to make a deep run in the playoffs, they're going to need to rely on McDonagh to shut down Sidney Crosby, Martin St. Louis and the best players in the East.
Fortunately for the Rangers, McDonagh has proven that he can do that. He is, without a doubt, the Rangers' MVP thus far.