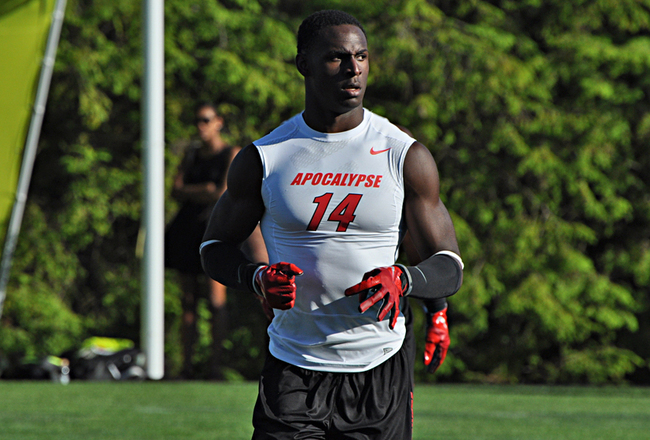 Credit: 247Sports
The big day is almost here, as national signing day is Wednesday. While a majority of recruits have already made their intentions known, several high-end recruits still have people guessing at where they are going to college.
This piece is not going to be fancy or elusive but rather straightforward. It's time to make final predictions on the top uncommitted recruits, with the uncommitted prospects within the Top 100 in the 247Sports composite rankings being the focus.
This is how the 2014 recruiting cycle's conclusion will take place.
All recruiting info is from 247Sports, unless otherwise noted.

Player evaluations are based on review of tape at Scout.com, Rivals and 247Sports.
Derrick Nnadi, DT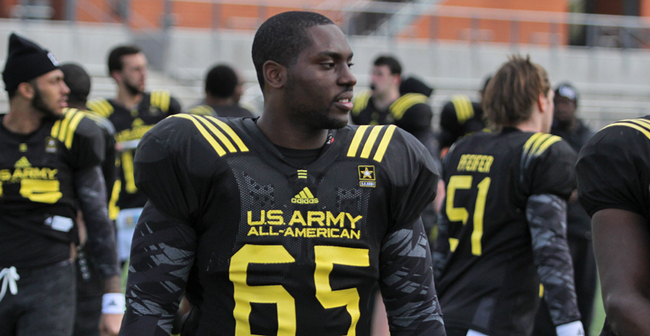 Credit: 247Sports
At 6'1" and 305 pounds, Derrick Nnadi is one of the best run-stuffing defensive tackles in the nation. The 4-star prospect hails from Virginia, with his strength and quickness being his best attributes as a player.
Virginia Tech, Florida State and Ohio State are his top schools. The Seminoles have a great chance, but Nnadi will stay close to home and play for the Hokies.
Prediction: Virginia Tech
Travonte Valentine, DT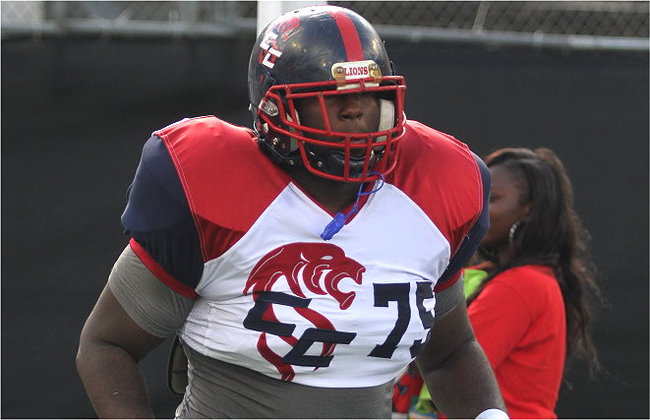 Credit: 247Sports
Travonte Valentine is a 4-star defensive tackle who was previously committed to Miami. However, the Florida native is now open, with Miami still being on his radar.
Yet, LSU is now the favorite to sign him. At 6'3" and 338 pounds, Valentine has better agility and quickness at the snap than one would assume due to his size. He moves well for a big man, plus he possesses the strength to battle offensive linemen all night in the trenches.
Prediction: LSU
Braden Smith, OL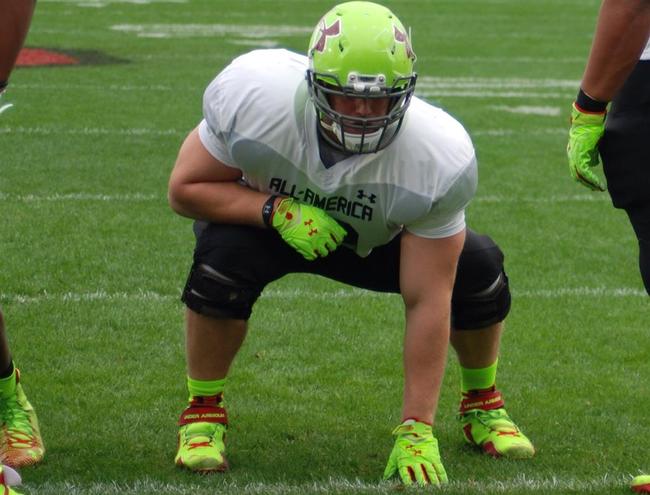 Credit: 247Sports
With his work ethic, passion and skill set, 4-star offensive lineman Braden Smith will be a multiyear starter at the next level. At 6'6" and 290 pounds, Smith has the ability to play each position on the offensive line except center.
His core trio of schools includes TCU, Texas A&M and Auburn. The Tigers and Aggies have a right to feel good about their chances, but the Horned Frogs will win this one.
Prediction: TCU
Michiah Quick, ATH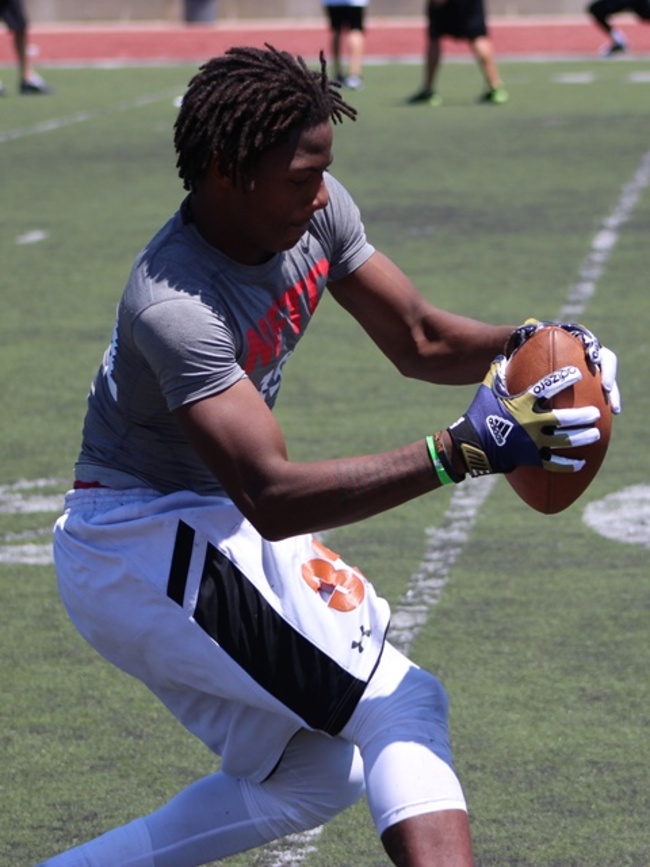 Credit: 247Sports
From California, Michiah Quick is an exciting 4-star athlete who can play an array of positions. At 6'0" and 170 pounds, safety, cornerback, receiver and running back are spots where Quick may see time at in college.
Speaking of the next level, it'll be interesting to see where Quick winds up. Notre Dame and Oklahoma are currently standing out, with the Sooners being the prediction here.
Prediction: Oklahoma
Budda Baker, ATH
Credit: 247Sports
Although he is only 5'9" and 174 pounds, 4-star athlete Budda Baker is a game-changer. He moves with excellent quickness, agility, speed and deceptive strength.
Baker, who is from Washington, can play receiver and running back on offense, but look for him to play defensive back in college. At this point, it would be surprising if Baker did not sign with Washington.
Prediction: Washington
Damien Mama, OL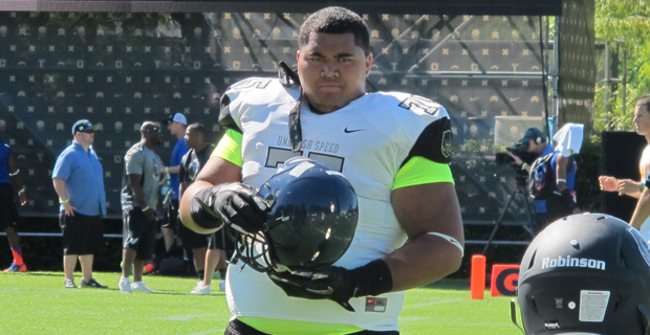 Credit: 247Sports
Damien Mama is a 4-star offensive lineman who can play guard or right tackle. Mama, who is from California, is 6'4" and 370 pounds.
He uses brute strength to push around defensive lineman, plus he is light on his feet when protecting the quarterback. Keep an eye on BYU and Alabama but Mama is USC's to lose.
Prediction: USC
Lindsey Thiry of Scout.com (subscription required) said on Jan. 29:
"Mama, Scout's No. 2 offensive guard in the 2014 class, is considered a strong lean toward USC."
Malik McDowell, DL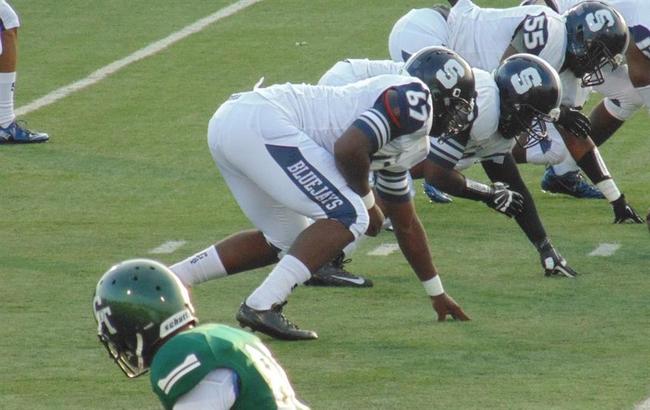 Credit: 247Sports
At 6'7" and 290 pounds, 5-star defensive lineman Malik McDowell will likely play defensive tackle in college. He has the quickness to work as a left defensive end in a 4-3 defense, plus don't count out McDowell becoming a solid 3-4 defensive end at some point.
Michigan State, Florida State and Ohio State are his top schools, as Michigan doesn't appear to be in the mix anymore. The Seminoles winning the national title and ability to surround McDowell with other talented recruits should be enough for them to land him.
Prediction: Florida State
Damian Prince, OL
A 5-star offensive lineman, Damian Prince is an athletic blocker who has the skills to be a left tackle in college. The Maryland native is 6'5" and 295 pounds, plus he has impressive agility and solid strength.
Florida and Maryland are the schools to watch for Prince, with Penn State and South Carolina also in the mix. It'll come down to the Gators and Terrapins, with the Terps closing the deal on Wednesday.
Prediction: Maryland
Solomon Thomas, DL
Solomon Thomas is a 6'2.5", 258-pound defensive end who can set the edge down after down. The Texan has excellent strength at the point of attack, plus he's improved his first-step quickness.
UCLA and Arkansas are in the mix for him, but it would be a shocker if Stanford didn't receive Thomas' signed national letter of intent.
Prediction: Stanford
Ermon Lane, WR
Ermon Lane was committed to Florida for a large portion of this 2014 recruiting cycle. However, things changed around the start of this year, and he is now back on the market.
At 6'3" and 193 pounds, Lane has terrific ball skills and concentration to pluck passes with his mitts. The entire recruiting industry will be in shock if the 5-star receiver signs with any school other than Florida State on Wednesday.
Prediction: Florida State
John Smith, ATH
At 6'1" and 200 pounds, 5-star athlete John Smith is going to have to make a decision about his career over the next couple of months. Not only does the California native need to decide where he will play, but he also needs to figure out what position he will play.
Receiver is probably where Smith's heart is but don't count him out as a safety. The quartet of suitors for Smith includes USC, Oregon, Notre Dame and UCLA. Oregon has a better chance than many think, as the Ducks are known for surprising people on national signing day.
However, USC will keep him home.
Prediction: USC
Lorenzo Carter, DE
At 6'5" and 232 pounds, 5-star defensive end Lorenzo Carter has great athleticism and range on the edges. He can be explosive at times, plus he can also chase running backs from the back side.
Carter, who is from Georgia, has his in-state school among his finalists. Yet, LSU, Florida and Florida State will all have something to say about him staying home.
All four schools have a chance to win this race, but the rule of thumb is to lean toward the local program when making a prediction in a tight recruitment.
Prediction: Georgia
Malachi Dupre, WR
Hailing from Louisiana, 5-star receiver Malachi Dupre is the top uncommitted player at his position in the nation. The 6'2.5", 187-pounder is a smooth athlete with good quickness and hands.
Dupre has above-average speed, which is another reason why he is being recruited by LSU, UCLA, Alabama, Florida State and Ole Miss. He'll be catching touchdown passes in Baton Rouge pretty soon.
Prediction: LSU
Rashaan Evans, DE/OLB
Rashaan Evans is a 6'3", 220-pound 5-star prospect who can play defensive end or outside linebacker. His quickness, athleticism, sneaky strength and solid instincts help him make plays many others can't.
Evans, who is from Auburn, is the subject of an intense recruiting battle between the Tigers and Alabama, with UCLA also being somewhat in the hunt. Evans signing with Alabama wouldn't be a complete shock, but he's going to ultimately decide on Auburn.
Prediction: Auburn
Adoree' Jackson, CB
Perhaps the hardest recruit to get a read on right now is 5-star cornerback Adoree' Jackson. He played high school football in Los Angeles, but he's originally from Illinois.
Jackson, who is 5'9.5" and 182 pounds, is also an outstanding long jumper and sprinter in track and field. USC, Florida, UCLA and LSU are his finalists.
The Gators' track program will be the deciding factor in his recruitment.
Greg Biggins of Scout.com (subscription required) reported on Feb. 1:
Jackson has said track will play just as big a role in his decision as football and the Gators have done a great job getting their track program involved. Jackson's dream is to make the 2016 Olympics in the long jump and he said Florida's jump program gives him the best shot to make that happen.
Prediction: Florida
2014 Bleacher Report College Football Recruiting Heat Map
Many of the nation's top uncommitted recruits are featured on the 2014 Bleacher Report College Football Recruiting Heat Map!
Edwin Weathersby is the College Football Recruiting Analyst for Bleacher Report. He has worked in scouting/player personnel departments for three professional football teams, including the New York Giants and Cleveland Browns.
Keep Reading
Load More Stories