Anthony "Rumble" Johnson has been at the centre of a whole heap of criticism throughout his career. With the announcement that he will return to the UFC against Phil Davis, many are still critical of his chances as a UFC light heavyweight.
In terms of physical ability and God-given talent, there aren't many who can contend with him at any weight. But then again, weight has always been the issue.
In between collapsing after weigh-ins, missing weight and gassing out as soon as his fights got past the midpoint of the second round, Johnson has posted a hit-and-miss record in his UFC tenure. Johnson's repeated trouble making his severe weight cuts has developed into a running gag about him fighting at "rumbleweight."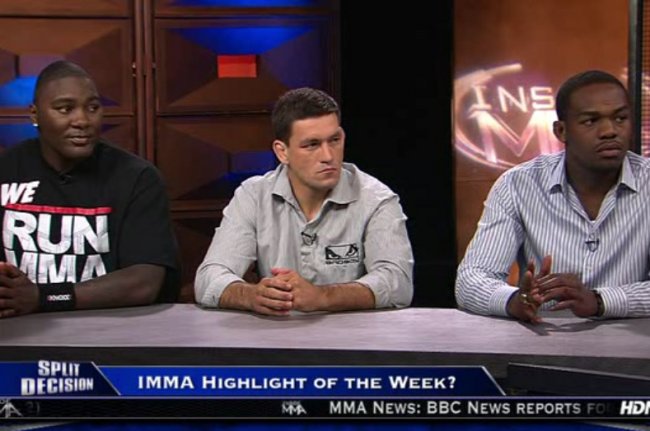 Inside MMA
Most recently, Johnson, a former welterweight, has competed at light heavyweight and even heavyweight. It seems as though Johnson has found a place at light heavyweight and has abandoned the enormous size advantage that he formerly enjoyed in favour of actually being able to fight the full number of rounds.
Let's examine Rumble and ask: How does he stack up against the UFC light heavyweight division?
Original UFC Run
Rumble's original UFC run was equal parts terrifying and disappointing. If you need help understanding just why a fighter would go to such extreme lengths in weight cutting, I heartily recommend you watch his fight against Charlie Brenneman.
Brenneman is a great grinder who has solid takedowns, but he could do nothing against Rumble, who appeared to dwarf him in stature. Johnson manhandled Brenneman before landing a brutal high kick to end the fight. If you struggle to understand why fighters make the cuts, do the diets and ultimately risk a 20 percent cut of their purse if they come in overweight, that fight should tell you everything.
In 2009, Johnson was on a streak of three wins when he took arguably the biggest fight of his career against Josh Koscheck. The early part of the fight saw Johnson working Koscheck over with kicks and punches and sprawling on the accomplished wrestler with ease. Koscheck's savvy showed through, however, as he milked an illegal knee that he suffered while on the ground, then gouged Johnson's eyes twice and forced Johnson into a less aggressive game. Johnson appeared to be getting tired, as he is wont to do, and Koscheck got a takedown and picked up a submission by rear-naked choke.
Even considering Johnson's successes at welterweight, he was still facing heavy criticism over his severe weight cuts. Against Yoshiyuki Yoshida, Johnson starched his man in under a minute but still lost 20 percent of his purse and missed out on the Knockout of the Night bonus, both due to coming in overweight. While he had nowhere near the number of problems that John Lineker has had making weight, it was generally thought that Johnson did not belong at welterweight.
In January of 2012, Johnson moved up to middleweight (185 pounds) for what would be his last fight in the UFC at the time, against Vitor Belfort. Despite having to cut 15 pounds fewer than he would have had to at welterweight, Johnson came in at a whopping, and embarrassing, 204 pounds. Belfort had not fought anyone who would test his takedown defence in a long time, and Johnson looked to be giving the Brazilian problems with his takedowns.
It was obvious that Rumble was not in shape, however, and he was breathing heavy by the two-minute mark. Combining that with some of the shadiest stand-ups from guard that I have ever seen, Johnson was a dead man walking by the four-minute mark. Belfort got Johnson's back and choked him out, whereupon Johnson was promptly released from the UFC.
Rumbleweight Champion of the World
Since Johnson's initial release, weight-cutting dramas have not altogether subsided. He weighed in at 194 pounds for his 185-pound bout against David Branch. Though he picked up the decision, it was not impressive.
Recently, however, Johnson has competed exclusively at light heavyweight and heavyweight and has put together some decent results. Most recently, he decisioned Andrei Arlovski and handily starched Mike Kyle.
Tuesday morning, Dana White announced via his official Twitter account that Johnson would return against Phil Davis.
Could not get tweet oembed code for tweet 430711071192940544
So this raises the question:
Does Rumble deserve to be back in the UFC, and how does he stack up against the UFC light heavyweight division?
My answer to the first part is an emphatic yes. Why not? There are many worse fighters in the UFC than Johnson, and as long as he is fighting at a realistic weight and not threatening cards or gassing out in a round-and-a-half, he deserves another chance on the big stage.
With regard to the rest of the UFC light heavyweight division? It's an interesting one. Blasting a chinny Mike Kyle is one thing, but isn't the UFC the home of the big dogs?
Certainly, there are plenty of fighters out there that Rumble could likely beat by merit of his wrestling and heavy hands alone. Rafael Feijao, James Te Huna, Thiago Silva or Ryan Bader seem like fair tests for Johnson. Those are also entertaining matchups, which could spice up any card. At a push, he could lay all over Mauricio Rua or Antonio Rogerio Nogueira, both of whom hate strong wrestlers.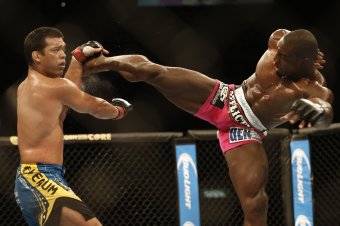 Felipe Dana/Associated Press
The interesting questions come when you ask how good Rumble's wrestling is without an enormous size advantage. Phil Davis, his scheduled opponent, could be a nightmare matchup for Johnson. A strong kicker and wrestler, he's kind of like a mirror image of Johnson, but with much better cardio and real experience at light heavyweight.
Rashad Evans, with his elite wrestling, heavy hands, edge in speed and championship-level experience, is also just a nightmare matchup for Johnson.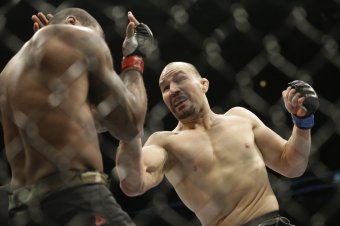 Nam Y. Huh/Associated Press
How about Glover Teixeira? He's a guy who only knows one way to fight, and that is the kind of fight that Rumble has traditionally liked. Fast, furious and normally done in the first round. Glover's size, power and timing could cause Rumble nightmares, but he's the highest-ranked opponent I could see Rumble having a good shot at beating, albeit in an ugly fight, at present.
Lyoto Machida is a pretty horrible matchup for Johnson. While Johnson's great low-kicking game could trouble Machida, his hyperactive behaviour in the early rounds would work to his disadvantage. Since Machida loves to sit back and let his opponents flail for a while, this would be a fight where Rumble could easily gas himself out while accomplishing little. In a three-round fight, Rumble could pull it off, but in a five-round fight? I doubt it.
A match with Jimi Manuwa or Alexander Gustafsson could turn into a snoozer. Both can defend themselves adequately from takedowns and ground offence, but I don't know if they could stop Johnson from getting to the clinch and leaning on them each time. We could just see two reruns of Manuwa versus Jimmo, as one man fights off takedowns and the other offers little else.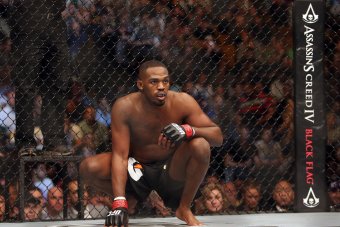 Tom Szczerbowski-USA TODAY Sport
Finally, Jon Jones. This fight interests me even though it's stupidly premature to be talking about it. Jones' command of long-range engagements and his excellent clinch game have long convinced me that a wrestler with a strong kicking game could give him some trouble, and Johnson is certainly one of those fighters. Johnson's 78" reach is greater than some of those whom Jones has troubled at range, too. But Jones is excellent at side-stepping or jamming charges; just watch his bouts with Vitor Belfort and Quinton Jackson.
Jones is an attrition fighter, and Johnson is a fighter who is nowhere near as effective by Round 3 as he was in Round 1. Despite Rumble's kicking game, heavy hands and strong wrestling, Jones is a nasty matchup for him.
Conclusions
Frankly, if I had my way, everyone with even a chance at being a great fighter would be in the UFC. From Ben Askren and Jon Fitch to Rumble Johnson.
Realistically, though, this is a spectator sport. Nothing is worse for the UFC as a spectacle than having Ben Askren or Jon Fitch grinding out uneventful decisions, and little is worse for the UFC as a sport than having Rumble or John Lineker coming in 10 or 20 pounds overweight and obliterating much smaller opponents.
Now that Johnson has proven that he can put on great fights with no weigh-in drama, no mid-fight cardio crash and an impressive finish, there is little reason to question his return. The light heavyweight division can always use some new blood with the rate that Jon Jones is going through title defences, and if that new blood is an exciting finisher like Johnson, all the better.
Pick up Jack's eBooks Advanced Striking and Elementary Striking from his blog, Fights Gone By. Jack can also be found on Facebook and Twitter.