Several of the nation's biggest programs will watch as their fates are decided by some of the nation's best high school players on Wednesday, February 5.
The remainder of the undecided commits will make their decisions on national signing day, and the decisions themselves will have a ripple effect on programs across the country.
The top schools have the most to lose, of course, as one national power may see a commit it spent months attempting to land go to a rival—and may then face off against the recruit for the next four years.
Three programs in particular stand out because noteworthy prospects will dictate their fates on the big day.
Note: All team rankings and prospect rankings based on composite numbers from 247Sports.com.
LSU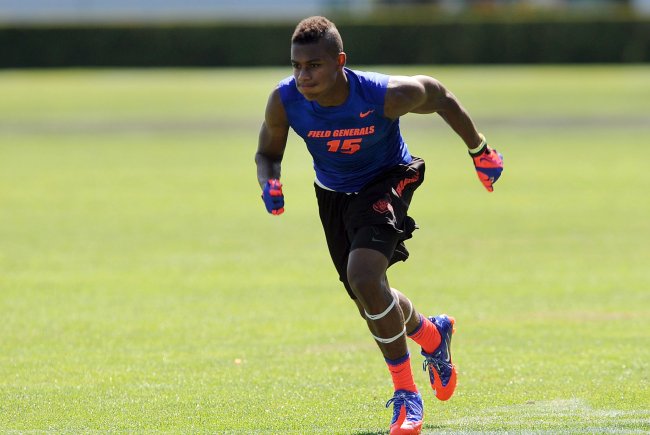 Steve Dykes-USA TODAY Sports
A 10-3 record and a victory in the Outback Bowl can be considered a bit of a disappointment for the LSU Tigers, but the letdown that was 2013 can be quickly forgotten by a big day in the recruiting realm.
Malachi Dupre, the nation's No. 17 overall prospect, has the fate of Les Miles' team in his hands—especially with the departure of Odell Beckham Jr. to the NFL. At 6'2.5" and 187 pounds and with 1,479 receiving yards and 22 touchdowns in three seasons, Dupre has the game-breaking speed the Tigers need to keep their offense relevant in the SEC.
Even better, Dupre is a multisport athlete with a strong work ethic, which his father explains, via ESPN's Gerry Hamilton:
His 10th-grade year, Malachi had a basketball game on a Friday night. Then, he had to go high jump the next day at the indoor state meet in Baton Rouge. He went home after the basketball game and iced his legs. He got up early the next morning and we went to Baton Rouge and he won the high jump, and set a state record.
If the Tigers cannot land Dupre, he may jump to Alabama or even Ole Miss and hurt the Tigers for years.
Defensive tackle Travonte Valentine is another name to watch. Standing at 6'3" and weighing 338 pounds, Valentine would extend a long tradition of outstanding nose tackles at LSU. According to Jim Kleinpeter of The Times-Picayune, the Tigers are close to landing him:
#Miami senses defensive tackle Travonte Valentine leaning toward #LSU, makes one last push http://t.co/57D1uN3YgW

— Jim Kleinpeter (@JimKleinpeter) January 29, 2014
But if something goes wrong, the Tigers may have to deal with Valentine too. With both on board, LSU would get a major upgrade on both sides of the football.
Florida State
Steve Dykes-USA TODAY Sports
The Florida State Seminoles are also in on Dupre. Like the Tigers, they too need to grab him in order to fill a void—in this case, the one left by the departing Kelvin Benjamin. While he's not nearly the same size as Benjamin, Dupre can still fill the void left by Benjamin for quarterback Jameis Winston.
Florida State is also in on defensive end Lorenzo Carter, the No. 18 overall prospect in the country.
Turnover is not a major concern for the Seminoles on defense, but a prospect such as Carter only comes around every so often. The problem is that major programs such as Florida, LSU and Georgia are also in on Carter, and he calls the latter home.
It is clear Carter will play his collegiate ball in the SEC. The Seminoles already have a stacked roster, and Carter is simply the cherry on top when it comes to the great class they have had to this point—and it also keeps him out of the hands of others in the SEC.
Florida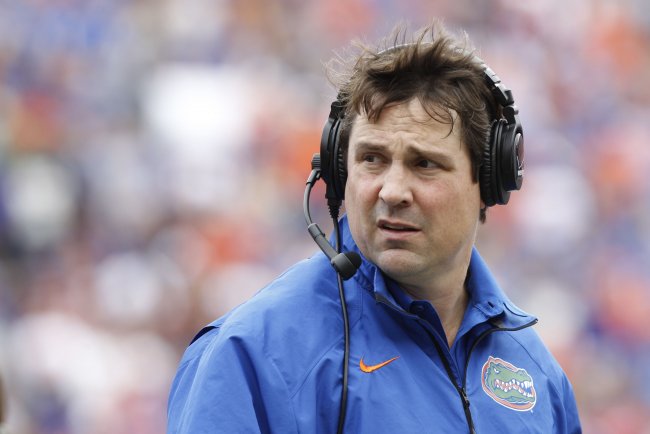 Kim Klement-USA TODAY Sports
After a miserable 4-8 record in 2013, it is time to panic for the Florida Gators and head coach Will Muschamp.
While things were horrible last season, the Gators are in a position to grab one of the nation's top overall recruiting classes if they can land cornerback Adoree' Jackson.
Believe the hype about Jackson. He is the nation's No. 7 overall recruit thanks to his elite speed as a returner and his strong skills as a cornerback, which allowed him to rack up 114 tackles and 17 interceptions in high school.
Luke Stampini explains what Jackson would mean for the Gators:
Adoree' Jackson would move UF from No. 10 to No. 3 in the Team Recruiting Rankings if he picked the #Gators http://t.co/Jzdbh9urTe

— Luke Stampini (@LukeStampini) January 31, 2014
Jackson is obviously a huge get for the Gators, but they have some competition. USC and UCLA are obviously in consideration because he hails from California, but Florida's SEC rival LSU also has a chance to land the coveted prospect.
There is also an outside chance the Gators get Ermon Lane back, the nation's No. 24 overall recruit.
Lane decommitted in early January and left a major hole in the Gators' class, as Chris Hays of the Orlando Sentinel explains:
Lane's decision leaves the Gators with a huge hole in their recruiting class. UF has just two receivers remaining in the 2014 group with Orlando Lake Nona's Ryan Sousa and Immokalee's J.C. Jackson, both of whom decommitted FSU in order to join the Gators. Jackson is considered a soft UF commit and has been entertaining thoughts of switching back to FSU.
Lane seems like a lock to betray the Gators fully and go join the aforementioned Seminoles, but his decision to recommit to Florida is not entirely out of the question.