The image of Steven Gerrard scoring in the Merseyside derby is one that will define the Premier League era. He just always seems to find the net against Everton. And last Tuesday he did it again, netting his ninth career goal against the Blues with a thunderous header at Anfield.
But these moments of derby-day euphoria mask a deeper issue for Liverpool and Gerrard. The club he has come to embody is moving on without its captain, and Gerrard must adapt or die.
At the peak of his powers Gerrard was an accomplished dribbler, passer, shooter and crosser. It's what earned him the nickname "Captain Everything." However, the 33 year-old's on-field influence is on the wane.
Gerrard's problems stem from the fact that he can no longer do everything all at once. He's simply not as mobile as he once was. The days of Gerrard gallivanting all over the Anfield pitch like a force of Scouse nature are over. Now he must learn how to be in the right place at the right time rather than everywhere at the same time.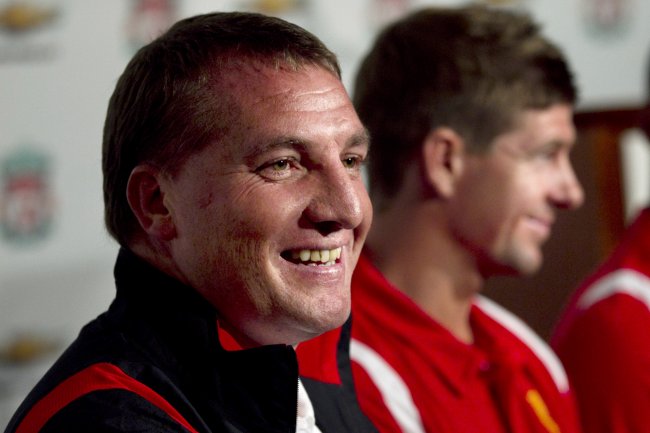 Steven Senne/Associated Press
Brendan Rodgers seems to have recognized this. The signing of Philippe Coutinho last season signaled a shift in the role Gerrard plays for Liverpool. Rodgers now wants Gerrard to be his Andrea Pirlo.
Of course, Gerrard is still one of the finest passers in the Premier League. How many times have we seen Luis Suarez released behind the last defender from a pinpoint Gerrard pass over the top? He can envisage a chance from 40 yards away and, what's more, he can create it. His right-footed delivery is the most potent English football has seen since David Beckham last called Old Trafford home.
But Liverpool has outgrown Gerrard, certainly in his current guise. He is not yet disciplined enough to sit willingly in front of the back four. Too often Gerrard strays from the position, allowing his attacking instinct to take over. And yet in a more advanced position he longer possesses the energy to hold his own.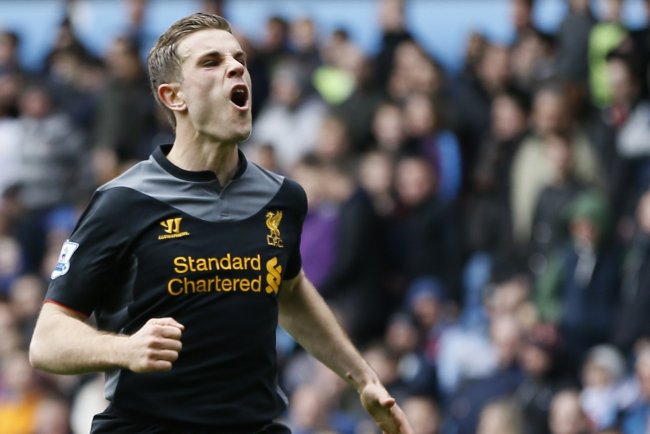 Kirsty Wigglesworth/Associated Press
In a system that deploys Suarez and Daniel Sturridge as an attacking duo with Coutinho just behind them there is no natural role for Gerrard. If Rodgers is to play him as a deep-lying defensive midfielder, who should partner Jordan Henderson farther up the pitch? Joe Allen may be stylistically suited to the position but Liverpool can't count on his fitness, with Lucas Leiva also unproven in the role.
Rodgers has stated that he sees Gerrard eventually moving into the centre of defence. "I look at Steven and I think he can play as a number two centre-half later in his career," said the Liverpool boss, as per BBC Sport. It seems a far-fetched suggestion considering the lack of positional sense Gerrard has shown in his new withdrawn position in the Liverpool midfield.
Should Liverpool sign a new central midfielder in the summer?
Apart from anything else, is Gerrard good enough for Liverpool anymore? Surely better midfield options will be available in the transfer market should Rodgers lead his team to a Champions League place this season? Just like fellow Premier League great Ryan Giggs, Gerrard might have to be content with a bit-part role in Rodgers' new-look, and frankly better, Liverpool team.
Gerrard is still a more mobile player than the player Rodgers sees as the archetypal example—Pirlo—but if he is to adapt to the deep-lying playmaker role he must restrict his athleticism. From a positional sense Gerrard also needs some on-the-job training. Starting from the 2010-11 season he has received an average of around 55 passes per game. Pirlo's stats stand closer to 65 and sometimes 70 per game.
But even if Gerrard can tailor his game to the role of withdrawn central midfielder, Liverpool might still be a weaker team for his inclusion. At Juventus, Pirlo's shortcomings are hidden by fielding Paul Pogba and Arturo Vidal, two of the best box-to-box midfielders in Europe, alongside the 34-year-old.
Essentially Juventus have constructed their team to accommodate Pirlo. So far Liverpool haven't done the same with Gerrard.
This could be the most important season of Gerrard's career. Yes, he's won Champions League and cup titles, and captained his country at World Cups and European Championships, but for all his achievement he has always found himself the standout talent in a series of mediocre sides.
Rodgers is moulding the next great Liverpool team and Gerrard must show he deserves to be a part of it.