Nebraska Football: Is Lighter Side of Bo Pelini Helping Recruiting?
Use your ← → (arrow) keys to browse more stories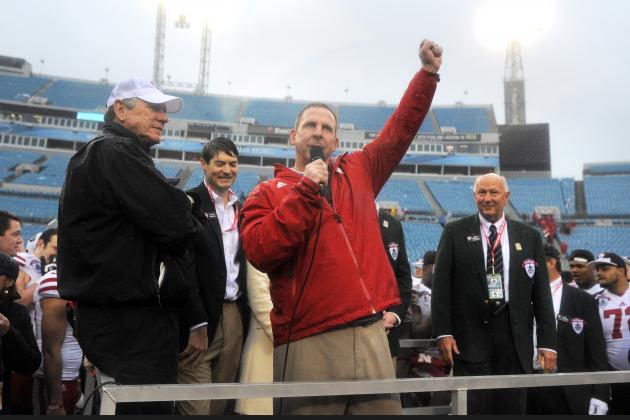 Stephen B. Morton/Associated Press

After six years as Nebraska's head coach, Bo Pelini is finally showing a lighter side.
This comes in the wake of a tumultuous 2013 season. From a leaked audio tape to a dare to be fired by the university, Pelini was in the news for all the wrong reasons.
The drama that surrounded each event was worrisome. Beyond the national perception, many questioned the impact it could have on recruiting.
Additionally, Pelini was hardly active on social media, which only created more speculation and frustration.
Fans called for the coach to take a note from Tim Miles' Twitter handbook. The Nebraska basketball coach has created a lot of positive buzz using the social media tool. He even recently helped a fan propose to his girlfriend, per Yahoo Sports.
For whatever reason, Pelini just hadn't seen things the same way. With his absence on Twitter, the popular @FauxPelini rose to fame. While it wasn't Pelini, it felt like it could have been him.
From the live tweets each game to the love for cats, the Pelini jokes rolled on. The only thing that was missing was Pelini himself.
That was until recently, at least.
During the BCS National Championship Game, Pelini decided it was time to get in on the joke. Tweeting at his fake self, the coach momentarily took the national discussion off of Florida State and Auburn and put the highlight right on Nebraska.
@FauxPelini ok enough is enough... I want my cat back. You've had her long enough!

— Bo Pelini (@BoPelini) January 7, 2014
Some thought he had been hacked. However, Pelini was fully responsible for the tweet.
Yep. "@erinsorensen: After reaching out to the @Huskers folks, I can confirm that @BoPelini's account was not hacked. That was him."

— Nebraska Huskers (@Huskers) January 7, 2014
Since then, the jokes have not stopped.
Prior to a recruiting trip, defensive coordinator John Papuchis tweeted a photo of Pelini boarding a private plane. In the head coach's right hand was a very noticeable cat carrier.
Another Day on the grind with the Boss and his cats #catlover #GBR #allergic. Got to love closing time! pic.twitter.com/ePKbGrn3d4

— John Papuchis (@CoachJP_NU) January 29, 2014
That wasn't enough, though.
During the Super Bowl, former Husker Ndamukong Suh decided to join in.
Dear @FauxPelini , who would you rather watch the Super Bowl with, @BoPelini , @Pontifex , or ME? #ChooseWisely #WheresBosCatWatching?

— Ndamukong Suh (@NdamukongSuh) February 3, 2014
Asking who he'd rather watch the big game with, @FauxPelini settled on Suh. That's when Pelini decided to hop into the conversation once again.
@FauxPelini Is that your final answer? @NdamukongSuh

— Bo Pelini (@BoPelini) February 3, 2014
At the surface, all of these tweets look like good fun. They're entertaining to fans and create stories for the media.
However, it's more that just fun and games for Nebraska. It's good for recruiting.
While the NCAA forbids coaches and fans from engaging with recruits on social media, that doesn't mean potential players aren't taking note. If a program looks engaged with its fans and student-athletes, it could appear more appealing.
That's not to say it would make-or-break a recruit's decision but it definitely could not hurt. It's understanding how to appropriately use the tool that keeps many away.
And it's not an easy world to decipher. In fact, college coaches everywhere are still trying to find their place in the social media world.
Some, like Alabama's Nick Saban, choose not to participate in social media. In fact, Saban hardly knows how to send a text.
Others, like LSU's Les Miles, use it to create buzz and engage recruits without actually tweeting at them.
#Geaux Buga Nation !!!

— Les Miles (@LSUCoachMiles) December 19, 2013
In Miles' case, he "subtweeted" a recruit during the recruiting dead period (Dec. 16 through Jan. 15), as reported by The Big Lead. It was a completely legal thing to do and it created a lot of buzz.
Miles' example is only the beginning of stunts that coaches and universities might use in the future to get the attention of recruits. The benefit is that those stunts don't require direct content with potential players.
How social media affects recruiting is still something that is relatively new, so it's hard to determine what the future holds. However, there is no harm in Pelini showing his lighter side through the social media site.
Even if only a few recruits take notice, it is ultimately a bigger benefit to recruiting than the head coach staying silent.