The Seattle Seahawks surprised almost everyone at Super Bowl XLVIII with a dominant 43-8 win over the Denver Broncos. Looking deeper into the action, it is clear what went wrong for the AFC team.
While the Broncos were certainly unlucky with some early plays (the first snap of the game was a safety on a miscommunication between the center and quarterback), this result was not a fluke. The Seahawks played their tough, physical style of football and came out on top.
Seattle safety Kam Chancellor discussed the effect an early hit had in the game, via John Boyle of The Herald (Everett, Wash.):
Kam Chancellor on early big hit: "It just sends a message. Any time you come across that middle, you've got a chance of getting wrecked."

— John Boyle (@johnpboyle) February 3, 2014
Although this does not show up in a box score, there are plenty of other statistics that can help point to the difference in this matchup. Here is a look at the most telling ones from Sunday's big game.
Turnover Ratio: Seahawks +4
Anyone who watches the NFL knows how devastating turnovers can be and that a plus-four ratio is a pretty good recipe for success regardless of what else happens in a game.
What you might not know is that this almost falls in line with what each side has done throughout most of the season.
The Seahawks led the NFL this season in turnover differential thanks to a league-high 39 takeaways. Their defense not only prevents high yardage, but it also does a great job of forcing turnovers to get the Seattle offense back in good position.
Meanwhile, Denver has struggled to hold on to the ball this season and totaled 26 giveaways. Only the Cincinnati Bengals reached the playoffs with more, and the Broncos' 16 lost fumbles were the most in the NFL.
Scott Kacsmar of Football Outsiders provided a full look at the struggles, including playoffs:
Broncos move to -9 in turnover differential since 2012, and that's not counting a few safeties. That's a problem when you play a great D.

— Scott Kacsmar (@FO_ScottKacsmar) February 3, 2014
The Broncos lost the turnover battle in all four of their losses this year, giving the ball away a combined 12 times. Seattle took advantage of this problem and turned it into a blowout victory.
Of course, Malcolm Smith returning one of the interceptions for a touchdown en route to an MVP performance certainly helped.
Broncos Rushing Yards: 27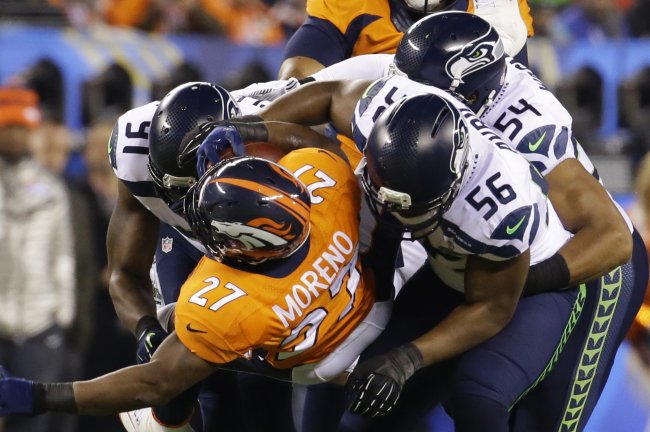 Ted S. Warren/Associated Press
Entering the game, there was a lot of discussion about how the Broncos passing attack would match up with the Seahawks secondary. While this played a big part in the game, Seattle's seventh-ranked run defense was being ignored.
The team's front seven is as solid as any in the league, and it prevented Denver from doing anything on the ground, finishing with just 27 rushing yards on 14 carries. Knowshon Moreno rushed for 17 yards on five carries while rookie Montee Ball ended up with only one yard on six attempts.
While the Broncos were known as a passing team, they still utilized the run often to create balance and keep opponents honest. They finished the year 15th in the league in rushing yards per game at 117.1 yards per game, but that simply was not possible in this matchup.
As a result, more pressure was put on Peyton Manning to move the ball himself. With a one-dimensional offense, the Seahawks were able to finish with an even more dominant performance.
At least Manning was able to break one Super Bowl record, courtesy of Will Brinson of CBS Sports:
Peyton Manning set a Super Bowl record with 33 pass completions. That's awkward.

— Will Brinson (@WillBrinson) February 3, 2014
Still, it would have been better if he was given some help in this matchup.
Percy Harvin Total Yards: 137
The Seahawks spent a first-round pick bringing over the dynamic receiver from the Minnesota Vikings during the offseason. Although he was limited to only one catch during the regular season due to injuries, his Super Bowl performance made it worth the trade.
Despite getting only four touches, Percy Harvin made a huge impact in the game. Not only did he return a kickoff for a touchdown to start the second half, but he also finished with a game-high 45 rushing yards on two attempts.
Harvin discussed his contribution after the game, via Larry Holder of The Times-Picayune (New Orleans):
It's just a big horse off my back. I was finally able to give my team something for four quarters. That meant a lot to me. Being injured all season, it took a toll on me.

Being able to finish and being able to give my teammates something back, because I leaned on those guys so much this year to keep me up in spirits and just keep me going, it meant the world to me.
This performance did not come as a surprise to everyone:
THAT'S the @Percy_Harvin I know! #SB48

— Adrian Peterson (@AdrianPeterson) February 3, 2014
Even Bovada had Harvin listed as the fourth-most likely player to win Super Bowl MVP coming into the day based on his playmaking ability.
Still, the Broncos could not have expected this much of an impact from someone who had not played most of the year. In the end, though, he averaged 34.25 yards per touch and made some of the biggest plays in the game when it was needed to help secure a victory.
Peyton Manning Hits: Four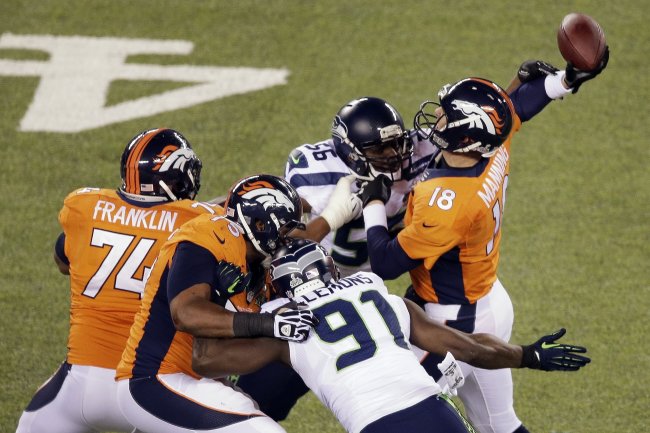 Charlie Riedel/Associated Press
On the official box score, Manning was only sacked once. However, the Seahawks got to the quarterback four times and hurried him even more often throughout the game.
Analyst Larry Brown thought that Cliff Avril deserved a lot of credit for the win despite not getting any sacks:
Still think @cliffavril should have been named MVP if you're picking one guy. His pressure led to both Peyton Manning interceptions

— Larry Brown (@LBSports) February 3, 2014
Bleacher Report's Matt Bowen discussed the pressure throughout the contest:
Interior pressure...Manning couldn't step into another throw there.

— Matt Bowen (@MattBowen41) February 3, 2014
Bowen also broke down the keys for Seattle's victory after the game, pointing out the defensive line got everything started:
Disruption is the key here versus Manning and the Broncos' route tree. By getting pressure with four players (and showing some five-man blitz looks), the Seahawks made Manning move in the pocket (coming off his primary reads) while leaning on their single-high schemes in the secondary (Cover 1, Cover 3).
This pressure made things easier for the Seattle secondary, which is already elite. The Broncos simply could not get open before Manning had to get rid of the ball, and it led to little success in the passing game.
More than anything else, this is what limited Denver's historically great offense to eight points in a dramatic loss.
Follow Rob Goldberg on Twitter for the latest breaking news and analysis.