The Seattle Seahawks embarrassed the Denver Broncos in Super Bowl XLVIII by a 43-8 margin in a game that many predicted would be a close affair between teams of contrasting strengths.
That notion had a ton of merit. After all, Peyton Manning was on the hunt for his second Lombardi Trophy after breaking numerous offensive records and entered the contest against the NFL's No. 1 pass defense insulated by a plethora of weapons normally only seen in a video game.
Alas, the elite Seahawks defense shut out the Broncos in the first half and did not surrender any points until the final play of the third quarter.
The world is now ablaze with reactions to a number of different things, including Manning's future, the surprise MVP selection and more. A number of experts have weighed in with noteworthy opinions on a wide range of topics.
The Game
Any way this one gets sliced, the Broncos were stunned and failed to do a single thing as the Seahawks tore through them on both sides of the football.
The star of the show was the aforementioned Seattle defense, which has a case for the best unit of all time, according to Bleacher Report's Mike Freeman:
We haven't seen defensive dominance like this in decades. It was better than the 2000 Ravens. Maybe even better than the 1985 Chicago Bears. Maybe better than anyone, ever. In one fell swoop, the Seattle Seahawks made a case for having the best defense of all time, while also destroying a legend.
The assault at the hands of the Seattle defense, by all accounts, took Denver by surprise and is something that has yet to wear off, per CBS' Vic Lombardi and USA Today's Lindsay Jones:
Working the Broncos locker room right now. Devastation the key word here.

— Vic Lombardi (@VicLombardi) February 3, 2014
Didn't see any tears in Broncos locker room. Guys just seemed stunned.

— Lindsay Jones (@bylindsayhjones) February 3, 2014
Fans may never know exactly went wrong for the Broncos, but NBC Sports' Brian Kenny has a great theory:
Broncos Over-Thinking it: Audible on opening snap, popping up the kickoff on purpose.. You have TWO weeks - come out firing and execute.

— Brian Kenny (@MrBrianKenny) February 3, 2014
Sometimes simplicity is best. Seattle stuck to the basics, lined up and played its game. It worked.
The MVP
Jeff Gross/Getty Images
No Russell Wilson, Marshawn Lynch or member of the "Legion of Boom" here—an unheralded star by the name of Malcolm Smith took home the Super Bowl MVP award.
Smith earned the prestigious award thanks to his nine total tackles, fumble recovery and his interception of Manning that he returned 69 yards to give the Seahawks a 22-0 advantage in the second quarter:
It was rather fitting that Smith won the award. After all, he had the highlight play on a defense where everybody pitched in, whether it was a lineman tipping a pass or a defensive back eliminating an option through sound coverage.
Tim May of the Columbus Dispatch put this notion best:
Malcolm Smith gets the Super MVP award, but it belongs to whole Legion of Boom. What a stifling performance.

— Tim May (@TIM_MAYsports) February 3, 2014
Sports Illustrated's Chris Burke helped to explain just how big of an unknown Smith truly was before the award:
MVP Malcolm Smith: Draft pick No. 242 overall, making $555K this year.

— Chris Burke (@ChrisBurke_SI) February 3, 2014
Curtis Crabtree of the Associated Press would have chosen Seattle safety Kam Chancellor for the award:
Malcolm Smith has been named MVP of Super Bowl XLVIII. I'd have given it to Kam Chancellor but Smith's pick-6 was big hammer play.

— Curtis Crabtree (@Curtis_Crabtree) February 3, 2014
The consensus seems to be that Smith is the perfect embodiment of the award for the Seahawks on a defense where everyone chips in to form a cohesive unit that flustered perhaps the greatest quarterback of all time into a mess.
All Things Peyton Manning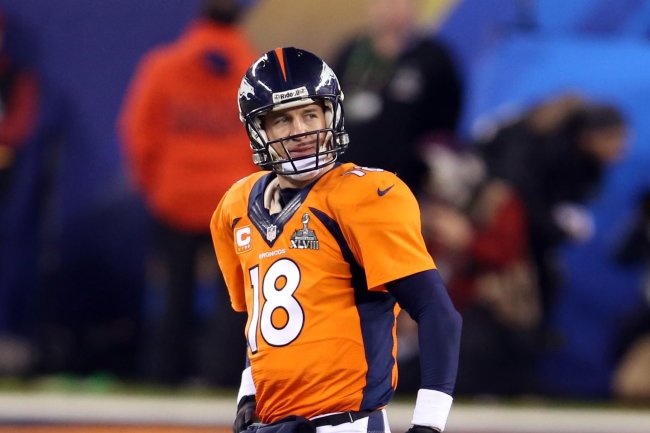 Joe Camporeale-USA TODAY Sports
So it begins.
Manning took an exit from the big stage with his head down. While the performance is hardly his fault alone, it simply does not matter—the blame will fall on his shoulders.
Manning, via the Denver Post on Twitter, told reporters he is disappointed in how things turned out:
Peyton Manning: "To finish this way is disappointing. Not an easy pill to swallow, but we have to." More quotes: http://t.co/Cx3YxNcHi2

— Denver Post Broncos (@PostBroncos) February 3, 2014
No kidding. Now he has to suffer through an offseason centered around his future and legacy. This is especially the case now that he has the most losses by any quarterback in league history, per Fox Sports:
Peyton Manning: most postseason losses for a QB in NFL history. #SB48 pic.twitter.com/Zu8AR2Qmv6

— FOX Sports Live (@FOXSportsLive) February 3, 2014
Freeman is one who suggests the blame should fall on Manning this time around:
There are no more excuses for Manning. None. Oh, you will hear them in the coming days. He had no time. His arm was hit. He was under pressure. Sure, some of that is accurate, but damn, isn't everyone tired of blaming everyone else and everything else for Manning's failures?

Manning came into this game with the best offense in football. He had weapons around him that Tom Brady would sell his blond follicles for. It was all set up.
Alessandro Miglio of The MMQB offered a different take:
All this chatter about Peyton's legacy... this game was only going to add to it if he won. Nothing's changed.

— Alessandro Miglio (@AlexMiglio) February 3, 2014
Chancellor himself stopped an interview with the media to stress how great Manning is, per ESPN's Chris Sprow:
Kam Chancellor called Peyton Manning "GOAT" and stopped our interview again to mention Peyton's greatness. Prepared w/ respect.

— Chris Sprow (@SprowESPN) February 3, 2014
The opinions concerning Manning's legacy will never stop. In the minds of some, he has forever tarnished it with his big-game losses. For others, they are nothing but a small part of what has been a wildly successful individual career in the ultimate team sport.
As far as the potential for Manning's retirement this offseason, NFL Network's Andrew Siciliano says the outcome of the game will have an impact on his decision:
There is no way Peyton Manning retires after this.

— Andrew Siciliano (@AndrewSiciliano) February 3, 2014
In the coming weeks, the story surrounding this game will mostly concern Manning. That was simply an indisputable fact regardless of the outcome, but the takes on his place in history and how long he sticks around are clearly far from forming a consensus.