Red Hot Chili Peppers Go Shirtless in Epic Super Bowl Halftime Appearance
February 3, 2014

Image via Fox Broadcast
The Red Hot Chili Peppers will not get dressed up for your big fancy Super Bowl, thank you very much.
And we wouldn't have it any other way.
Bruno Mars did a more than admirable job headlining the always over-thought Super Bowl halftime show, but it was the veteran Red Hot Chili Peppers who gave the performance the night's biggest burst of energy. I'm pretty sure the group worked up a bigger sweat than the Broncos did.
We all sort of thought the bare-chested Peppers might be coming. Whether or not a member of the band would be shirtless was even a prop bet that you could put actual, real-life money on. I bet Flea cleaned up.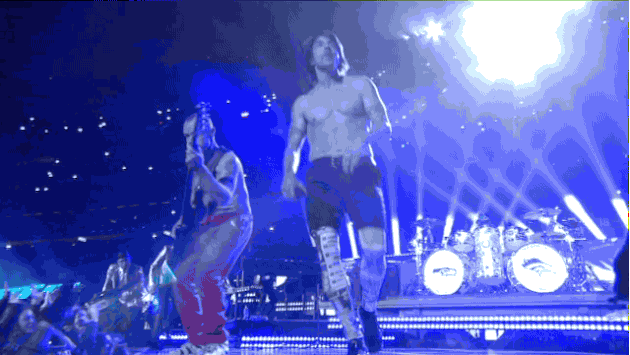 GIF via Fox Broadcast
It was quite the juxtaposition of styles: the clean-cut, shiny jacket-wearing Mars and the grungy, tatted-up Red Hot Chili Peppers in shorts and no shirts, but damned if it didn't work. I loved Bruno's crew rocking out and jumping in time with the RHCPs.
With all of the hand-wringing that was happening before halftime about whether or not they made the right choice in performers, the overwhelming reaction I saw on Twitter was, "Wow, I didn't think I would like that. But that was great."
Great job by a legendary band like the Red Hot Chili Peppers, and a million digital fist-bumps to them for keeping it real and keeping it shirtless. Who knows, maybe they'll start a new Super Bowl halftime show trend.