The Seattle Seahawks won with defense all year long, so it was no surprise that a defensive player ended up winning Super Bowl MVP honors.
It was a surprise, however, that the MVP winner was linebacker Malcolm Smith, who has been overshadowed all year long by defensive teammates and NFL superstars Richard Sherman, Earl Thomas and Kam Chancellor—among others.
ESPN Stats & Info highlighted the key stats that won Smith the MVP, and also noted he's the first linebacker since Ray Lewis (Super Bowl XXXV) to win the prestigious award:
Malcolm Smith is the first linebacker to win Super Bowl MVP since Ray Lewis for the Ravens in XXXV. Check it out: pic.twitter.com/f4xxFzI3QL

— ESPN Stats & Info (@ESPNStatsInfo) February 3, 2014
NFL historian Jon Zimmer of NFL.com puts the award into further context:
. @seahawks' Malcolm Smith is 3rd LB in history to win @superbowl MVP, joins Ray Lewis (XXXV) & Chuck Howley (V)

— Jon Zimmer (@NFLhistory) February 3, 2014
The Associated Press provided Smith's thoughts after winning MVP: "I woke up jumping, bouncing," Smith said when presented with a truck amid the confetti-strewn field after the game. "It turned out great for us tonight."
Smith later posted on his Twitter account, reacting to his accomplishment:
I'm going to Disneyworld!! No literally, I am. #StillInShock (http://t.co/Uihzd2QnjK) pic.twitter.com/DK4wrYmXi2

— Malcolm Smith (@MalcSmitty) February 3, 2014
There's no doubt Smith came up with a few huge plays that were back-breakers for the Broncos.
Peyton Manning and the Broncos didn't manage a single first down in the first quarter, but the legendary quarterback finally had his offense moving when Smith came up with what's likely going to be remembered as the key play of Super Bowl XLVIII—a 69-yard pick-six that put the Seahawks up 22-0.
Thanks to a ferocious bit of pass-rushing by Cliff Avril, who hit Manning as he threw, the ball popped up into the air, well short of Manning's target. All Smith had to do was scoop it up and run past Denver's offensive linemen for the score.
The diminutive linebacker (6'0" and 226 pounds) came up with his second turnover of the game midway through the third quarter.
Manning hit Demaryius Thomas on a gorgeous pass down the middle. Thomas then attempted to fight for extra yards, but the ball came loose after cornerback Byron Maxwell came up with a huge strip.
Smith found himself in the right place at the right time again as he recovered the football to the horror of Broncos fans everywhere.
Twitter Reaction
After Smith won the MVP award, Sean Jensen of Thrive Sports reminded all of us that dreams do come true, noting the linebacker was a seventh-round pick (242nd overall) out of USC in 2011:
Dreams do come true: @MalcSmitty (Malcolm Smith) was a 7th-round pick in 2011. He notched a pick-6, and he's won @SuperBowl MVP.

— Sean Jensen (@seankjensen) February 3, 2014
Ralph Vacchiano of the New York Daily News pointed out that Smith is the brother of former New York Giants wide receiver and Super Bowl winner Steve Smith. It's an interesting family connection few could possibly relate to:
MVP Malcolm Smith, by the way, is the brother of former Giants WR Steve Smith. #NYG

— Ralph Vacchiano (@RVacchianoNYDN) February 3, 2014
Opinions varied about whether Smith deserved the honor, however.
Dan Hope of Bleacher Report would have given it to the entire Seattle defense, which was phenomenal all game long, holding Denver to just 306 total yards and eight points while forcing four turnovers:
Super Bowl MVP goes to #Seahawks LB Malcolm Smith, who had the pick-six that Cliff Avril caused. Honestly, it should go to whole Seattle D.

— Dan Hope (@Dan_Hope) February 3, 2014
Curtis Crabtree of Sports Radio KJR believes Kam Chancellor should have been the choice: Chancellor matched Smith with nine tackles and also had an interception, and he was Seattle's enforcer in the middle of the field all game long:
Malcolm Smith has been named MVP of Super Bowl XLVIII. I'd have given it to Kam Chancellor but Smith's pick-6 was big hammer play.

— Curtis Crabtree (@Curtis_Crabtree) February 3, 2014
Scott Kacsmar of Football Outsiders and Bleacher Report didn't think Smith should have won, given the fact that he benefited from two fortuitous situations that were the result of plays made by his teammates:
Malcolm Smith wins MVP for catching a pick he had nothing to do with forcing? Meh. Bad choice.

— Scott Kacsmar (@FO_ScottKacsmar) February 3, 2014
It's an understandable position, but often those who make the "biggest" plays, as Smith did in this game, end up with the glory in the end, whether we like it or not.
Conclusion
Smith was a role player for Seattle all year long. He finished the regular season with just 54 tackles, one sack, two interceptions and one forced fumble. He was a solid player, but nobody would have picked him as the MVP of the Super Bowl before the game began.
While some may grumble about whether Smith truly deserved the trophy, his phenomenal performance in the most important game of the year embodied what Seattle has been about all year long: Teams win championships, and clearly, the Seahawks were the better team at MetLife Stadium on Feb. 2, 2014.
It just so happened that Smith played the best game of his life in the biggest game of his life, and nobody can take away the impact his big plays had on the outcome.
The scary thought for the rest of the NFL?
Smith is only 24 years old, and he, like the Seahawks, will only get better in the years to come.
Follow me on Twitter @JesseReed78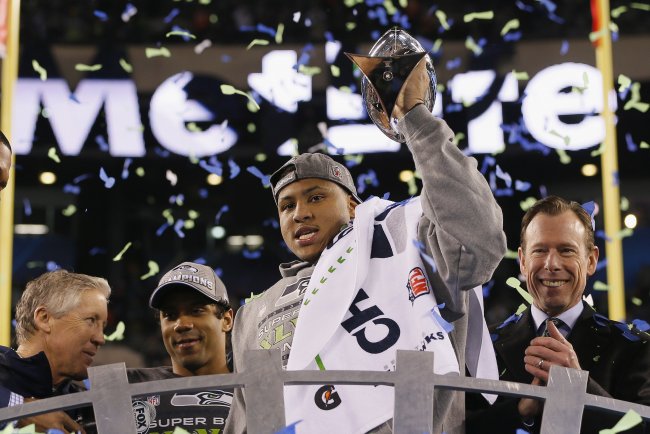 Kevin C. Cox/Getty Images
Who deserved the MVP Trophy at Super Bowl XLVIII?